In this drawing lesson I will show you how to draw a ship step by step. I'm sure this tutorial will help you improve your skills as an artist and will be useful for creating other drawings too.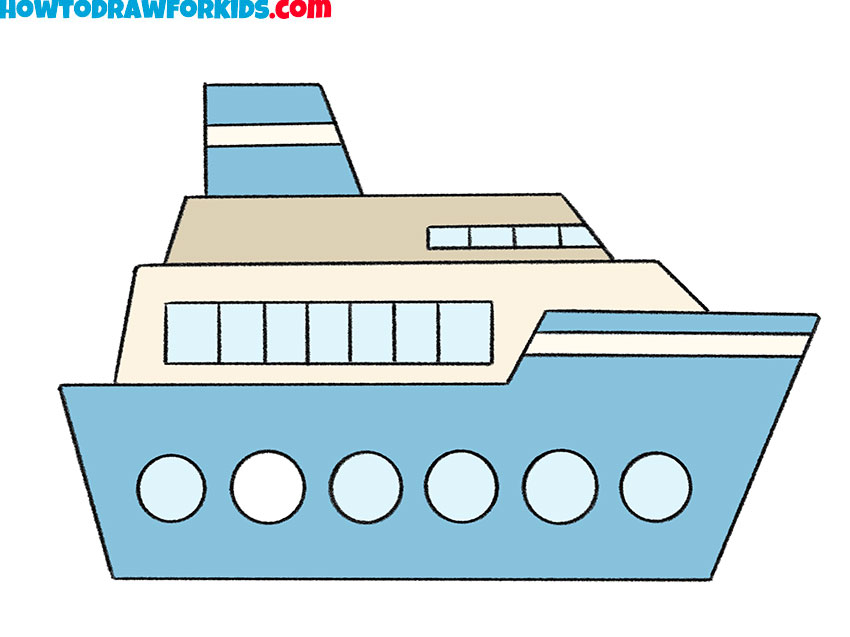 In this lesson, I want to tell you and show you how to draw a ship step by step. Using these instructions, you can draw a large and beautiful ship quickly and easily. I think you've ever seen ships in real life.
A ship is a large watercraft that travels the world's oceans and other sufficiently deep waterways, carrying goods or passengers, or in support of specialized missions, such as defense, research, and fishing. I am also sure that you have seen ships in various films, TV shows, cartoons or books.
So now you can start drawing the ship.
Materials
Pencil
Paper
Eraser
Coloring supplies
Time needed: 20 minutes.
How to Draw a Ship Step by Step
Draw the main part of the ship.

Use straight horizontal and oblique lines to draw this detail.

Start drawing the top of the ship.

Above the previously drawn detail, draw two obliques and one horizontal straight line.

Add another upper level of the ship.

Depict the figure that looks like a trapezoid without a lower base.

Draw the ship's chimney.

You can also draw this detail as a rectangular trapezoid without a lower base.

Add the windows.

Draw six identical circles at the bottom of the ship.

Add another layer of windows.

In the middle of the ship, draw two horizontal straight lines and many short vertical lines.

Add the decorative elements.

Draw straight horizontal lines on the chimney and on the front of the ship.

Outline the windows on top of the ship.

You can depict it with two horizontal lines and some vertical straight lines.

Color the drawing.

Use shades of grey and shades of blue to color the ship.
This concludes this lesson on how to draw a ship. I'd be glad to see your feedback on this lesson in the comments. If you enjoyed this ship drawing lesson then you can share it with your friends. I also recommend you download the PDF file that I have prepared for your convenience so that you can view a short version of this lesson even without an internet connection.