In this lesson I will show you how to draw a simple boat step by step. The instruction includes eight steps.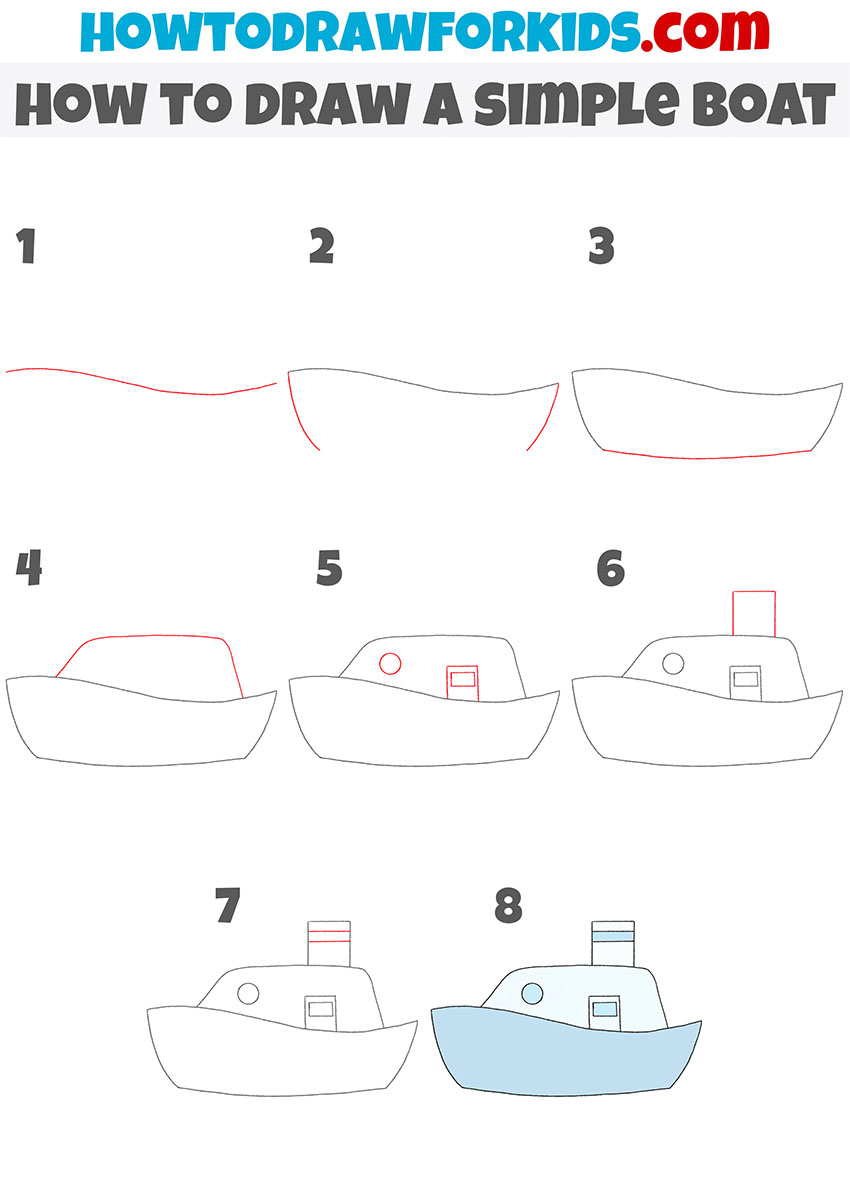 I decided to devote this lesson to the topic of water transport, and now you will learn how to draw a boat step by step. Thanks to this lesson, you will acquire useful skills that you can apply to create new beautiful drawings.
In this lesson you will draw a boat that has a main hull and a structure where the captain's cabin and boat controls are located. There is a pipe at the top.
You can easily draw these elements and get an excellent result. My clear and accessible instructions will help you with this. You only need to be attentive and accurate at every stage of drawing.
Materials
Pencil
Paper
Eraser
Coloring supplies
Time needed: 30 minutes
How to Draw a Simple Boat
Draw the top outline of the boat's hull.

Determine the size of the drawing and draw a smooth, slightly curved line.

Depict the sides of the case.

On the sides, draw smooth curved lines, as shown in the example.

Add the bottom of the boat.

Draw a connecting line at the bottom to end up with a closed loop.

Draw the boat control structure.

Depict a smooth, curved line across the top of the drawing to create a trapezoid-shaped figure.

Depict the door and porthole.

With the help of several straight lines draw the door and depict the round porthole.

Sketch out the pipe.

At the top of the drawing, draw the pipe using a few straight lines.

Detail the pipe.

Draw two straight transverse lines on the pipe.

Color the drawing.

For coloring, you will need different shades of blue.
The boat is ready! If you want to improve your drawing, then come up with an environment for the boat. Draw sky and water. Make your drawing bright and saturated. I invite you to download a free PDF file that contains a short version of the lesson and additional training materials. This way you can always go back to this lesson and do it again, even if the Internet is not available.