Lesson on How to Draw Goku From the Anime Dragon Ball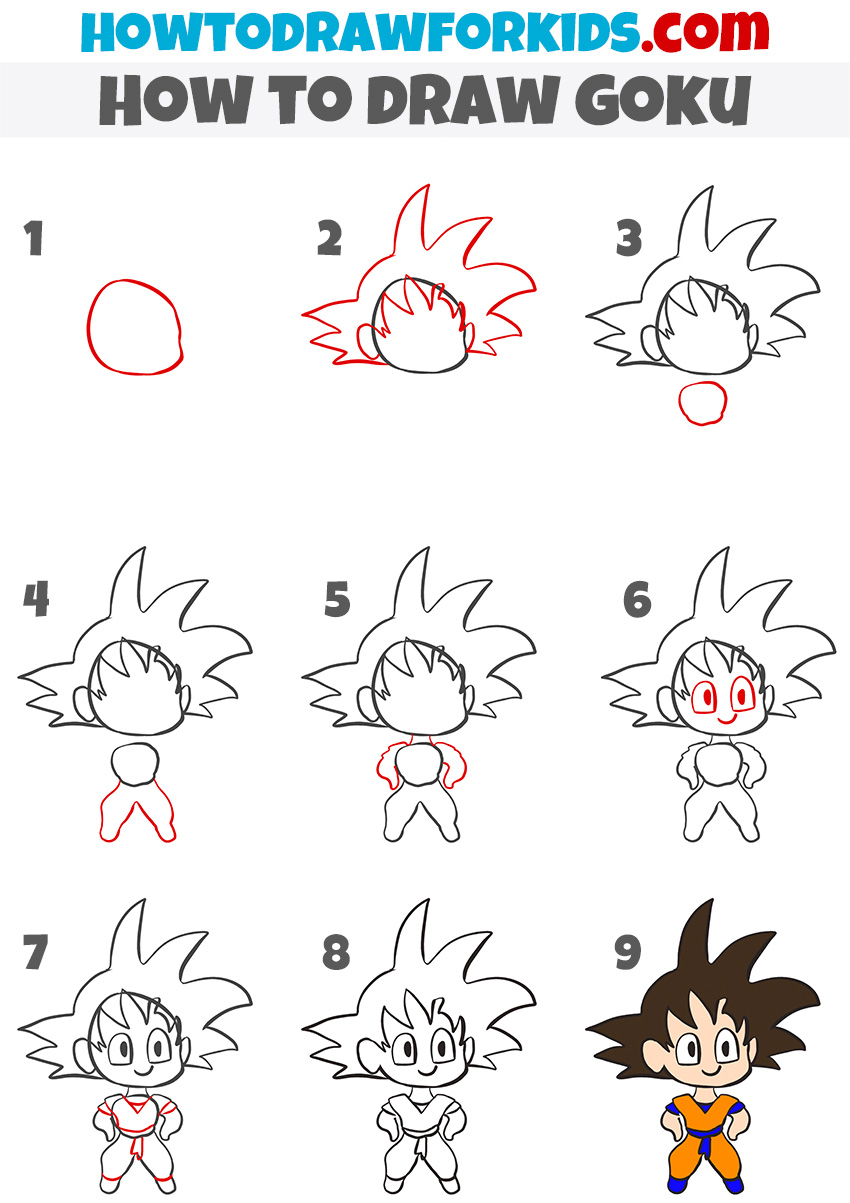 Goku is the protagonist of the cult dragon ball anime. The story of a guy who studies magic and martial arts has become insanely popular in Japan and beyond. The story of Naruto is largely based on the concepts of Dragon Ball.
It is noteworthy that Goku was created in the early 80s of the last century. Until now, he is one of the main anime characters in the world. Goku is also an ideal subject for drawing due to its very simple style and the lack of many small and important details.
That is why I created this guide on how to draw Goku. I hope this will delight all anime lovers and iconic cartoon characters. So grab your favorite painting supplies and get started!
Materials
Pencil
Paper
Eraser
Coloring supplies
Time needed: 30 minutes
How to Draw Goku
Draw Goku's head.

It looks like a large, irregular shape at the top of a piece of paper.

Add the outlines of the hairstyle.

Goku has a very prominent hairstyle. Draw large angular shapes that point in different directions.

Draw the torso.

A small torso is a special sign of the cartoon style. Draw a small circle like in my reference.

Draw the legs.

The legs look like two elongated asymmetrical shapes that form an angle. Pay attention to the size of the legs of our character, compare the proportions of the legs and torso.

Draw the neck and arms.

The arms are in proportion to the legs and torso. All of these body parts appear very small relative to the head. Don't forget to draw the neck as well.

Draw the eyes and mouth.

Large eyes and small other facial features are typical of the anime style. Draw it.

Add the outlines of the clothes.

Use small flowing lines to draw the outlines of the clothes.

Erase the guidelines.

Erase all unnecessary guide lines to give Goku a complete look.

Color Goku.

Use traditional colors to create a recognizable Goku look.

Did you enjoy this drawing guide? If so, do not forget to download the PDF version of this tutorial with some additional materials, such as coloring page, tracing worksheet, and grid drawing worksheet.
How to Draw Goku Step by Step
In this tutorial, you will draw Goku in chibi style. This will be a simplified version that is great for beginners. The result will be a drawing in which Goku will look very simple, while being easily recognizable.