I will show you in detail how to draw a simple dog nose. I promise that the lesson will be simple and at the end you will get a good result.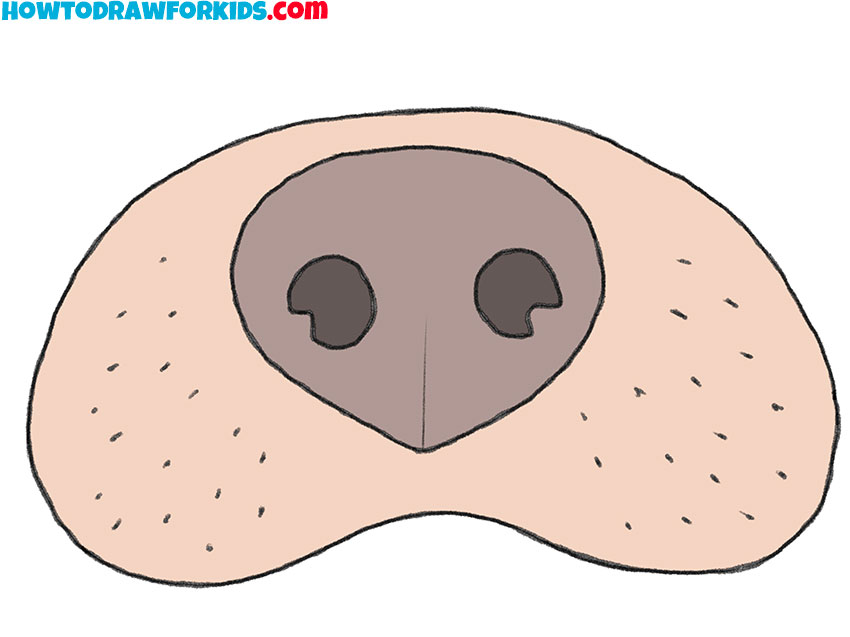 Let's continue the topic of drawing different animal body parts and in this tutorial I'll show you how to draw a simple dog nose step by step.
This lesson will be useful for you, and you can use the acquired skills when you want to draw an entire animal. However, do not forget that each breed of dog has its own features of the structure of the muzzle.
Here you will draw not only the nose, but also a small area around the nose. Most often, this part of the muzzle has a lighter shade than the rest of the muzzle.
The instruction includes only seven simple steps. This tutorial uses smooth, rounded lines, so this will be a great workout for you. Be consistent and patient if you want to draw a beautiful drawing.
Materials
Pencil
Paper
Eraser
Coloring supplies
Time needed: 25 minutes
How to Draw a Simple Dog Nose
Draw the top.

This is a simple step in which you should draw a straight, rounded line.

Depict the bottom.

Depict a curved line at the bottom to create the closed path.

Sketch out the nose.

The nose has a rounded top and a pointed bottom.

Add the nostrils.

Depict the small nostrils on the sides, while maintaining symmetry.

Draw the nose stripe.

Add a thin vertical line at the bottom of the nose.

Sketch out the points.

On the sides, consistently draw the large dots in a chaotic manner.

Color the simple dog nose.

Use several shades. The darkest should be the nostrils.
At the end of the tutorial, you can download a simplified version of the walkthrough in PDF format. Thus, the lesson will always be available to you, even if there is no Internet.