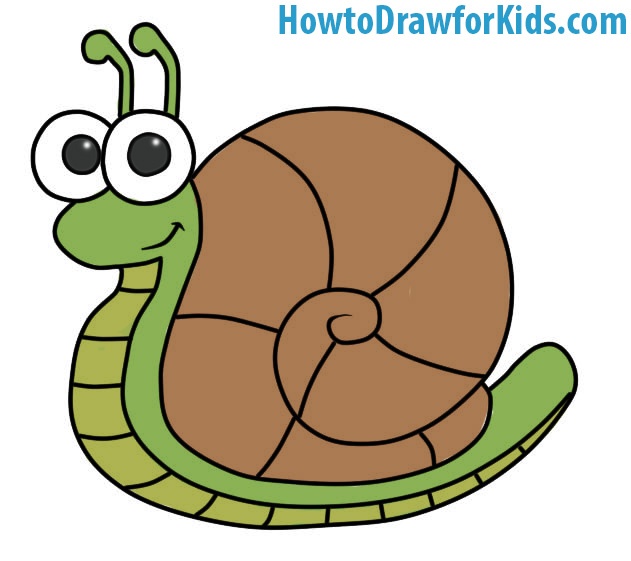 Hello dear friends and welcome to the sketching and painting guide about how to draw a snail for kids! This will be a very simple instruction, which even the smallest can cope with.
Step 1
The first thing we do is depict two circles as guides for the eyes of our snail.
Step 2
Inside the eyes draw the pupils in the form of two small circles.
Step 3
Right above the eyes draw out the antennas of our little snail.
Step 4
Now with the help of a very long line depict the mouth of the snail which goes to the belly.
Step 5
Now with the help of one more long line, we draw the upper part of the snail.
Step 6
With the help of one long and spiral line, we draw the shell of the snail.
Step 7
Now draw a mouth, lines on a belly and shell of our small and lovely snail.
Step 8
If you did everything right, then you will get such a nice snail.
Step 9
And in the last step of the lesson about how to draw a snail for kids you just need to color our drawing.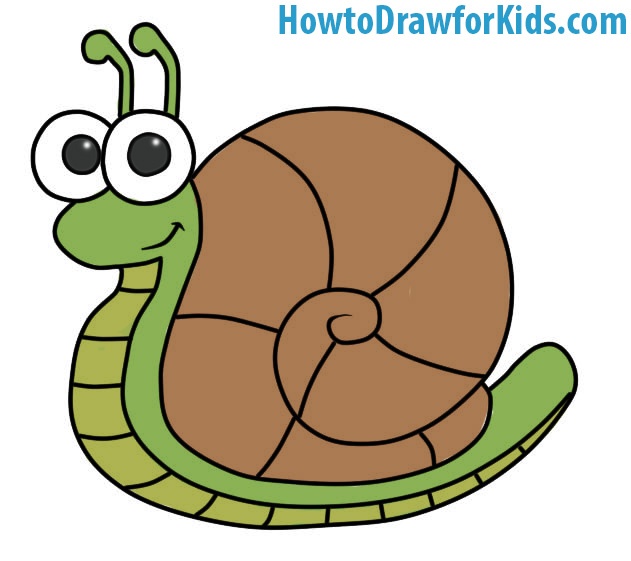 What do you think of this drawing lesson? If you like it then do not forget to share it with your friends, and if not, then write your comments under this post.
This snail was sketched and painted in the style of cartoons, that is, the animal itself does not look particularly realistic, but is depicted in an anthropomorphic style. But we can depicture a realistic snail, just write if you want to see such an article in the pages of howtodrawforkids.com.
What could be simpler than learning how to sketch and paint with my simple easy guides? Share my shortened version of the lesson with those who also want to draw like us and subscribe to me in social media where you will find many very simple art articles.