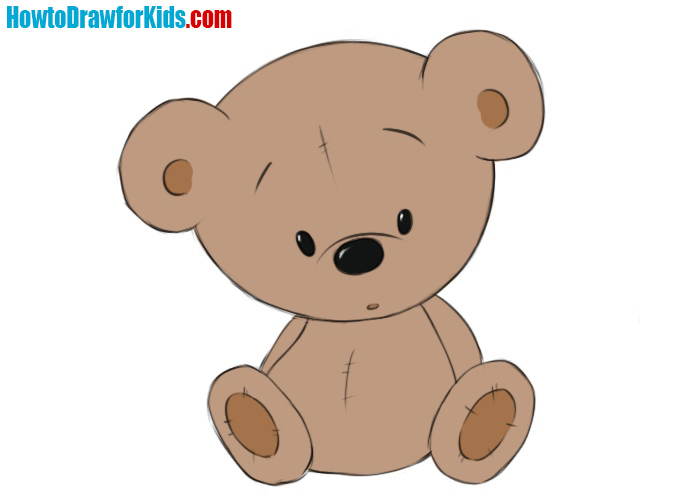 In this super simple instruction, I'll show you how to draw a teddy bear for kids.
Teddy bears appeared a long time ago, but they got their name only at the beginning of the twentieth century. Since then, a huge number of a wide variety of teddy bears from a variety of companies have been created in the world. These cute toy bears managed to appear in cartoons, games, and even films.
As already mentioned, teddy bears were produced by a large number of different companies, which means they have a different appearance. But in general, the main features are the same. The most basic differences are in color or detail. Now I want to show you how to draw the most recognizable version of a teddy bear.
In this article, I tried to create the most simple version of drawing a teddy bear. I've divided the entire article into eight super easy stages, and I hope that even the most inexperienced artist can learn how to draw a teddy.
Step 1
Draw a round head first. It is not necessary to give this head a perfectly round shape.
Step 2
Now depict a torso of the teddy bear below the head. It looks like a pear.
Step 3
At the top, depict the ears in the form of semicircles. Next, depict the legs as ovals and the arms.
Step 4
Depict a large nose and small eyes with three ovals. Sketch an oval mouth below.
Step 5
Draw eyebrows and a vertical stripe with stitches above the eyes.
Step 6
Now depict stitches in the middle of the belly on the feet.
Step 7
Now get rid of all construction lines and make the teddy bear drawing darker.
Step 8
Color the teddy bear brown, the nose and eyes black and the circles on the ears and feet a darker brown.
It was a super easy drawing instruction on how to draw a teddy bear for kids. You can try drawing the teddy bear again and paint it in some other color, for example, light blue or beige.