In this lesson I show you how to draw a teddy bear step by step. This will be a wonderful lesson with which you will improve your creativity.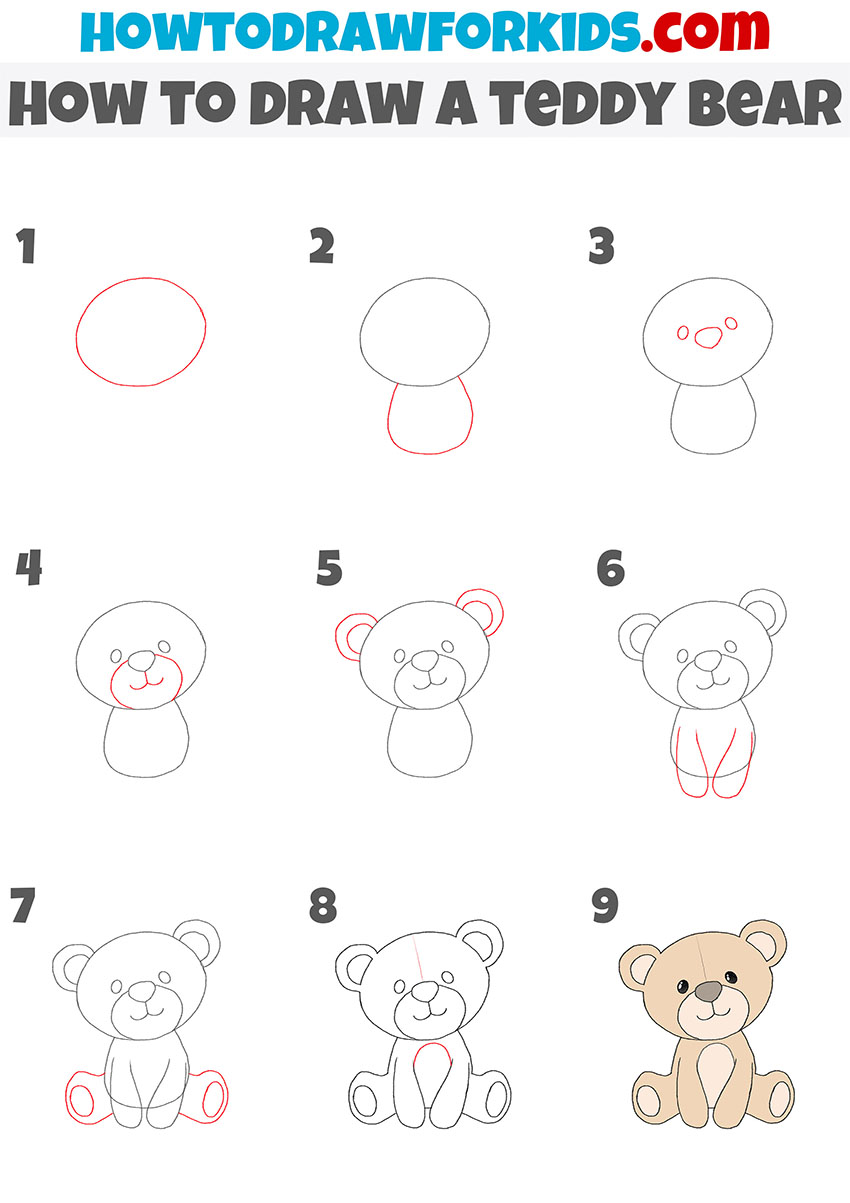 I am glad that you are interested in the lessons presented on this site, and before you're another fascinating lesson in which I will show you how to draw a teddy bear step by step. I am sure that after completing this lesson you will have the most pleasant impressions.
The teddy bear is the favorite toy of many children around the world. The muzzle of the bear looks very cute and funny. This toy usually has a movable head and limbs. The material from which the bear is made is very pleasant to the touch and children enjoy spending time with this toy.
In this tutorial, the teddy bear is shown in a sitting pose. In the process of work, try to correctly depict the position of the limbs. Carefully draw all the lines and keep the proportions so that your drawing is as similar as possible to my example. If you already have all the art supplies at hand, then you can start exciting creative work.
Materials
Pencil
Paper
Eraser
Coloring supplies
Time needed: 30 minutes
How to Draw a Teddy Bear Step by Step
Draw the head.

Depict the head in the shape of an oval.

Depict the torso.

Add the small torso below the head using a smooth, curved line.

Sketch out elements of the muzzle.

Draw two oval-shaped eyes and add the large nose in the center.

Add the remaining elements of the muzzle.

At this stage, mark the front of the muzzle and sketch out the mouth.

Draw the ears.

Use smooth curved lines to draw the outer and inner contours of the ears.

Depict the front paws.

The paws are set together, have a narrow base and a rounded lower part.

Draw the hind legs.

Depict two hind legs that are wide apart and add oval feet.

Add details.

Draw the thin strip in the center of the muzzle and a curved line for the outline of the belly.

Color the drawing.

You will need shades of brown and beige. Add the highlights to the eyes.
Great! Now you have learned how to draw a teddy bear. Write in the comments what emotions you experienced in the process. At the end of the lesson, I suggest you download the PDF file, which contains a brief instruction and additional training materials.