In this drawing lesson I would like to tell and show you how to draw a wizard. This tutorial consists of just nine simple steps.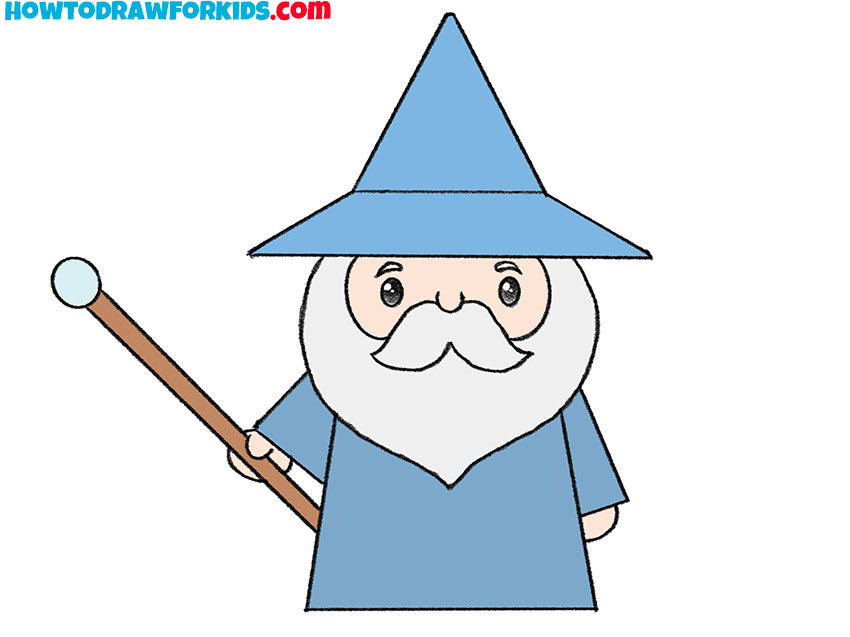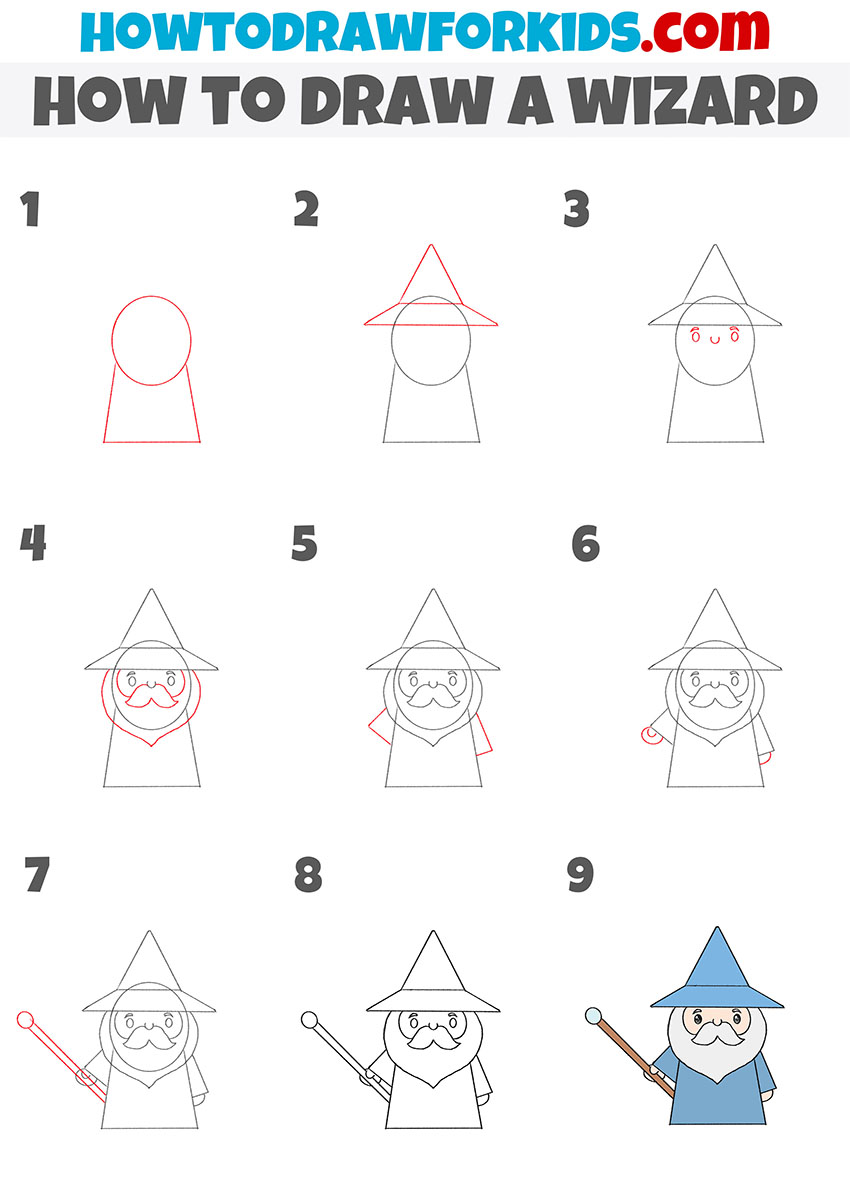 So, if you want to know how to draw a wizard step by step, then this fascinating drawing lesson will help you do it. A wizard is a person who practices magic to influence people or nature or to gain knowledge or wisdom through supernatural phenomena. All of you have probably heard about wizards and maybe even wanted to become wizards yourself. This character is very often seen in various cartoons and movies.
In this lesson you will draw a wizard, who looks like an older man with a long beard, wearing special clothes and holding a magic wand in his hand. I'm sure you can easily do this lesson, even if you have very little drawing experience or if you are a child.
If you already want to start drawing the wizard, you should prepare the materials that you need to draw, and then you can get to work. Good luck with your drawing!
Materials
Pencil
Paper
Eraser
Coloring supplies
Time needed: 20 minutes.
How to Draw a Wizard
Draw the outline of the head and torso.

You can depict the head as an oval and the torso as a trapezoid without the upper edge.

Depict the wizard's hat.

To draw this element, outline a triangle and a trapezoid using straight lines.

Add the facial features.

Picture the eyes as two same ovals, the nose as an arch, and the eyebrows with curved lines.

Depict the beard and mustache.

On the head of the wizard depict a wide beard and puffy mustache, using curved lines.

Outline the sleeves.

On both sides of the wizard's torso add the sleeves of his cloak with straight lines.

Add the hands.

Below the previously drawn sleeves depict semicircles of different sizes.

Draw the magic wand.

On the left side, draw two same straight parallel lines and an oval at the end of them.

Erase unnecessary lines.

Use an eraser to remove auxiliary lines that appeared during the drawing process.

Color the drawing.

To color this drawing you can use gray, brown, black, shades of blue, and any color for the skin.
Now that you know how to draw this beautiful character, you can download the PDF file with a short version of this lesson to return to this guide at any time.