So, if you want to know how to draw a wizard step by step, then this fun drawing lesson will help you with that. And as a bonus, there is a PDF file for you at the end!
This character is very often seen in various cartoons and movies. And, This lesson will be as simple as possible and at the same time very useful, since you will once again practice drawing a human figure.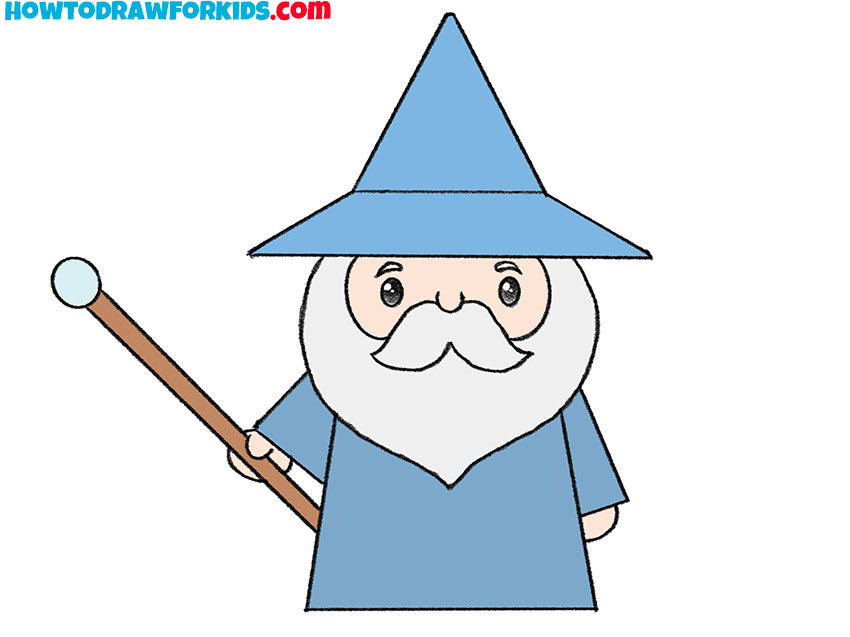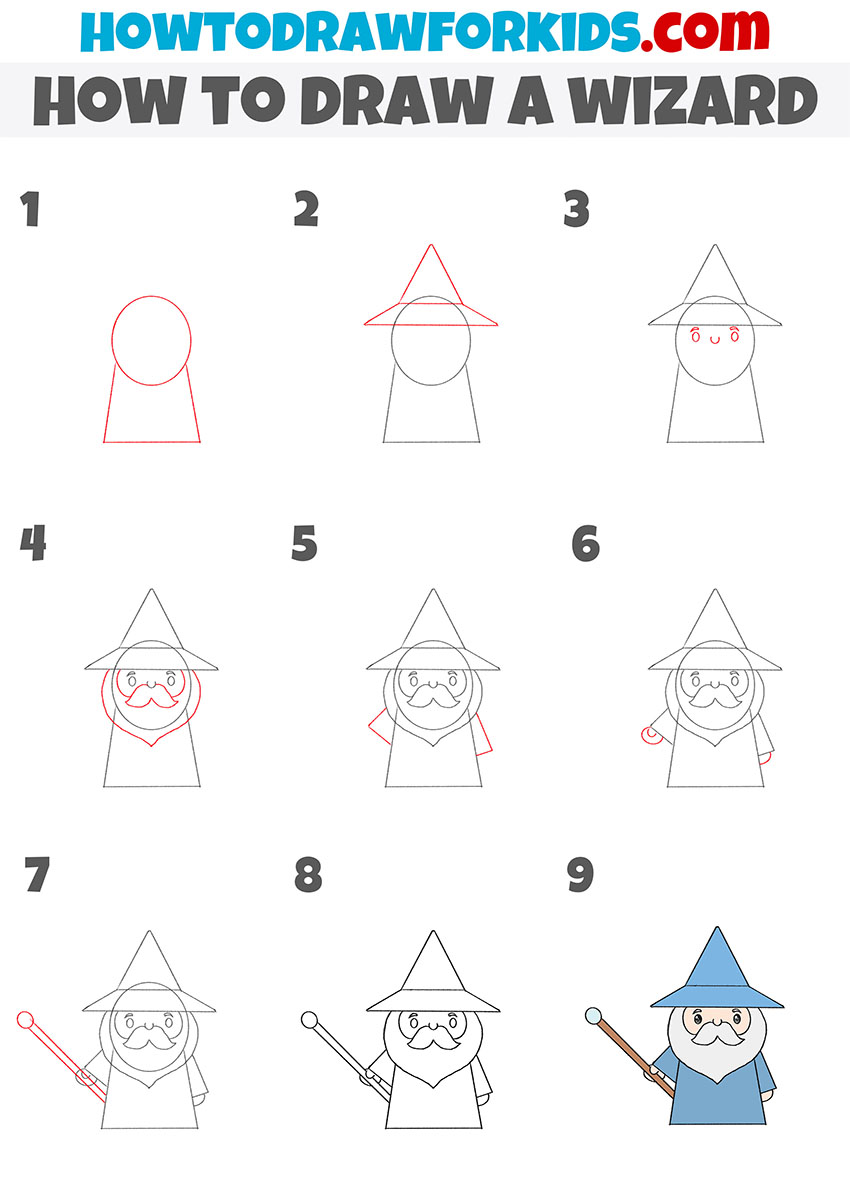 Table of Contents
Basic Information on How to Draw a Wizard
Wizards are an integral part of fairy tales and fantasy, along with knights and dangerous journeys. Now you have to complete a fascinating lesson on how to draw a wizard.
In this lesson you will draw a cartoon wizard step by step, who looks like an older man with a long beard, wearing special clothes and holding a staff in his hand. I'm sure you can easily do this lesson, even if you have very little drawing experience or if you are a child.
If you already want to start drawing the wizard, you should prepare the materials that you need to draw, and then you can get to work. Good luck with your drawing!
Materials
Pencil
Paper
Eraser
Coloring supplies
Steps on How to Draw a Wizard
Time needed: 20 minutes
How to Draw a Wizard
Draw the outline of the head and torso.

So, draw the basic outlines of the head and torso. Together it looks a lot like a key hole. The lack of a neck will create the appearance of an elderly, hunched character, even in a cartoon style.

Depict the wizard's hat.

It's just a triangle and a trapezoid that are located on the top of our wizard's head. So, try to draw it without using a ruler, even if it's not perfectly symmetrical.

Add the facial features.

This is probably the easiest step of the entire tutorial. The eyes look like two small ovals, and the nose is a semicircle that is located between the eyes.

Depict the beard and mustache.

To avoid confusion, draw this step in two steps. First, take a close look and draw the wizard's mustache. Then, using two smooth lines, draw the outline of the beard. The bottom line of the beard is similar to the outline of the heart sign.

Outline the sleeves.

Sleeves in our case are very simple. Draw two corners that are located laterally from the outline of the wizard's torso.

Add the hands.

Below the previously drawn sleeves depict semicircles of different sizes.

Draw the magic wand.

On the left side, draw two same straight parallel lines and an oval at the end of them.

Erase unnecessary lines.

Use an eraser to remove auxiliary lines that appeared during the drawing process.

Color the drawing.

To color this drawing you can use gray, brown, black, shades of blue, and any color for the skin.
Additional Content
As always, I have prepared a short version of this lesson in PDF format for you in advance. The file contains a short instruction without text description, a coloring sheet, a tracing worksheet, and a grid drawing worksheet. You can download all these useful materials for free and use them at any convenient time.
Another Method for Drawing a Wizard
You have just completed a lesson in drawing a simple wizard. Additionally, I have prepared for you a method on how to draw a realistic wizard. This tutorial won't be difficult, you just need to follow the steps carefully.
Wizard Drawing Advanced Level
Here the wizard's body is hidden under long clothes, so you only have to draw the outer contours of the clothes and then add the hands and feet. Before starting the lesson, look carefully at the drawing and determine the relationship of body parts. This will be the key to successful completion of the lesson.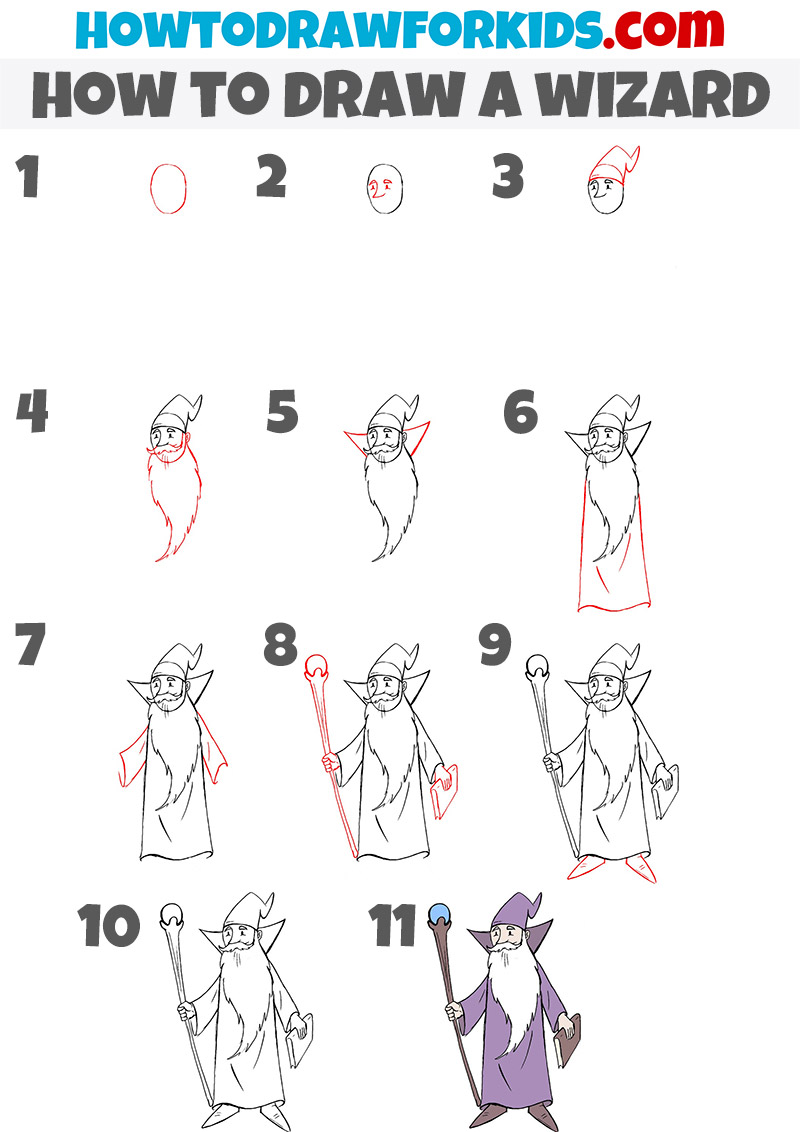 Technical Nuances
The human body is one of the most difficult shapes to draw. Proportions are the first thing to learn when drawing bodies because they teach you to be anatomically correct. On my website you will find useful articles and learn what proportions are and how to apply them in fine art.
Improve Your Wizard Drawing
Some suggestions on how you can improve your drawing:
You can change wizard's clothes. For example, add the patterns to clothing. These can be stars or ornament.
Detail the beard and mustache by adding small strands using short strokes.
You can also slightly change the shape of the staff and add curly elements to it.
The wizard can also assemble a squad consisting of hobbits, an elf-archer, and a gnome-warrior, and go on an unexpected journey to Mordor. The wizard is ready for epic battles with orcs and mummies in dungeons filled with treasure chests and barrels of unknown substances.
You can learn to draw all these creatures or things thanks to my drawing lessons on this site.
Conclusion
Don't forget to follow me on social media if you haven't already. Join us! You will find links at the end of the lesson. Do you like such simple drawing lessons? Write about it and about your wishes in the comments.