Now I will tell you how to draw an anime dog step by step. This simple lesson will not leave you indifferent.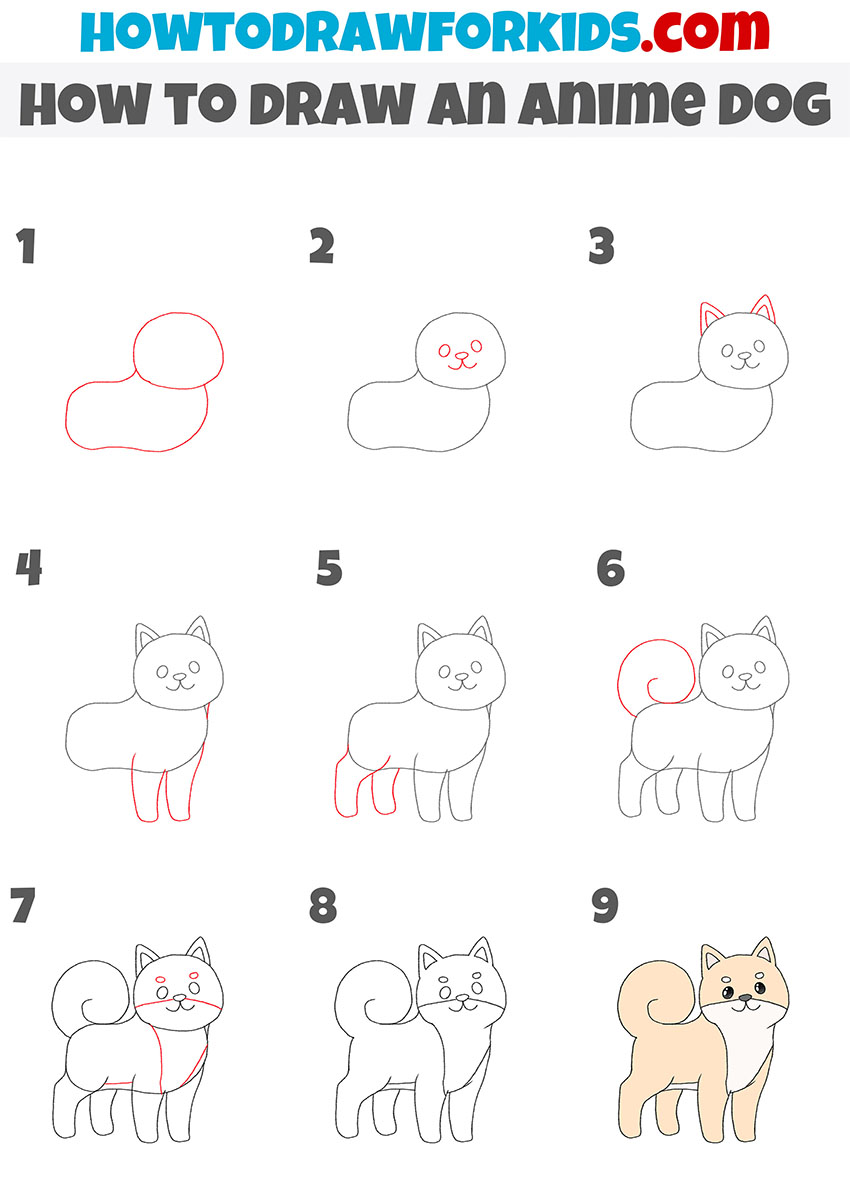 If you want to learn how to draw anime animals, then be sure to follow the new lesson on how to draw an anime dog step by step. I tried to make this lesson as simple and clear as possible so that you do not have any difficulties in the process.
Remember all the drawing steps so that in the future you can easily draw an anime dog or any other dog if necessary.
And now I will ask you to prepare all the necessary art supplies, and you can enjoy the exciting creative process.
Materials
Pencil
Paper
Eraser
Coloring supplies
Time needed: 30 minutes
How to Draw an Anime Dog Step by Step
Draw the head and torso.

First draw the head in the shape of an oval and then add the torso with a smooth line.

Add the elements of the muzzle.

Depict two eyes in the form of ovals. In the center of the muzzle add the nose and below add the mouth.

Depict the ears.

Draw two spiky shaped ears and immediately add the inner parts of the ears.

Sketch out the front paws.

Draw smooth lines down from the front of the body and depict two front paws.

Draw the hind legs.

Continue adding body elements and draw the hind legs in the same shape as in the example.

Depict the tail.

Above the body, carefully draw a line in the form of a spiral.

Detail the color.

Add the spots above the eyes and mark the outline where the fur color will differ.

Correct inaccuracies.

Take the eraser and carefully remove all the extra lines in your drawing.

Color the drawing.

You will need beige, gray, and black to color the eyes.
The lesson is over, and now you know how to draw an anime dog step by step. If this step-by-step guide was interesting and useful for you, then leave a little feedback in the comments. I will be glad to receive feedback from you. Don't forget to download the PDF file which contains all the useful information about this tutorial.