I hope you enjoy the tutorial on how to draw an easy fairy in just nine easy steps. Start the lesson and get useful skills!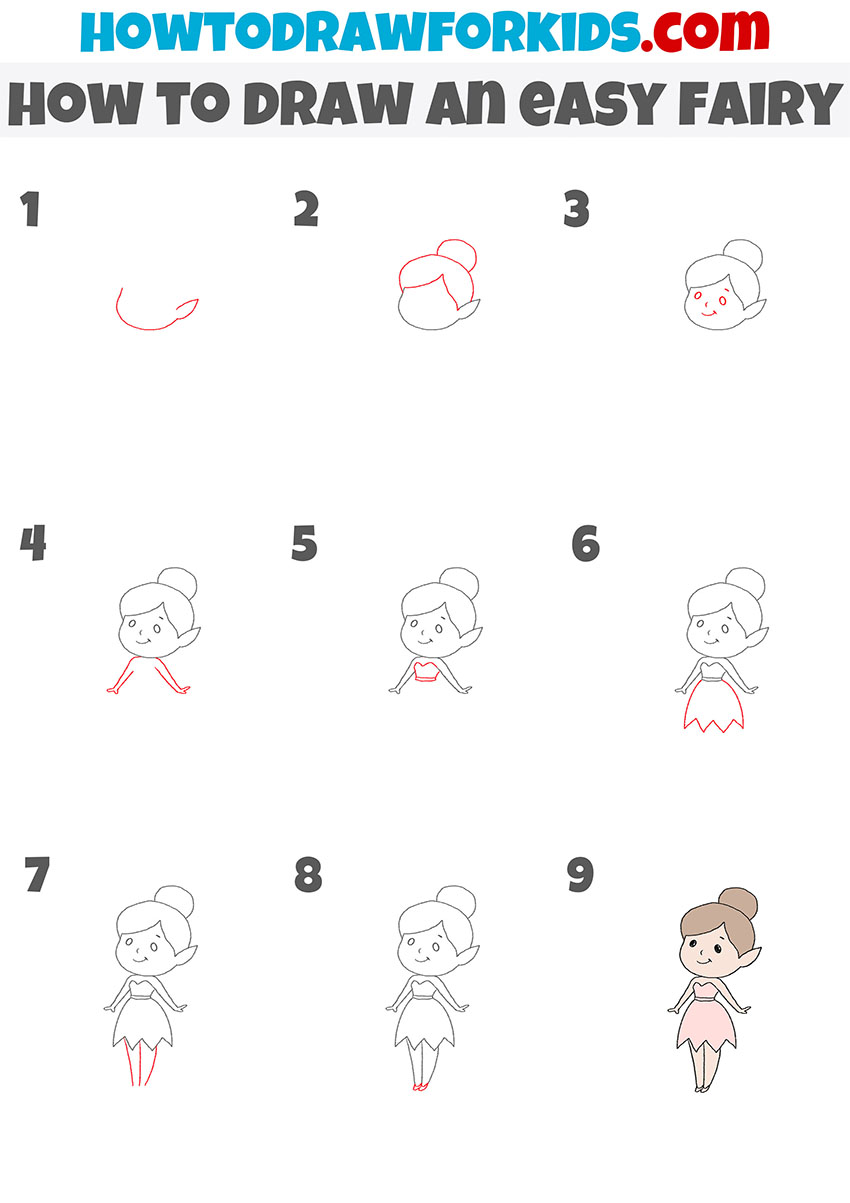 I have prepared for you a new interesting lesson in which you will learn how to draw an easy fairy. The lesson will help you improve your artistic abilities, and we can use the acquired skills in the following lessons.
Here is a simple instruction that clearly shows how to draw an easy fairy. This is a small fairy-tale creature in the form of a cute girl. It is believed that the fairy has amazing abilities and knows how to perform miracles.
According to legends, the fairy leads a hidden life, but sometimes she is able to interfere in a person's life and perform both good and evil deeds. In most cases, the fairy is friendly and brings good luck.
The picture shows a little fairy dressed in a dress. The fairy has a graceful slender figure and cute features. In this guide, each step is visualized and supplemented with a small hint for your convenience. Be careful at every stage of drawing, try to correctly depict all the elements.
Materials
Pencil
Paper
Eraser
Coloring supplies
Time needed: 25 minutes
How to Draw an Easy Fairy
Draw an oval for the face and the ear.

Depict a smooth line to draw the oval of the face. The ear is pointed.

Sketch out the hair.

With the help of smooth lines depict the hair. The hair is gathered in the bun.

Add facial features.

Draw the eyes, eyebrows, nose, and mouth.

Depict the arms.

The arms are short and thin, the fingers are spread apart.

Draw the upper body.

Using a few smooth lines depict the top of the dress and add the belt.

Add the bottom of the dress.

Draw smooth lines down from the belt. Draw the lower outline of the dress using a zigzag line.

Sketch out the legs.

Depict smooth lines down from the bottom of the dress.

Add the shoes.

The shoes are very small and placed side by side.

Color the easy fairy.

Choose any color for the drawing.
Now you can download a short version of the lesson in PDF format for free. Save this file and use it whenever you want.