In this lesson, I show you in detail how to draw an old lady. I am sure that this guide will be very useful for any aspiring artist.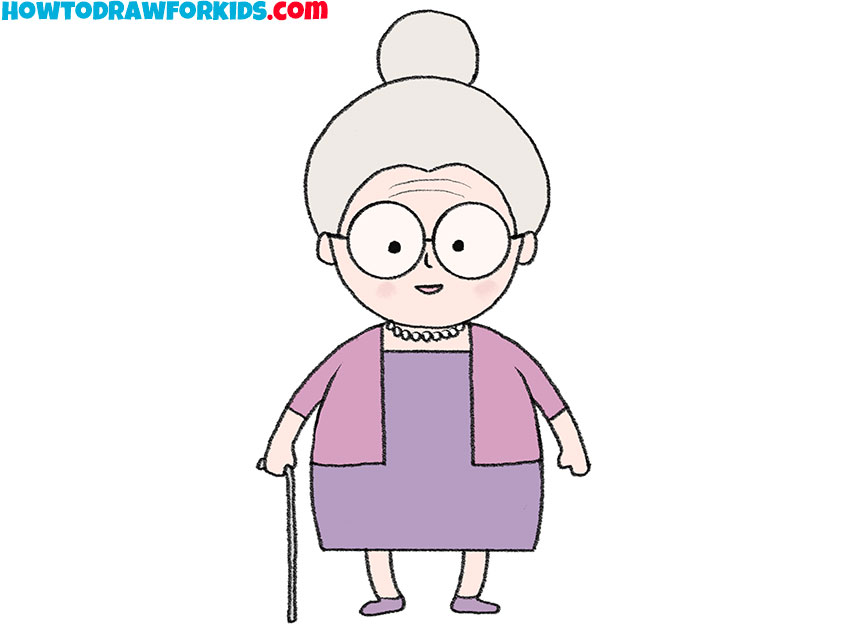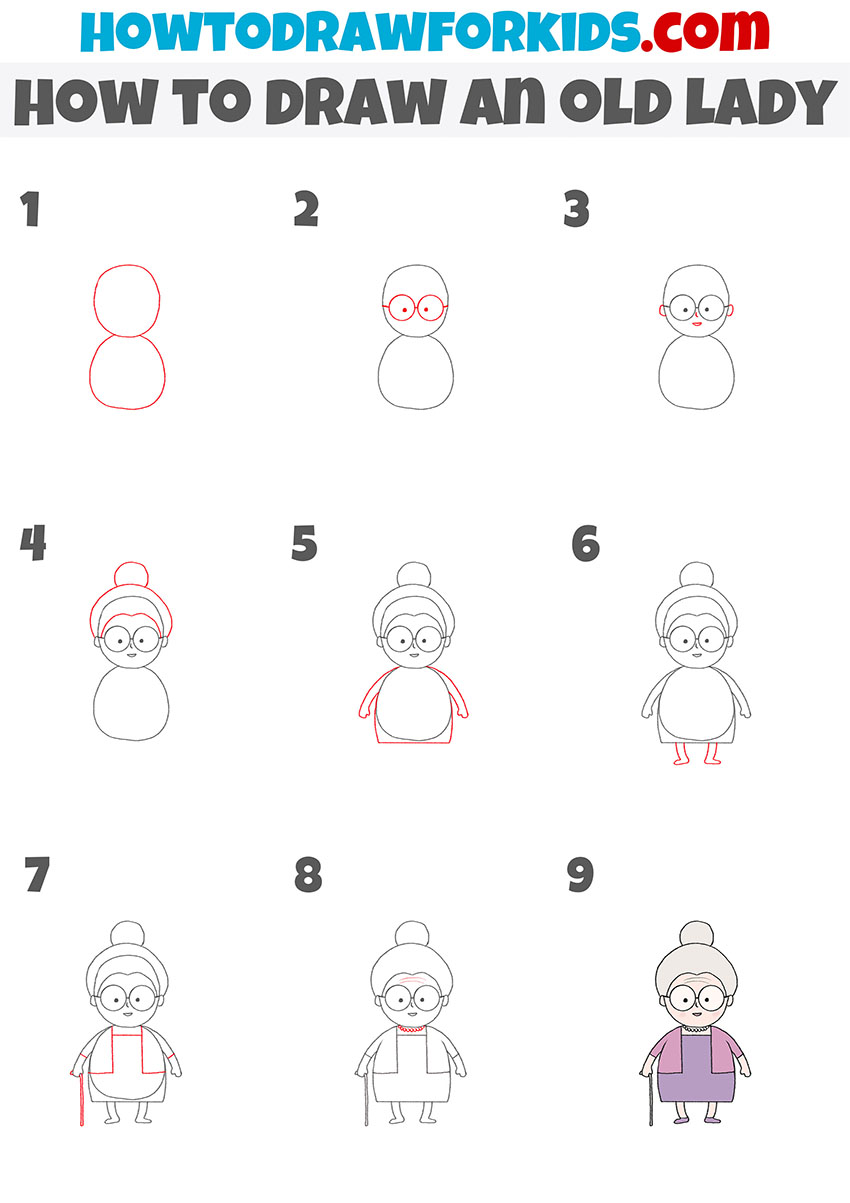 I am glad to bring to your attention a fascinating lesson on how to draw an old lady. This will be an excellent training for your creative abilities, and you can use the acquired skills in future work. This lesson is suitable for all beginner artists and children.
In this tutorial, the old lady is presented in a cartoon form, so it looks unrealistic. Pay attention to body proportions. You can see that the head is large, the torso is relatively small and round, and the limbs are short.
Try to carefully draw all the lines that are marked in red. For coloring clothes, you can use the same colors that are suggested in the instructions or any other colors of your choice. If all the art supplies are already at hand, then you can proceed with all the steps in this instruction.
Materials
Pencil
Paper
Eraser
Coloring supplies
Time needed: 30 minutes.
How to Draw an Old Lady
Draw the head and torso.

Depict two circles of different sizes.

Sketch out the eyes and glasses.

Add two large dots inside the outline of the head and draw glasses in the round frame.

Depict the ears and other elements of the face.

Sketch out the small nose, mouth and on the sides of the head add two ears.

Draw the hair.

Add the outline of the hair and add the rest of the hair, which is gathered in the bun at the crown.

Add the torso and arms.

Draw smooth lines from the head and depict two hands. Depict the lower contour of the body.

Depict the legs.

Below the torso, draw two short legs in which the feet are turned in opposite directions.

Detail the clothes and add the cane.

Draw the outline of the dress and jacket, draw the thin cane in the hand.

Add the beads and skin folds on the forehead.

Depict two thin lines on the forehead and draw the beads below the head.

Color the drawing.

You can use any colors you want.
Now, you have completed all the steps in this tutorial, and you know how to draw an old lady step by step. If you liked this step-by-step guide, then leave a little feedback in the comments. I remind you that for your convenience, I have prepared a PDF file that contains a short version of the lesson and additional training materials.