Today, I will show you how to draw Doraemon step-by-step. In nine simple steps, you will get a good result.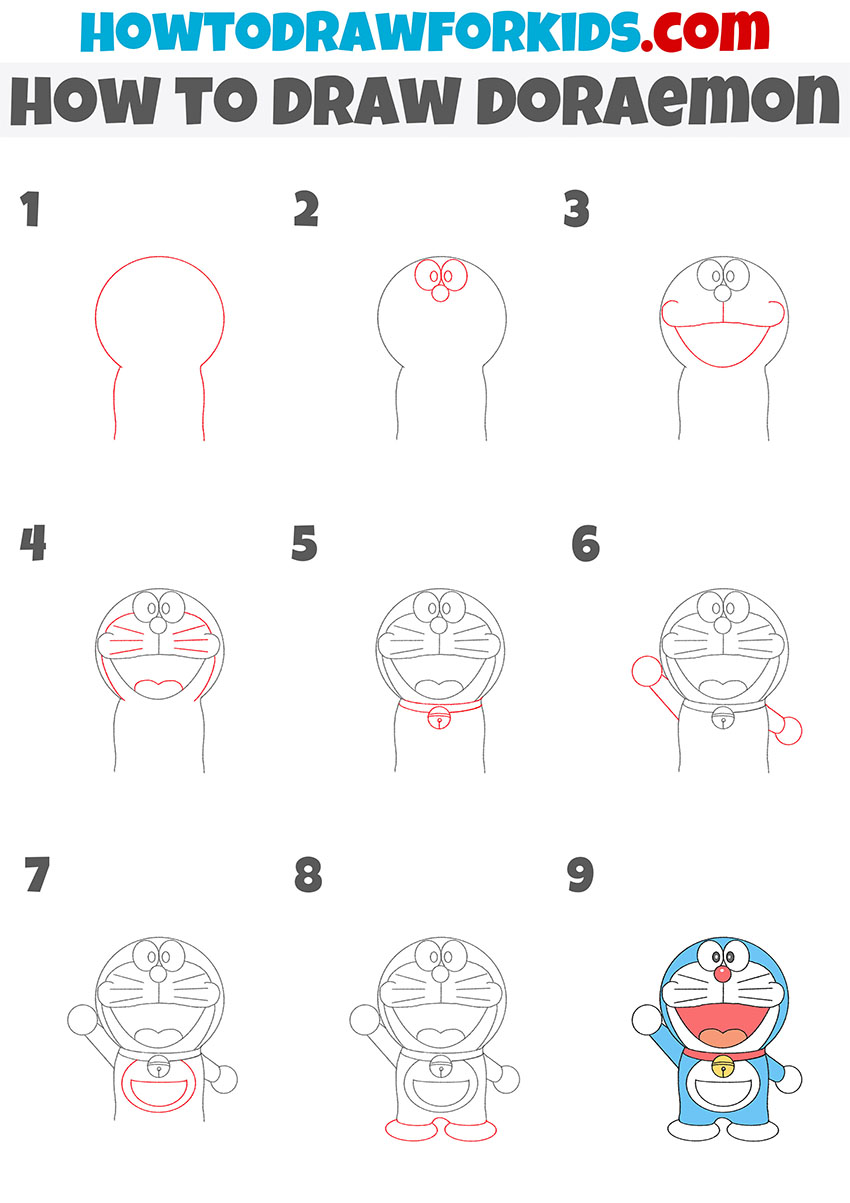 Here is a simple instruction that shows in detail how to draw Doraemon. This is a character of the manga series and anime series of the same name, a cybernetic cat from the 22nd century.
Doraemon has a bright, unusual appearance. Doraemon does not have ears, because they were gnawed by mice, since then the cat has become afraid of mice.
Also, a distinctive feature is that the cat has a small pocket-bag on his stomach. After the release of the series, the Doraemon cat became very popular and its image can be seen on various souvenirs.
I hope you enjoy drawing this funny character. Consistently follow all the drawing steps and carefully draw all the lines that are marked in red.
Materials
Pencil
Paper
Eraser
Coloring supplies
Time needed: 30 minutes
How to Draw Doraemon
Draw the head and torso.

The head and torso are one object drawn with a smooth curved line.

Depict the eyes and nose.

At the top of the head draw two large oval eyes, and below draw the nose.

Sketch out the mouth.

With smooth lines, depict the large mouth that occupies the entire lower part of the head.

Add the rest of the elements of the head.

Draw a contour where the color of the fur will be different, add the tongue and mustache.

Depict the bandage around the neck.

Sketch out smooth lines on the neck and add a curly element in the middle.

Draw the upper paws.

Depict straight parallel lines and add small circles at the end.

Add the belly.

Outline the belly with a rounded line and depict the pocket.

Sketch out the lower paws.

The lower paws are wide and short.

Color the Doraemon.

Use some of the brightest colors.
I want to remind you that for your convenience, I have previously created a short version of the lesson in PDF format. Download the file and complete the lesson at any convenient time, when there is a desire to be creative.