How to Draw Hulk Step by Step
In this tutorial, I will show you how to draw Hulk step-by-step. This simple guide will be interesting and useful for you.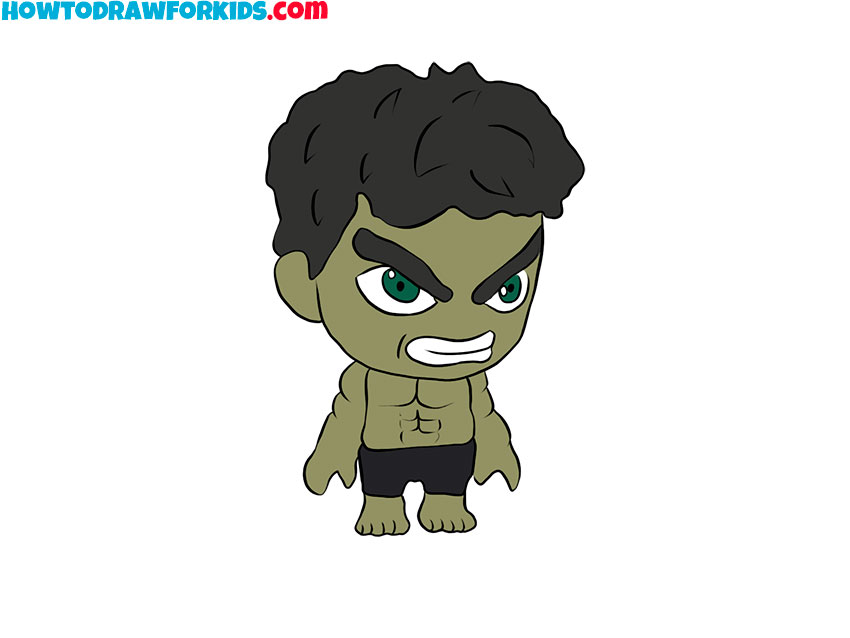 I invite you to a new, exciting drawing lesson in which you will learn how to draw Hulk step-by-step. Surely you have seen this green monster more than once. This is a comic book superhero published by Marvel Comics.
The Hulk has an unusual appearance. He is tall and muscular, his skin is green, and Hulk has a vicious grimace on his face. The Hulk has such qualities as strength, agility and endurance.
Initially, Hulk looked like an ordinary person, but as a result of the mutation, the Hulk acquired new qualities and turned into an evil humanoid monster. In this walkthrough, the Hulk is presented in chibi style. This style is characterized by certain proportions.
You can see that the superhero has a big head and a small torso, arms and legs are short, facial features are pronounced. With a simple instruction and you will quickly draw the Hulk and get a good result.
Materials
Pencil
Paper
Eraser
Coloring supplies
Time needed: 30 minutes
How to Draw Hulk Step by Step
Draw an oval for the face.

Depict a smooth curved line of the same shape as in the example.

Add the hair and ear.

Draw the hair with an uneven wavy line and add the rounded ear.

Depict the torso.

Below the head, draw the torso, which has a square shape.

Sketch out the legs.

With smooth lines, depict the lower body and short legs.

Add the bottom of the legs.

Depict feet and draw fingers with short strokes.

Draw the hands.

The Hulk has relatively large hands, draw several folds on the forearm.

Detail the hair and torso.

Draw some spiky strands on the head. Depict relief muscles on the chest.

Add the facial features.

Sketch out the big eyes, the eyebrows and the wide mouth.

Color the Hulk.

Use several dark shades.
As usual, at the end of the lesson, a link is available for you, where you can download a brief instruction in PDF format for free.