In this tutorial, I will tell you how to draw kawaii food. This simple step-by-step instruction consists of only seven steps.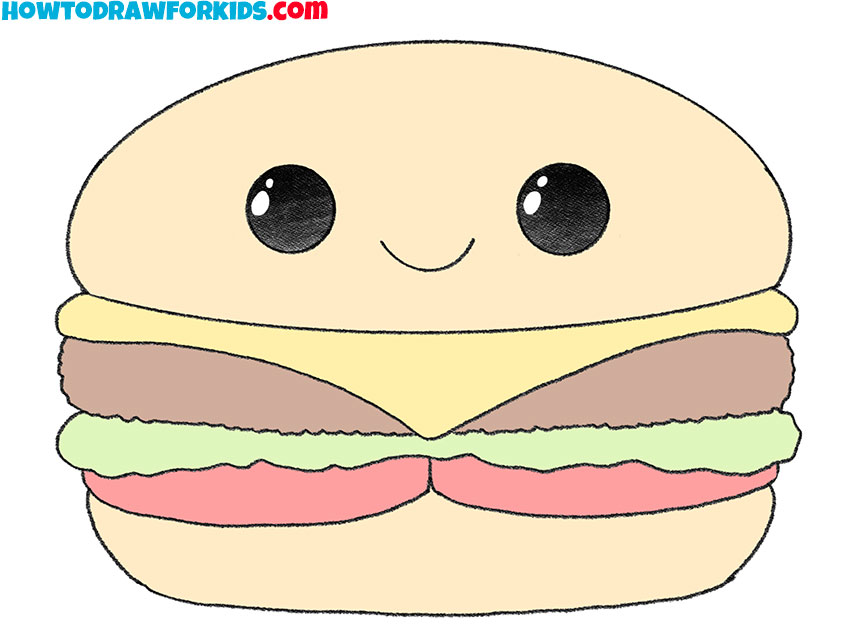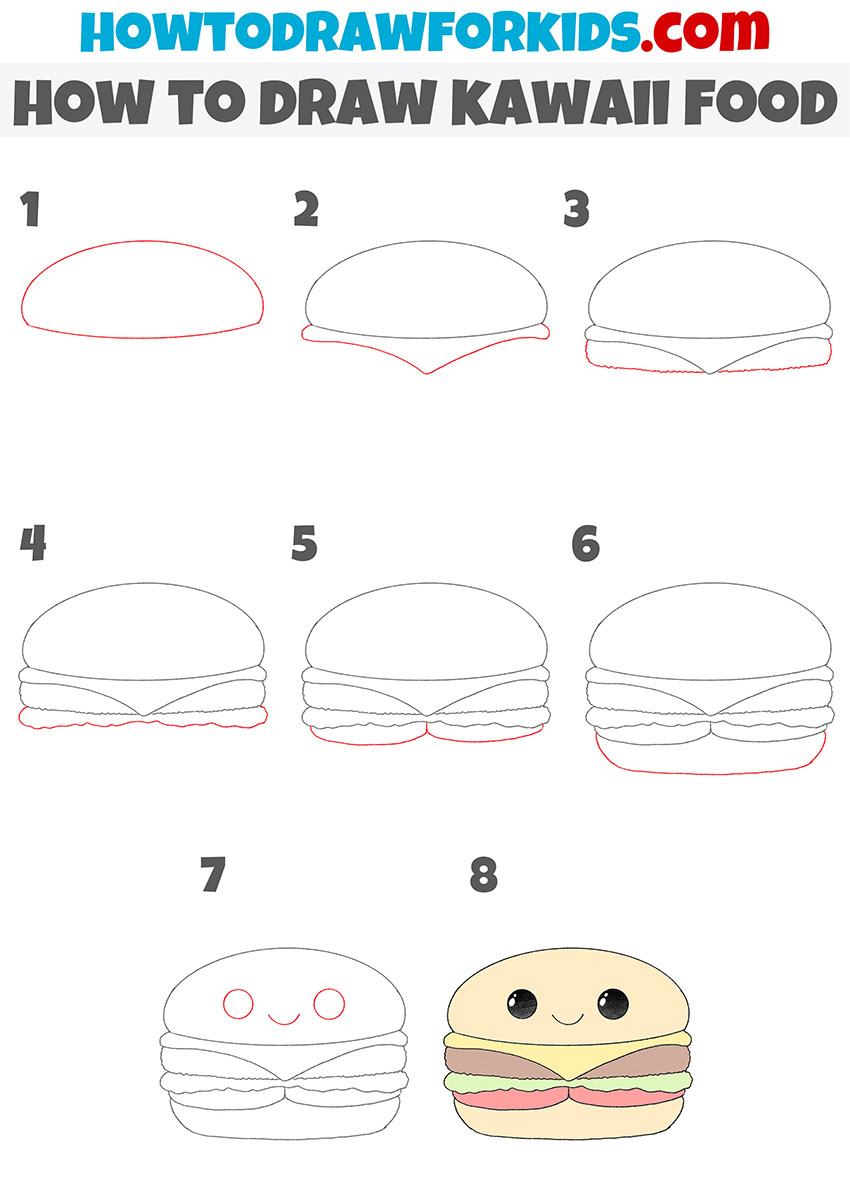 So, I am glad to present you this wonderful and easy step-by-step tutorial with which you can learn how to draw kawaii food step by step. If you are an anime fan, then this tutorial will definitely not leave you indifferent. I am sure that any novice artist and child will be able to easily complete this lesson, since each step of this instruction is very simple and has a detailed description. In this tutorial, you will see instructions for drawing a kawaii hamburger, and thanks to the image on it of facial features, the drawing will look cartoonish and cute.
Kawaii is a Japanese word meaning "cute", "pretty", "small", "tiny". In Japan, the term denotes an aesthetic concept that emphasizes innocence, childishness, and childishness and extends to all areas of Japanese society. "Kawaii" is present in Japanese pop culture, entertainment, fashion, food, toys, appearance, demeanor, personal habits, and so on. Kawaii as a cultural phenomenon is increasingly recognized as part of contemporary Japanese culture.
As you already understood, thanks to the kawaii drawing, your finished work will look very cute and funny. You will definitely enjoy the creative process when completing this lesson, and it will also cheer you up. Please note that the finished drawing must be symmetrical, that is, the right side of the drawing should look like a mirror image of its left side. By learning how to draw kawaii food, you can depict it as the main subject of your drawing, as well as complement the still life or any other drawing you have drawn with this image.
Materials
Pencil
Paper
Eraser
Coloring supplies
Time needed: 30 minutes
How to Draw Kawaii Food
Draw the top bun of the hamburger.

To complete this step, you need to draw one arc and also connect its ends with a curved line.

Add the outline of the cheese.

Below the previously drawn hamburger bun, draw a long, curved line as shown.

Depict the cutlet in the food kawaii pattern.

Below the previously drawn curved line, draw two symmetrical wavy lines of the same length.

Sketch out the outline of the lettuce leaf.

Now you need to add another squiggly line below the previously drawn lines.

Draw the outlines of two more elements.

Below the wavy line, add two symmetrical arcs of the same size, as shown in the figure.

Finish drawing the outline of the hamburger.

Now you need to add one curved line below the two previously drawn arcs.

Add food kawaii facial features.

Inside the outline of the top hamburger bun, draw the eyes and mouth using circles and an arc.

Color the drawing.

Color the kawaii burger as shown in the example. Don't forget to add the highlights to the eyes.
I remind you that you can download the PDF file that I have prepared especially for your convenience. This file contains a short version of this lesson and has additional useful training materials. Download this file so as not to lose it and return to this lesson at any time convenient for you.