In this lesson, I show you how to draw poppies. I hope that the drawing process will give you pleasure, and you will acquire useful skills.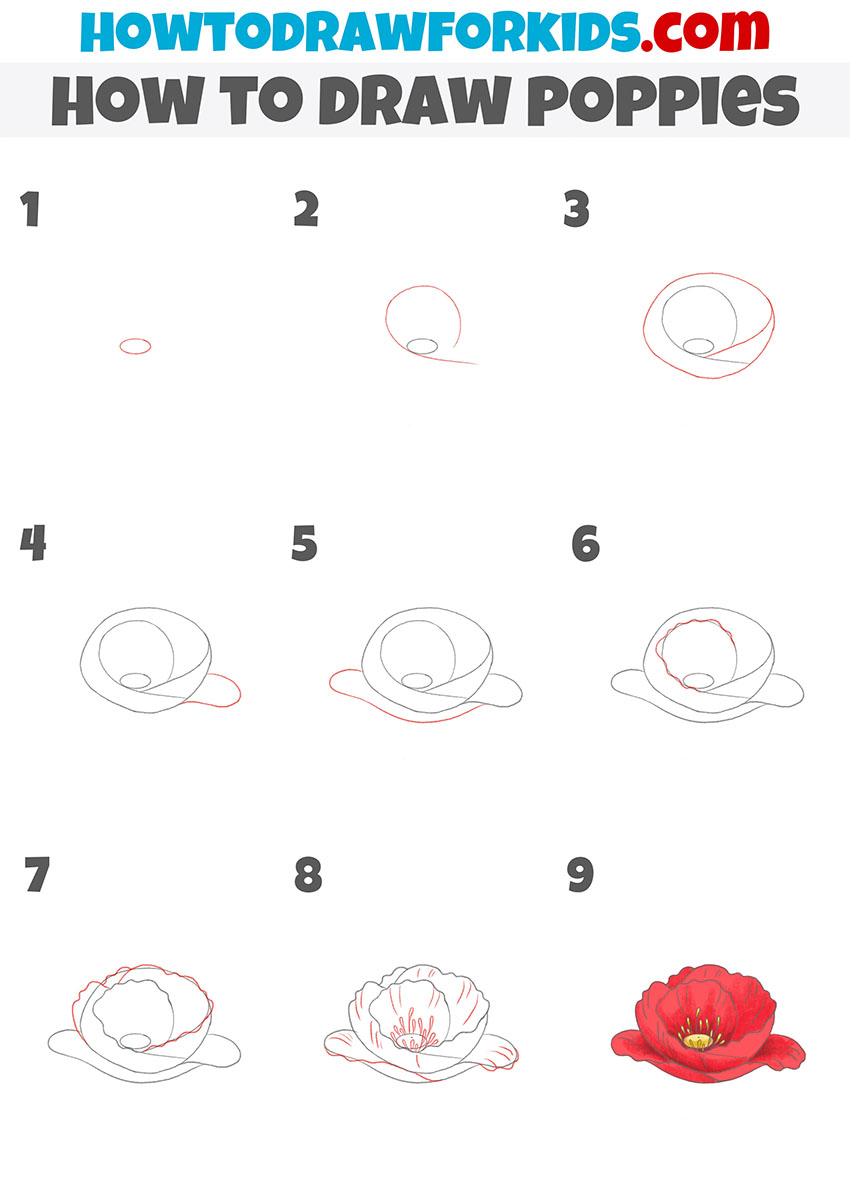 Any novice artist wants to learn how to draw flowers and in this lesson I will show you in detail how to draw poppies. These are very beautiful flowers, in which there are thin, delicate petals of bright red color.
Poppies bloom in early spring and delight us with their beauty. Unfortunately, poppy bloom does not last long, only a few days, then the petals fall off and a fruit in the form of a round box forms in the middle of the flower.
This lesson will use your ability to draw smooth, rounded lines to draw the outline of each petal. The next step is to draw wavy lines to detail the edges of the petals.
First use thin lines, then make a clear outline. Take your time during the lesson and try to draw the same lines as shown in the instructions.
Materials
Pencil
Paper
Eraser
Coloring supplies
Time needed: 35 minutes.
How to Draw Poppies
Draw the middle of the flower.

To do this, you need to draw a small oval.

Depict the first petal.

Add a smooth, rounded line around the core.

Sketch out the next row of petals.

To do this, draw a long rounded line.

Add one bottom petal.

On the right side, draw the small rounded petal.

Draw the second bottom petal.

Depict a smooth curved line at the bottom of the bud.

Detail the edge of the petal.

Depict a wavy line along the top of the petal.

Detail the edges of the other petals.

Repeat the previous step and add some more jagged wavy lines.

Add the stamens and veins on the petals.

Depict the longitudinal folds on the petals with thin lines, and draw small of the stamens.

Color the poppy.

Choose yellow for the center of the flower, and use red for the petals.
By tradition, at the end of the lesson, I suggest you download the PDF file that I have prepared specifically for your convenience. In this file you will find a brief instruction and additional useful materials.