In this tutorial, you will learn how to draw the Joker step by step. This guide has been developed for all aspiring artists.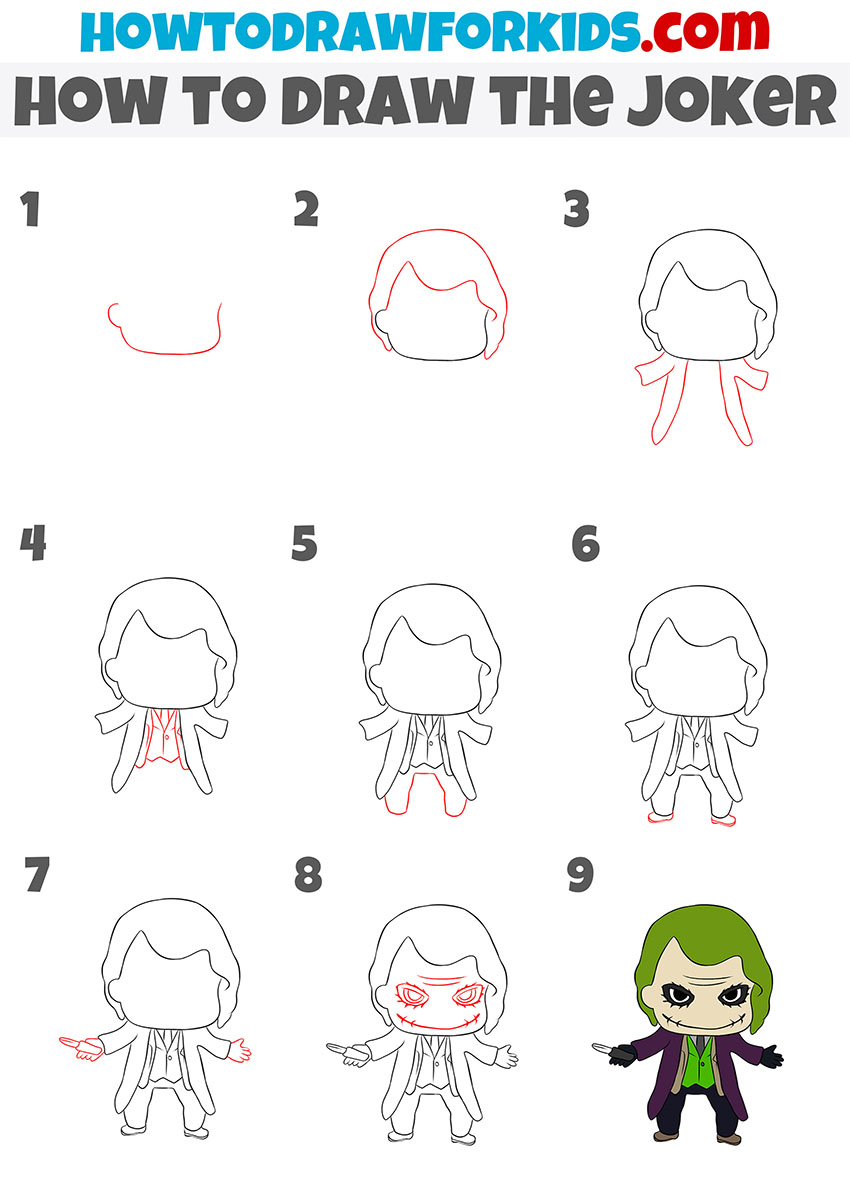 Let's continue drawing popular characters and in this tutorial I will show you how to draw the Joker step by step. This is the super villain of the DC Comics universe and the main enemy of Batman.
The Joker is presented in the form of a clown, and as a weapon he uses items that are stylized as clown props. The Joker has matching makeup, unusual green hair, and is always dressed in a purple suit.
The Joker has a smile on his face, but his face has an unpleasantly evil expression. I hope that you will be interested in drawing this negative character and in the process you will acquire useful skills.
The instruction includes nine steps, each of which is demonstrated and supplemented with a small hint. Follow the sequence of actions and carefully draw all the lines to get an excellent result.
Materials
Pencil
Paper
Eraser
Coloring supplies
Time needed: 30 minutes
How to Draw the Joker Step by Step
Draw the ear and an oval of the face.

Depict a smooth line to draw the lower outline of the square-shaped face and ear.

Sketch out the hair.

The top outline of the hair is rounded, and the hair above the forehead has a jagged edge.

Add the jacket.

From the head, draw down smooth lines to depict the small jacket.

Depict the vest.

Carefully draw the vest and other clothes under the jacket.

Draw the legs.

The legs are short and located at some distance from each other.

Sketch out the shoes.

Depict the shoes that are directed in opposite directions.

Draw the hands.

In one hand, the Joker holds a weapon, the other hand is turned palm up.

Add facial features.

Draw the evil eyes, folds of skin on the forehead and the wide mouth.

Color the Joker.

You will need beige and green, as well as several shades of purple.
All important information about this lesson is contained in a PDF file that I have prepared especially for your convenience. Download the file to have access to the lesson at any convenient time.