In this super simple step-by-step tutorial, I will teach you how to draw a bug in just nine very easy steps with helpful hints for you.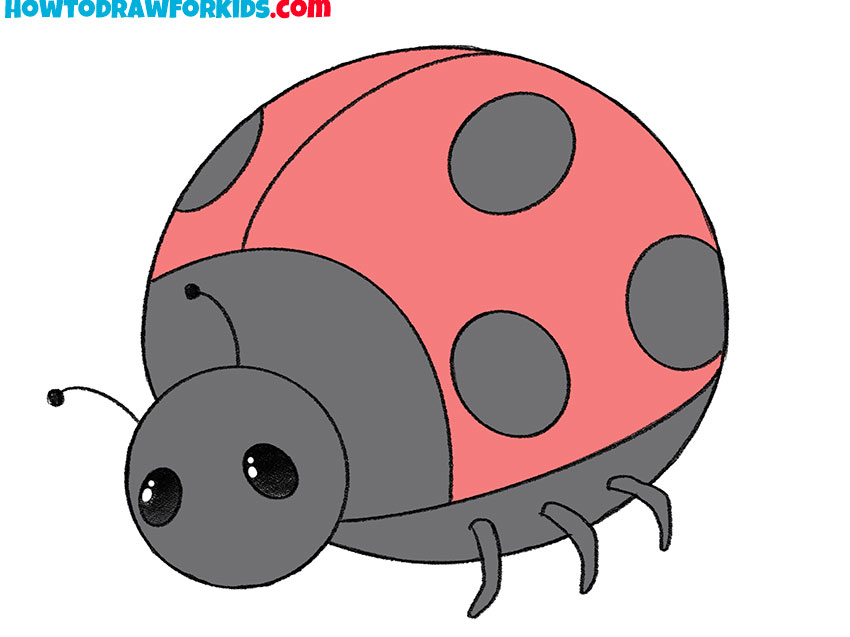 In this tutorial, I want to show you how to draw a bug. All in a few simple steps, you will learn how to draw a popular insect and have a good time.
This lesson will be interesting for any young naturalist and aspiring artist. Here I will show in detail how to draw a bug. In the picture, you see a ladybug. It is a popular member of the large beetle family. This bug has a rounded body and bright coloration.
Perhaps you have repeatedly seen such a bug in real life, and now you have to learn how to draw this insect on your own. Sequentially, follow all the drawing steps and use small hints to correctly depict the next element.
Materials
Pencil
Paper
Eraser
Coloring supplies
Time needed: 30 minutes
How to Draw a Bug
Draw the torso.

Determine the size of the insect and depict a circle.

Depict the head.

In the lower left part of the circle, draw another small circle.

Add the outline of the elytra.

Draw two smooth curved lines that are perpendicular.

Detail the elytra.

Depict a dividing line and add some large spots.

Sketch out the eyes.

Draw two small ovals on the bug's head.

Add the antennae.

Depict two whiskers on the head. At the ends of the antennae, draw two large dots.

Draw the paws.

On the side of the body, depict three small paws in succession.

Correct inaccuracies.

Use the eraser to remove extra lines in the drawing.

Color the bug.

You will need dark gray and red for the bug's body. Color the eyes black and add highlights.
As usual, at the end of the lesson, there is a link where you can download a brief instruction in PDF format. Use the file whenever you want to return to the lesson.