In this lesson I want to show you how to draw a cartoon bird. The instruction is simple, and you can easily cope with this creative task.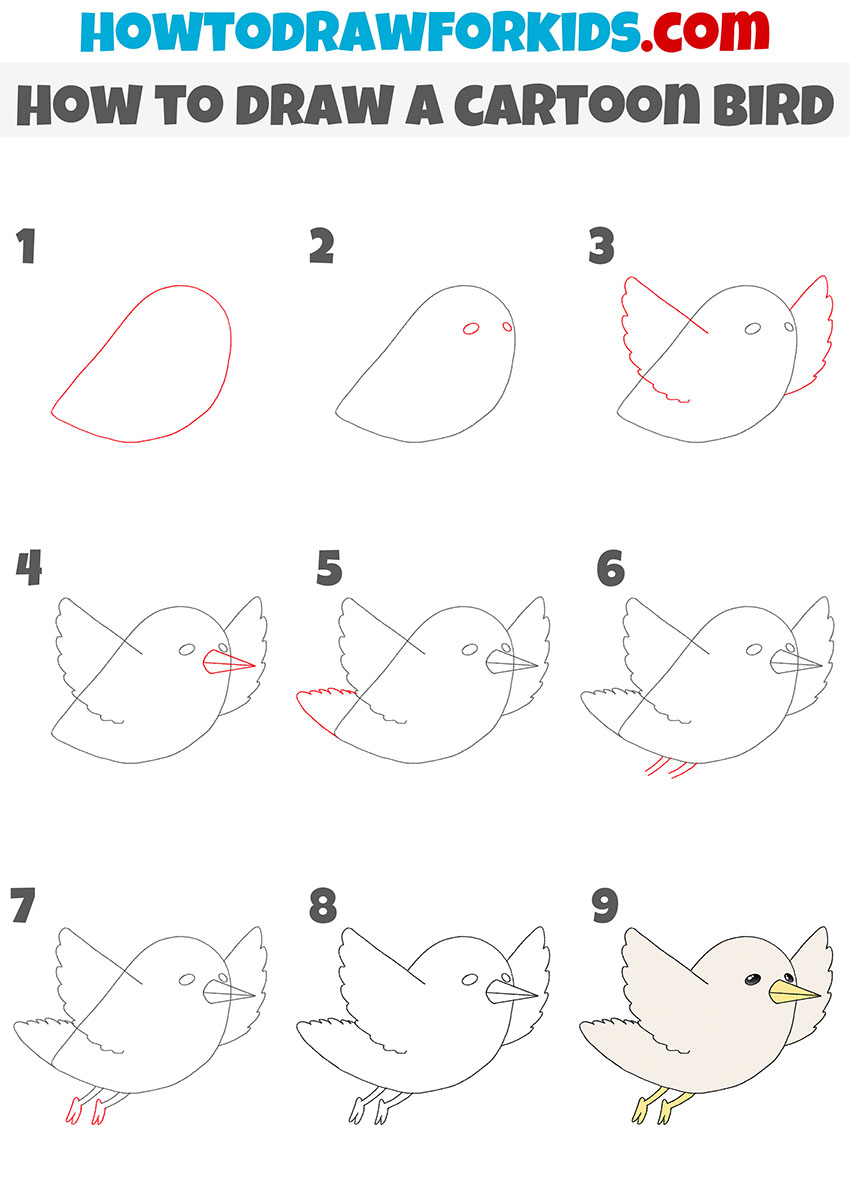 Especially for children and beginners, I have prepared a fascinating lesson on how to draw a cartoon bird step by step. This instruction uses simple lines and a minimum of elements. In the drawing, the bird is depicted during the flight, so it opened its wings wide and pulled up its paws.
In the process of work, try to correctly depict the position of the body of the bird. To color the plumage, you can choose the same color that is suggested in the instructions, or you can color the bird at your discretion. It will be very beautiful if you add spots and depict colorful plumage.
Now take all the necessary art supplies and start this lesson, and I wish you creative success.
Materials
Pencil
Paper
Eraser
Coloring supplies
Time needed: 30 minutes
How to Draw a Cartoon Bird Step by Step
Draw the outline of the body.

The head and torso are one object that has a rounded shape and the pointed end.

Depict the eyes.

In front of the head draw two oval eyes.

Add the wings.

Draw the upper parts of the wings with straight lines, and the rest of the outline with wavy lines.

Sketch out the beak.

Draw the pointed beak, which consists of two parts.

Draw the tail.

At the back of the torso, add the tail using a smooth and wavy line.

Depict the base of the paws.

Draw short, curved lines at the bottom of the body.

Add the lower parts of the paws.

Draw the small fingers on the bottom of the paws.

Correct inaccuracies.

Take the eraser and carefully remove all the extra lines in your drawing.

Color the drawing.

You will need shades of beige or brown. Color the beak yellow and the eyes black.
Now you know how to draw a cartoon bird step by step. I hope you had a good time and you got a great drawing. If you would like to always have access to this lesson, then download the PDF file right now, which contains a brief instruction and additional training materials needed to complete the lesson.