Today I will tell you about how to draw a cow for kindergarten. These are just a few basic steps and you will get great results.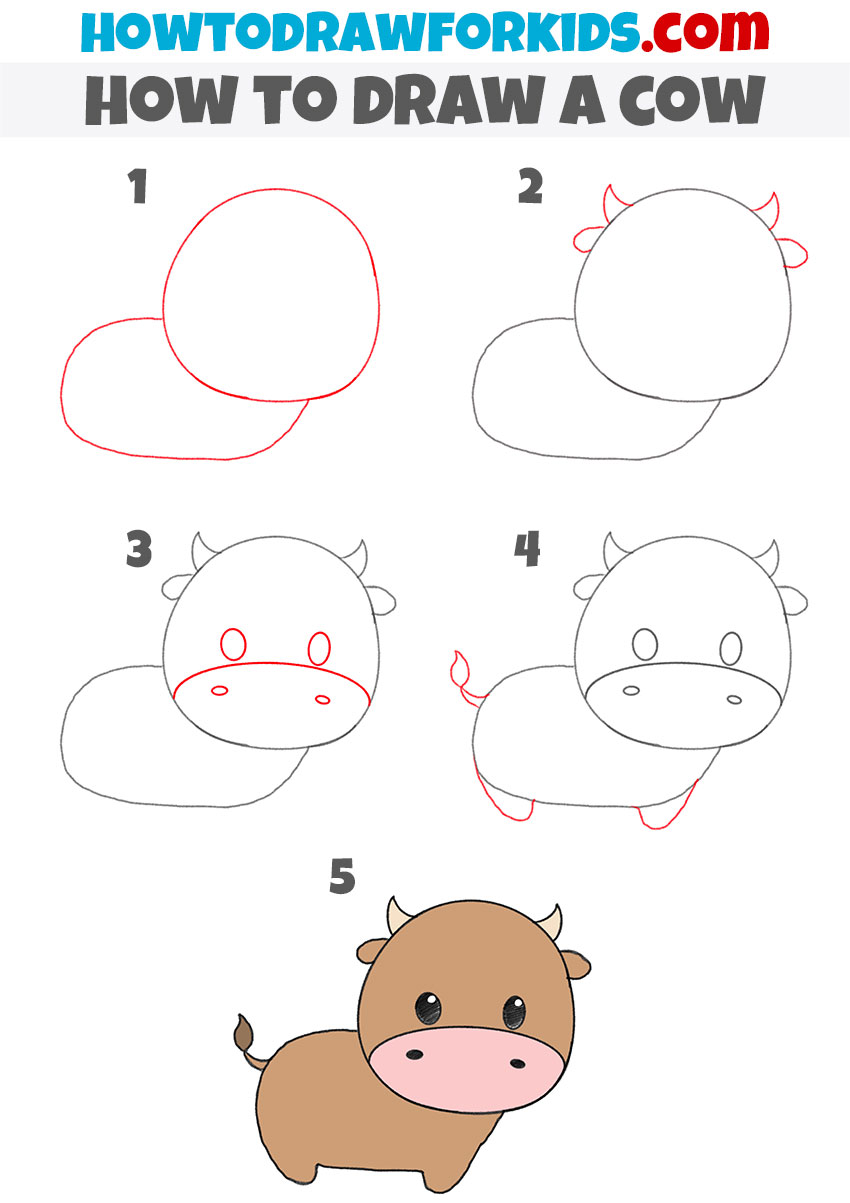 Let's go back to the topic of pets – in this tutorial, I invite you to draw a cow for kindergarten. The cow is a large domestic animal that gives us milk and meat. You can draw a cow in different ways. In this tutorial, I will show you the easiest way to draw a cow, which is ideal for beginner artists. In just six steps you will learn how to draw a cute cow.
The guide is made in a cartoon style and consists of a few simple elements. Here you should draw some rounded lines. Respect the proportions throughout this lesson. Also, note that the cow's head is larger than the torso, and the legs are very short.
Prepare all the necessary supplies and start the lesson. Go through all the stages of drawing, use my tips and you will see that drawing a cow is very easy!
Time needed: 15 minutes.
How to Draw a Cow for Kindergarten
Draw the head and torso.

To do this, draw two circles of the same shape as in the example.

Draw the horns and ears.

Add small horns and ears with a few simple lines.

Draw a muzzle.

Use a semicircular line to outline the bottom of the head and draw the eyes and nostrils.

Draw the legs and tail.

Depict short legs with two smooth lines and add a tail.

Color the cow.

Color the torso and head brown, the muzzle pink, and the eyes black.
Now you have mastered the next drawing lesson. I hope this tutorial was interesting and helpful for you. You can make a beautiful background in your drawing. I recommend that you draw a green meadow on which this cow grazes. Add some grass and some flowers. Thus, your drawing will be more vivid and colorful.
So, share the result with your friends and rate the drawing together. Write your wishes in the comments. I will be guided by your opinion when creating new lessons.
By tradition, I suggest you take advantage of the useful tools that are contained in the PDF file. I have prepared this file for your convenience. Download this file and get creative anytime you want.