In this lesson you will learn how to draw a crown. With these easy step-by-step instructions, you'll be able to draw a great drawing!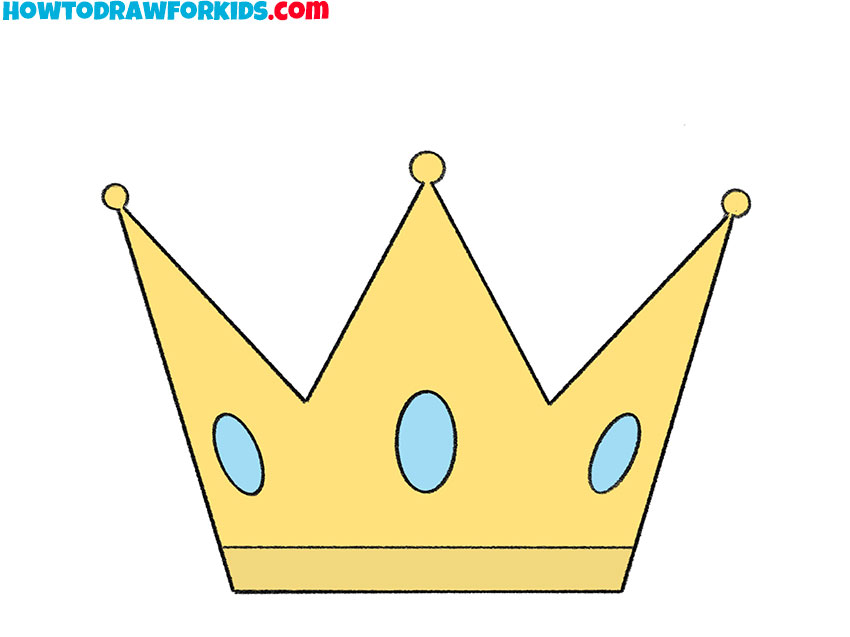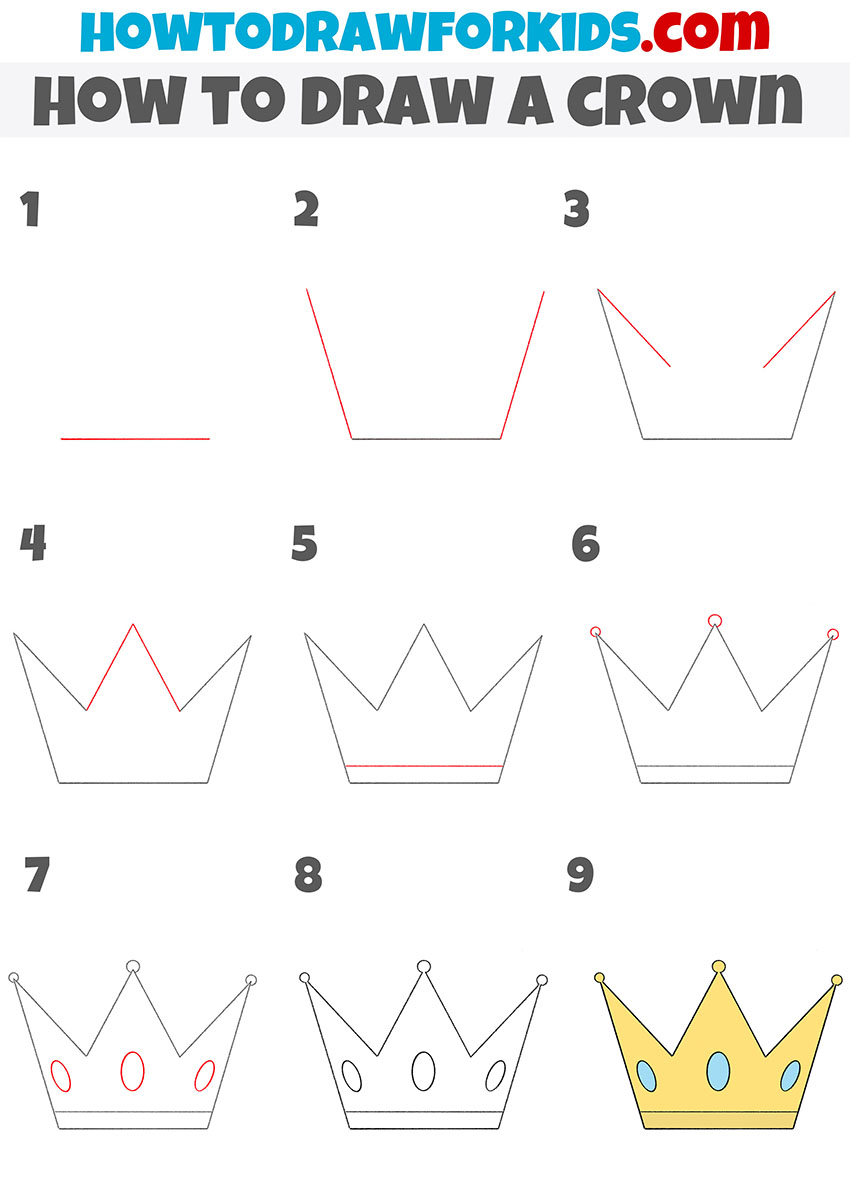 This drawing lesson on how to draw a crown will help you if you want to learn to draw this luxurious accessory. A crown is a headdress usually worn by kings, queens, and other monarchs. This object symbolizes the authority and high social rank of the one who wears it.
The crowns come in a variety of types. Usually, crowns are decorated with various jewels, patterns, and gilding.
With this tutorial, you will depict a golden crown adorned with three jewels. Prepare the materials below and get started on this exciting lesson!
Materials
Pencil
Paper
Eraser
Coloring supplies
Time needed: 20 minutes.
How to Draw a Crown
Draw the bottom outline of the crown.

This step will be very simple for you, as you only need to draw one straight horizontal line.

Depict the sides of the crown.

From the two ends of the previously drawn line, draw two same straight diagonally oblique lines.

Start drawing the top of the crown.

Outline two more straight lines from the ends of the previously drawn lines.

Complete the drawing of the top of the crown.

To complete this step, you should draw a figure that looks like a triangle without a lower base.

Add the decorative element.

At the bottom of the crown, draw a horizontal line parallel to the bottom base of the crown.

Add the elements at the top of the crown.

To do this step, draw incomplete circles on each of the pointed crown tips.

Draw the rest of the decorative elements.

To depict the jewels on the crown, you need to draw three ovals on it.

Erase unnecessary lines.

Use an eraser to remove auxiliary lines that appeared during the drawing process.

Color the drawing.

To color the crown you drew, use light yellow and light blue.
At this point, this step-by-step drawing guide comes to an end. I'm sure you've learned new and useful artistic skills and will be able to apply them in the future. If you want to come back to this drawing lesson later, you can use the pdf file with a short version of this tutorial. I have prepared this file especially for you to be able to use this tutorial at any time, even without an internet connection.