In this drawing lesson, I would like to tell you how to draw a dove step by step. The lesson includes eight easy step steps.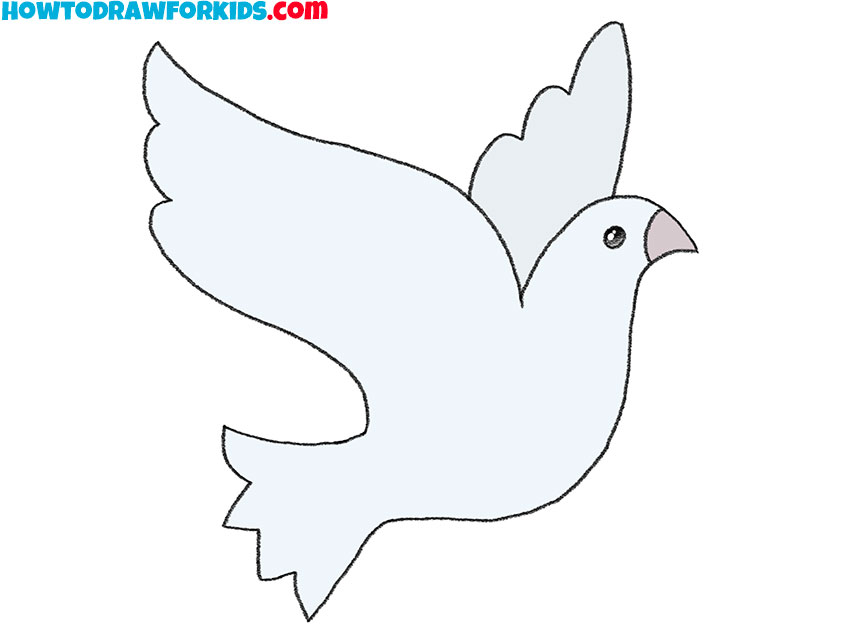 So, I am glad to bring to your attention a new, exciting lesson in which I will show you how to draw a dove step by step. If you have already drawn birds before, then you can easily follow this lesson, but even if you are a beginner in drawing, you will still achieve good results, since the instructions are very clear and accessible.
First, I want to tell you some fun facts about this bird. Doves have a phenomenal memory, and it is thanks to this quality that doves have been used for several centuries to deliver messages. In many countries, the dove is considered a symbol of peace.
Doves are very common, and there are many types of doves on our planet that differ in size and color of plumage. Doves have a long lifespan, and even in the wild can live up to 20 years. I hope that you were interested in learning some information about doves, and you are ready to start the lesson. In this lesson, we will need our ability to draw smooth curved lines. Be consistent and patient for the best results.
Materials
Pencil
Paper
Eraser
Coloring supplies
Time needed: 30 minutes.
How to Draw a Dove Step by Step
Draw the outline of the head and torso.

Use smooth lines to draw the top and bottom of the body.

Depict the tail.

Continue the lines and depict the tail, which has a jagged outline at the end.

Add the top outline of the wings.

From the head and neck, draw up smooth curved lines.

Sketch out the bottom outline of one wing.

With the help of a wavy, curved line, draw the outline of the wing, which is located closer to us.

Draw the outline of the other wing.

Depict a small wavy line as shown in the example.

Add head elements.

Sketch out the small round eye and beak.

Correct inaccuracies.

Remove extra lines in the drawing and correct mistakes if necessary.

Color the drawing.

For coloring, use a light gray or light blue.
The dove is ready! Now you know how to draw this popular bird, and can use the acquired skills in your subsequent drawings. Write your opinion about this lesson. I will be glad to receive feedback from you. If you want to always have access to this lesson, then download the PDF file right now, which contains a brief instruction and additional training materials.