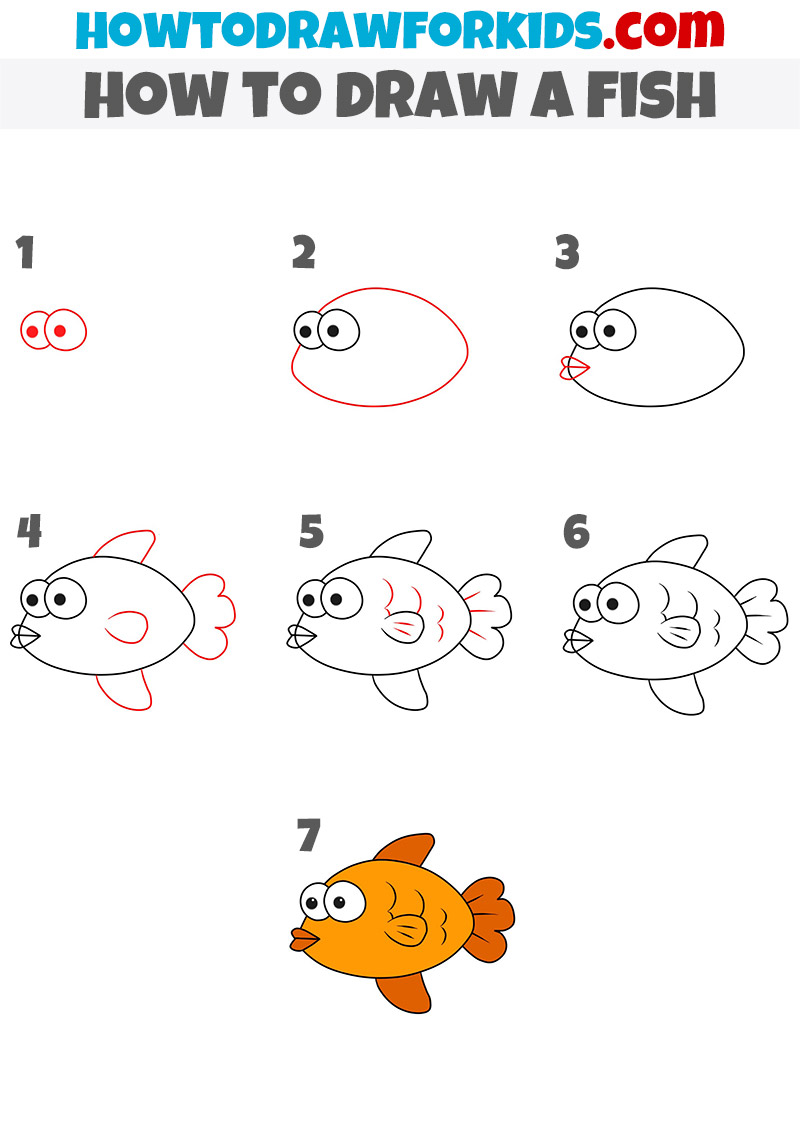 Hello, dear young artists and welcome to the drawing tutorial about how to draw a fish for kids!
Step 1
At first draw the eyes in the shape of circles. Draw pupils inside the eyes.
Step 2
Create a body of fish that is similar to a rugby ball. But there are more flat and round fish. So try to draw different options.
Step 3
Draw the big lips of the water creature under the eyes. They should be quite plump, like in users of Instagram.
Step 4
In this step, we add fins to the body of our fish. Different fishes have a different appearance and different fins, so experiment, getting the look of different fishes.
Step 5
Add some scales as in my example. On the fins, draw longitudinal lines, this action will give your fish a more natural look.
Step 6
If you did everything right then you will get such a fish. The only thing left to do is remove all unwanted lines from your picture.
Step 7
We just need to add some color to our fish. I decided to use a golden color, but you can paint your fish in any color of the rainbow.
It was a sketching and painting instruction about how to draw a fish very easy for kids. Visit other my guides and tell your friends about Howtodrawforkids.com.
This is certainly not the only instruction on animals on Howtodrawforkids.com. In addition to fish, we were taught to depicture a huge number of other animals living in water, on the ground, and in the air.
And in order for you to have access to this lesson at any time, just save this simplified version on your smartphone or on social networks. This will help us develop and teach our readers to draw new cool animals.