I suggest you complete the lesson on how to draw a gift. I am sure you will find this step-by-step guide very helpful.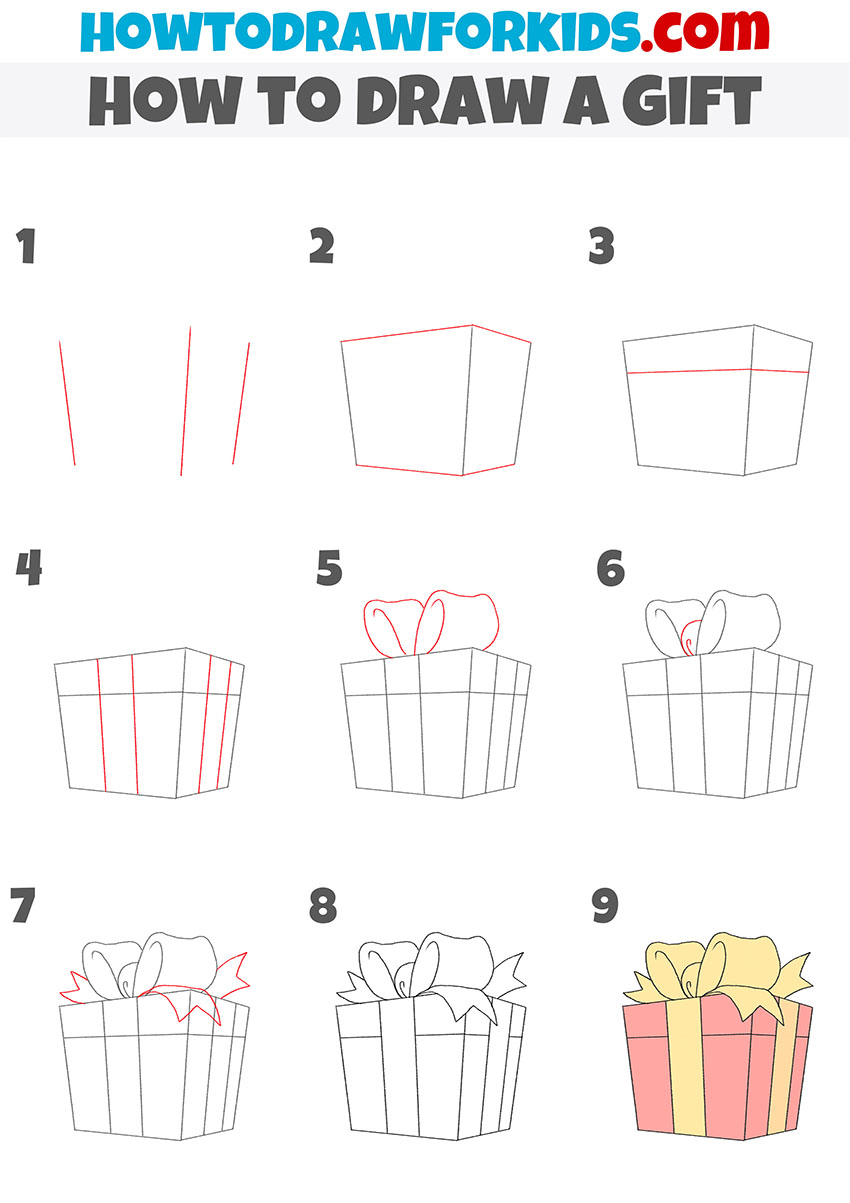 Now I will show you how to draw a gift step by step. In the picture you see a box that is tied with a ribbon and there is a large bow on the lid. In this way, gifts are usually wrapped and given to their relatives and friends. This design looks very festive and evokes pleasant emotions.
This lesson will require your ability to draw smooth straight lines. In the process, you can use any tools at hand, or you can draw all the lines yourself. Remember the steps in sequence so that in the future you can easily draw such a gift if necessary.
Now check that you have all the art supplies at hand and start an exciting creative work.
Materials
Pencil
Paper
Eraser
Coloring supplies
Time needed: 30 minutes
How to Draw a Gift
Draw the side faces of the box.

Depict three even straight lines in the same position as in my example.

Add the top and bottom outlines of the box.

Draw straight connecting lines at the top and bottom of the drawing.

Depict the outline of the lid.

Draw straight lines at the top of the drawing to represent the lid on the box.

Sketch out the ribbon.

On each side of the box, draw even, straight lines to depict the width of the ribbon.

Start drawing the bow.

Draw the bow on the top of the box using smooth, curved lines.

Draw the inside of the bow.

Depict two lines of different shapes between the large folds of the bow.

Add the ends of the ribbons.

In different parts of the bow, draw the pointed ends of the ribbons.

Correct inaccuracies.

Correct the mistakes if necessary and remove any extra lines.

Color the drawing.

For coloring, choose the brightest shades of pink and orange.
The gift is ready! I hope that you correctly followed all the steps in this manual, and you like the result of the work. If you want to always have access to this lesson, then right now download the PDF file, which contains all the necessary information about this lesson.