How to Draw a Husky Face Step by Step
In 1952, huskies saved people from death by delivering a diphtheria vaccine. I would like to show you how to draw a husky face step by step.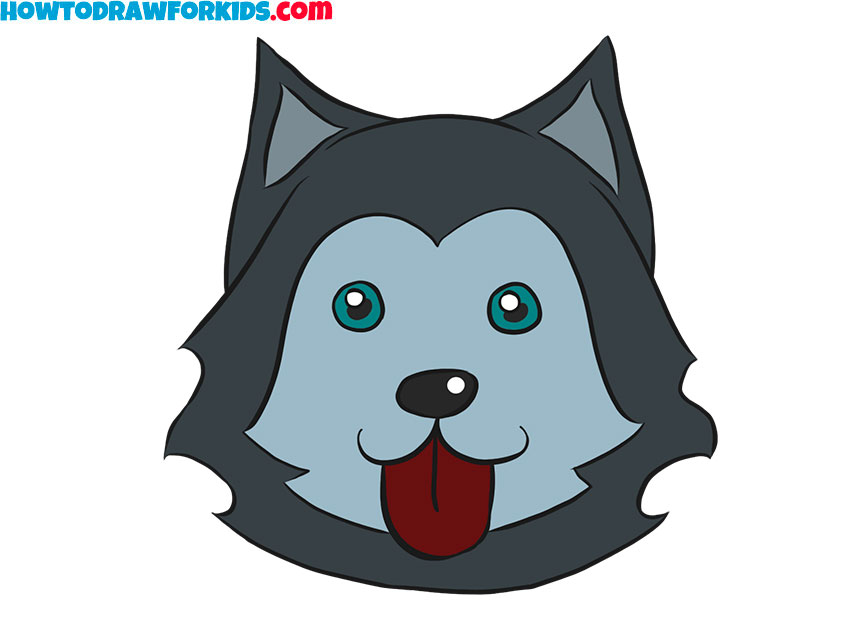 In this tutorial, I will show you how to draw a husky face step by step. Husky is one of the most beautiful dog breeds. This is a powerful sled dog, and in the past, inhabitants of the northern regions kept such dogs to transport people and goods. Now, this dog is kept as a pet not only in the north but also in other regions. Husky is a reliable and loyal friend, companion, and helper. This dog is easy to train and quickly masters all commands.
In the picture, you can see a very beautiful husky face. This dog ​​has a thick coat that protects and warms in harsh climates. The husky coat has different shades. Usually, the front of the husky's face is lighter, and the coat is darker on the sides.
A distinctive feature of the husky breed is very beautiful eyes. In most cases, husky's eyes have a beautiful blue color. In rare cases, the color of the eyes can be different, for example, one eye is blue and the other is brown. In the picture, the husky's eyes are bright blue, but you can color them as you see fit.
The husky face step-by-step drawing tutorial consists of a few simple steps that any aspiring artist can easily follow. Use my tips and then you will get an excellent result.
Now, prepare all the necessary supplies and start this lesson.
Materials
Pencil
Paper
Eraser
Coloring supplies
Time needed: 21 minutes
How to Draw a Husky Face
Draw the outline of the head.

To do this, use some smooth lines. Highlight the fluffy ends of the fur on the sides.

Portray the ears.

The ears are medium in size and triangular in shape.

Depict the inside of the ear.

Draw small triangles inside each ear.

Sketch the front of the face.

Using smooth lines add the part of the face where the color of the coat will differ.

Draw the eyes.

To do this, make two small circles.

Detail the eyes.

Add some highlights inside the eye.

Portray the nose and mouth.

Depict a small oval and outline the mouth with two smooth lines.

Draw the tongue.

Sketch the tongue with a smooth, rounded line and add the strip in the center of the tongue.

Color the husky's face.

Use shades of gray for the coat, color the eyes blue, and the tongue red. Add white highlights.
Now you can draw a husky face. I hope you enjoyed the husky face step-by-step drawing tutorial. I would be glad if you leave your feedback in the comments.
For your convenience, I have prepared a PDF version of this tutorial. Download this file and use all helpful tools whenever you want to get creative.