I suggest you complete a very interesting lesson in which I will show in detail how to draw a koala step by step.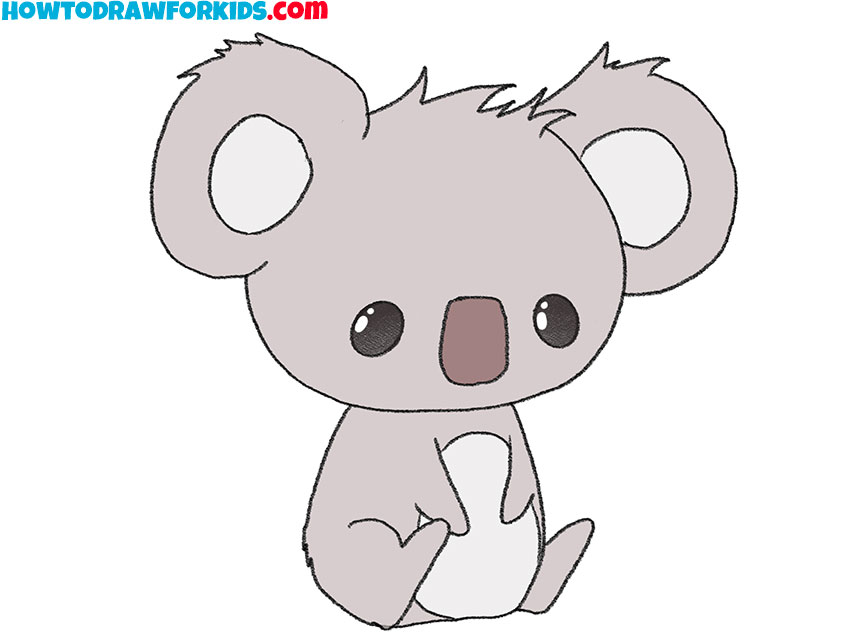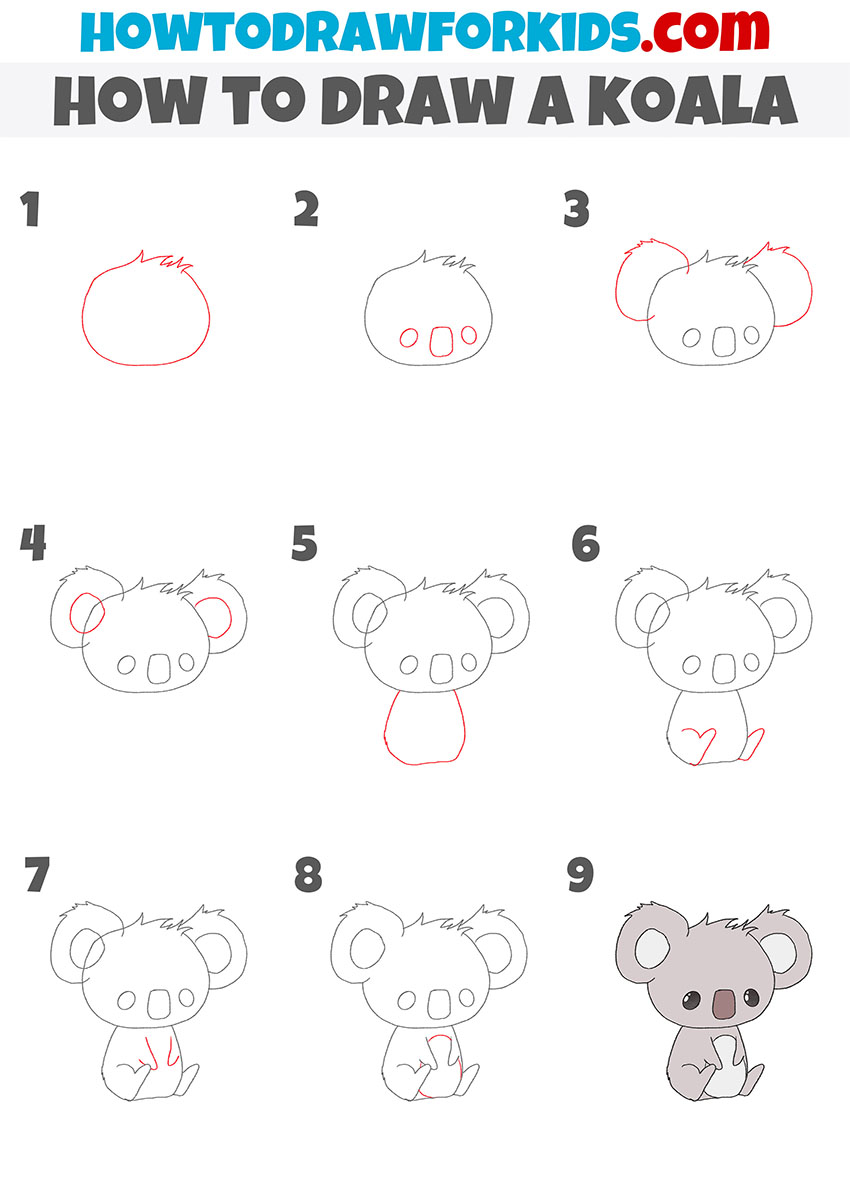 Especially for beginners, I have prepared a new, exciting lesson in which I will show you how to draw a koala step by step. But before we start drawing, I want to share some information about koalas with you.
These creatures live in Australia and look like bears, but they are not bears and belong to a completely different kind of animal. Koalas look plush and soft, but they actually have coarse, thick fur that is good for keeping out heat and cold.
Koalas have sharp claws, thanks to which they easily move along tree trunks. Moreover, they can not only deftly move, but sleep for a long time on the branches of trees. Koalas descend to the ground in exceptional cases, for example, if they need to get on a tree that they are not able to jump from another trunk.
In this drawing, the koala looks very funny and has a cartoonish look. Pay attention to body proportions. The koala has a large head, large round ears, and the eyes and nose are almost on the same level. Try to keep these proportions in your drawing.
Materials
Pencil
Paper
Eraser
Coloring supplies
Time needed: 30 minutes.
How to Draw a Koala Step by Step
Draw the head.

Depict a rounded figure and a few spiky strands at the crown.

Add the elements of the muzzle.

At the bottom of the head, draw two oval eyes and the large rectangular nose.

Depict the ears.

Add two large round ears along the edges of the head.

Sketch out the inside of the ears.

Continue drawing the ears and draw small circles inside.

Draw the torso.

Depict the small torso below the head.

Depict the upper paws.

In the middle of the torso, draw the small front paws that have a triangular shape.

Add the lower paws.

Using the main curved lines depict the lower legs in the same position as in the example.

Sketch out the outline of the belly.

Draw connecting lines between the paws.

Color the koala.

For coloring, you will need black and different shades of gray.
I will be glad to receive feedback from you. If you want to always have access to this lesson, then use the link and download the PDF file, which contains a brief instruction and additional training materials. Thus, you can always return to the lesson regardless of the Internet connection.