The lesson on how to draw a llama step by step is ready. This is a simple nine-step tutorial. If you like drawing animals, you will enjoy this lesson!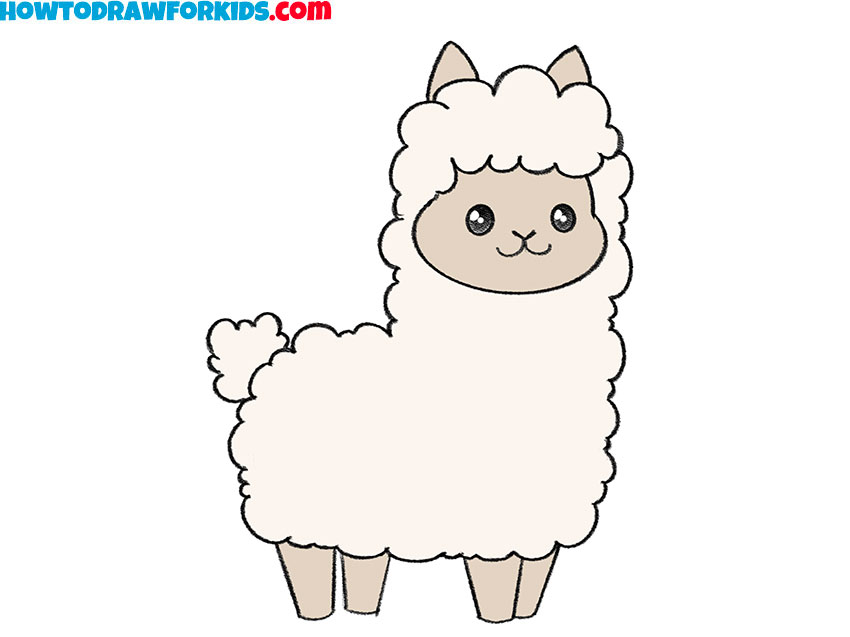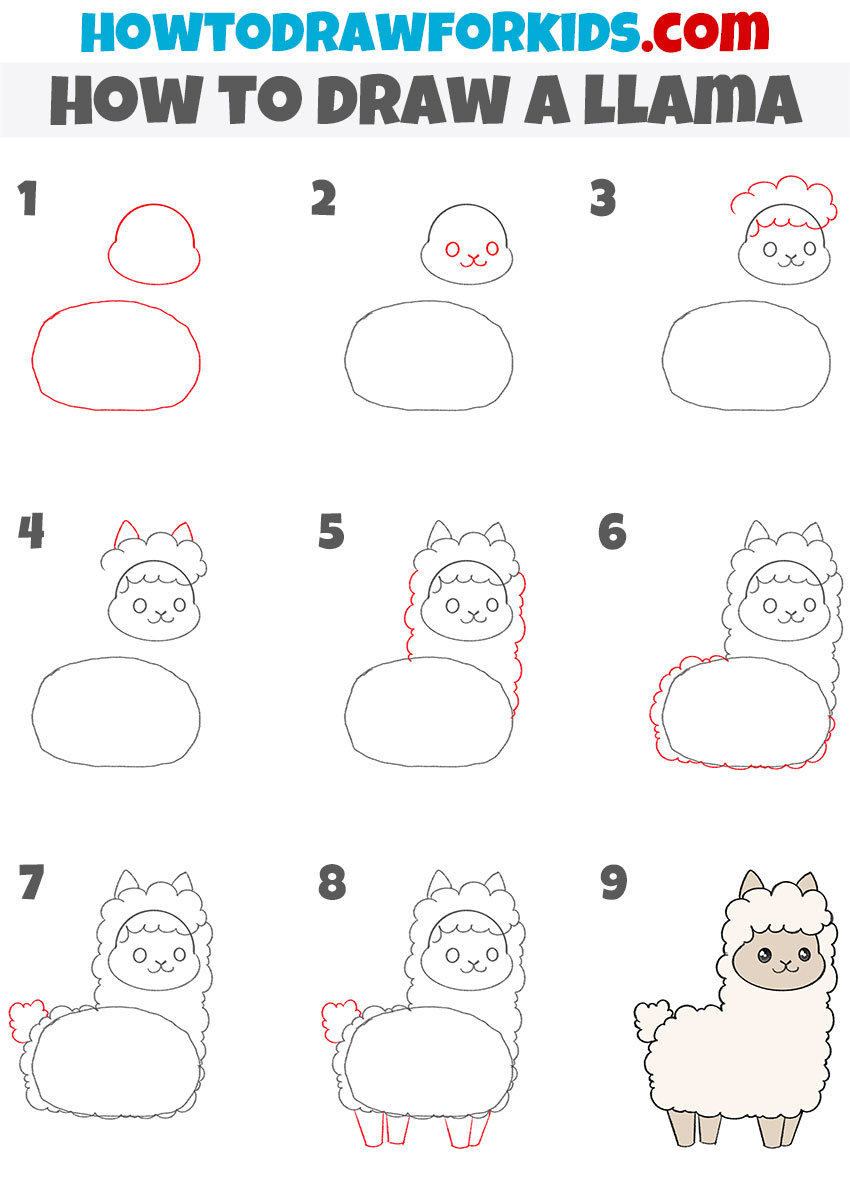 In this drawing guide, you will learn how to draw a llama step by step. I'm sure you'll do well with this drawing and learn new and useful skills for yourself.
Llamas are members of the camelid family. This very cute animal is quite ancient. Camelids first appeared on the Central Plains of North America about 40 million years ago. About 3 million years ago, llamas' ancestors migrated to South America. Llamas are vegetarians. These animals are very kind and safe for humans and animals.
I'm sure you've been interested in learning a bit of new information about llamas. Now let's get down to drawing this animal!
Materials
Pencil
Paper
Eraser
Coloring supplies
Time needed: 20 minutes.
How to Draw a Llama Step by Step
Draw the outline of the head and body.

Depict the body as an oval and the head as a curved line. Draw these figures separately.

Add facial features.

Draw the llama's eyes as ovals and her nose and mouth with straight and curved lines.

Draw the top part of the mane.

Add thick hair on the llama's head by drawing as many rounded lines.

Outline the llama's ears.

Draw two identical pointed ears. These elements look like triangles without one side.

Draw the wool around the llama's neck.

The llama's wool looks very thick. Draw curved lines connecting the torso and the mane.

Depict the wool on the animal's torso.

To depict the animal's curly wool, add curved lines along the outline of the llama's torso.

Draw the llama's tail.

The hair on the llama's tail is also curly. Depict it with rounded lines.

Outline the llama's paws.

Use straight and curved lines to do it. One of the paws is a little covered by the other.

Erase the auxiliary lines and color the drawing.

Use an eraser to remove unnecessary lines. Colour the llama using shades of grey and black.
This drawing lesson is over. Now you know how to draw llama step by step. Write in the comments if you had any difficulties while doing this work. Do not forget to subscribe to us on social networks and share this lesson with your friends. I have prepared a PDF file that contains a short version of this lesson. You can use this file even without an Internet connection.