In this lesson, you will learn how to draw a prince. This step-by-step instruction consists of nine simple steps.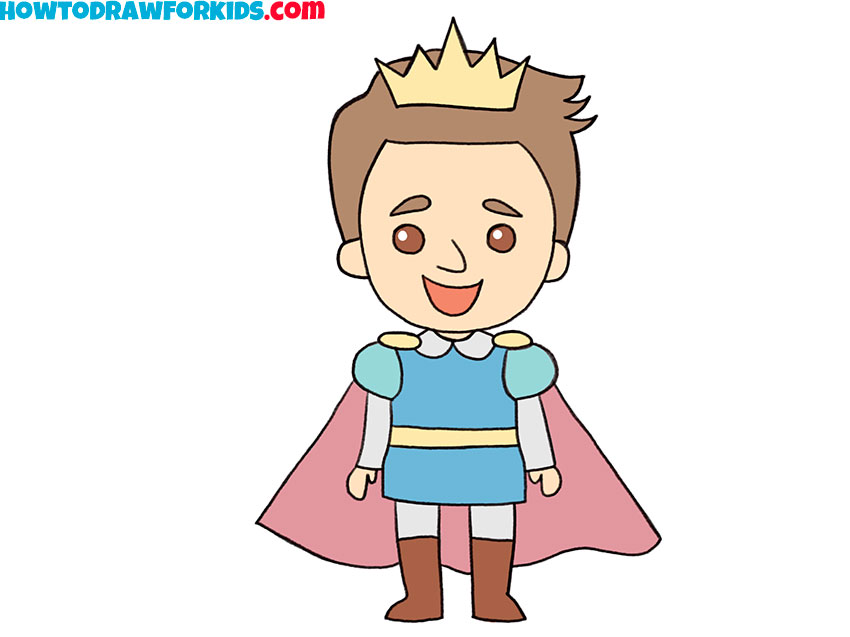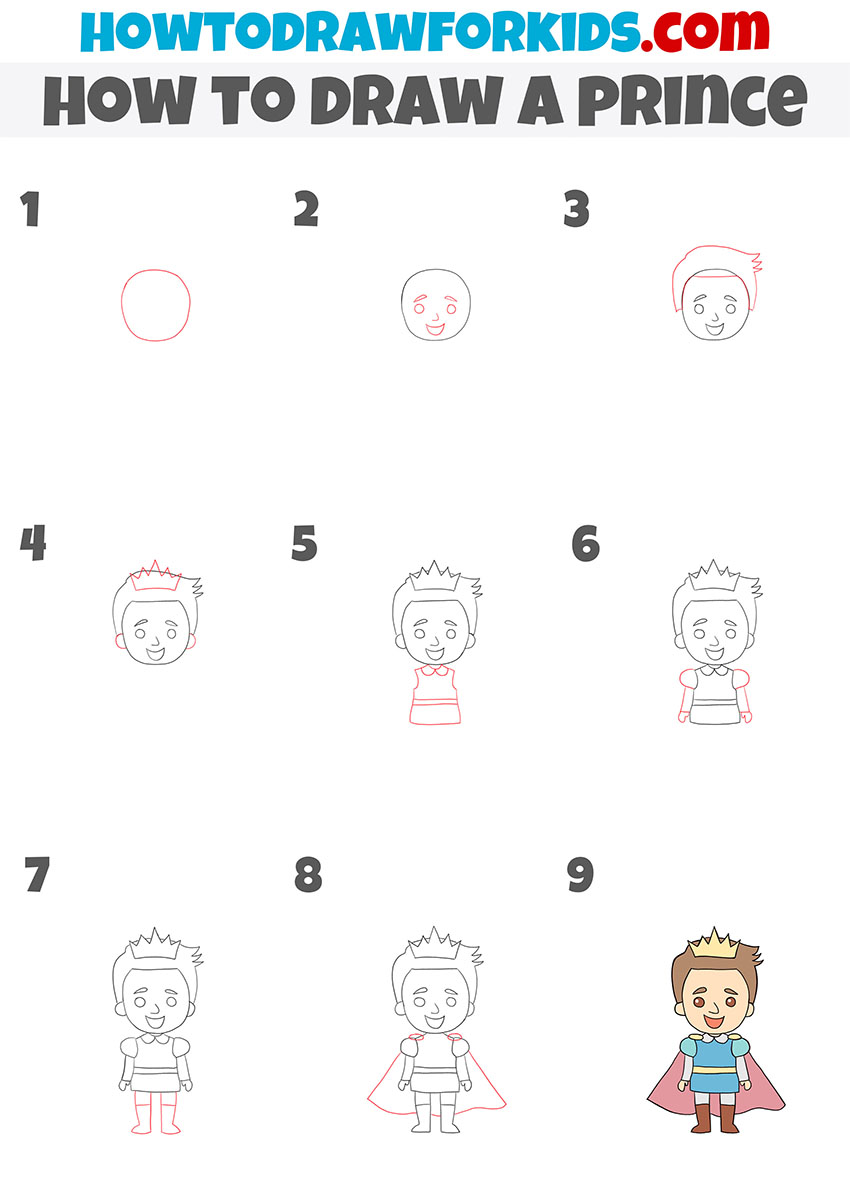 So, I have prepared for you a fun and exciting drawing lesson in which I will tell you how to draw a prince step by step. This lesson is sure to help you improve your artistic skills. With the help of this instruction, you will be able to practice drawing a person. The ability to draw people is very important for every artist.
Prince is a royal title usually given to the sons and grandsons of reigning and former monarchs. You could meet the prince many times as various cartoon characters, films, and also books. And perhaps you even saw the prince live.
The prince that you will draw with this tutorial will be drawn in a cartoon style, since his head looks quite large compared to his torso, and because of this, the drawing looks cute and funny.
Now you can learn how to draw this character by yourself. To do this, you only need to prepare art supplies and carefully follow my instructions.
Materials
Pencil
Paper
Eraser
Coloring supplies
Time needed: 35 minutes.
How to Draw a Prince
Draw the outline of the prince's head.

Depict the prince's head as a circle-like figure using curved lines.

Add facial features.

Draw the eyebrows, eyes, nose, and the mouth using circles and curved lines.

Depict the outline of the prince's hairstyle.

At the top of the character's head, depict the hair using straight and curved lines.

Sketch out the prince's crown and ears.

Draw the crown on the head using straight lines, add the ears in the form of two arcs.

Draw the upper body.

Below the head, draw the torso using curved lines, as shown in the picture.

Add the prince's arms.

Depict symmetrical arms to the right and left of the torso using straight and curved lines.

Draw the prince's legs.

Below the torso, depict symmetrical legs using straight and curved lines.

Depict the prince's robe.

To add this element of the costume, draw two ovals, as well as wavy and straight lines.

Color the drawing.

Use beige, shades of brown, red, shades of blue, yellow, and pink.
Traditionally, for your convenience, I have prepared a PDF file that contains a short version of this lesson, as well as training materials that will help you complete this lesson. Download this file right now so as not to lose this lesson and return to it at any time convenient for you, even if you are not connected to the Internet.