I have prepared a new drawing lesson in which I will tell you how to draw a sailboat step by step. This lesson will be simple and useful.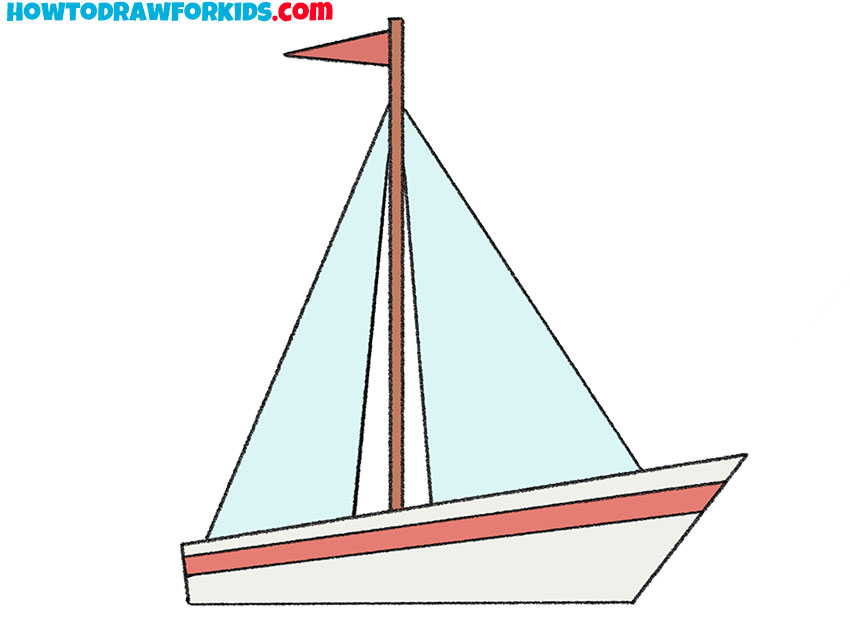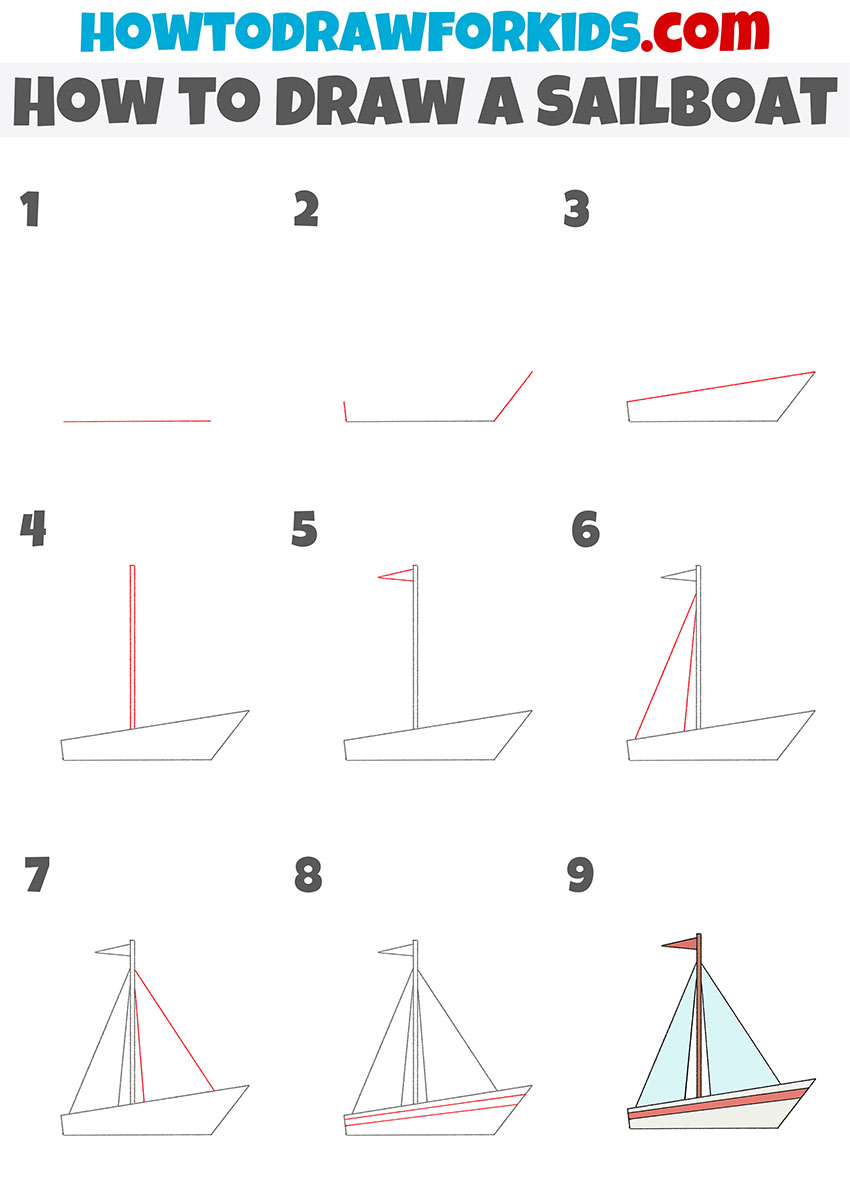 In this lesson, you will learn how to draw a sailboat step by step. The sailboat is a boat that is propelled by sails. This is probably the most common type of boat you have ever seen.
During this lesson, you will first draw the outline of the boat, and then add the mast and sails. To easily complete this lesson, you need to be able to draw straight lines.
So, now you need to prepare your art supplies, and you can proceed with this lesson, carefully following my instructions.
Materials
Pencil
Paper
Eraser
Coloring supplies
Time needed: 30 minutes
How to Draw a Sailboat
Draw the bottom of the sailboat.

To start drawing the boat, you need to draw one straight horizontal line.

Add the sides of the sailboat.

On both sides of a straight horizontal line, depict two straight lines of different lengths.

Draw the top of the sailboat.

Connect the top edges of the two previously drawn straight lines with one long straight line.

Sketch out the mast.

Above the outline of the boat, depict the mast using two parallel vertical lines and one short line.

Depict the flag.

Add the small flag at the top of the mast using two straight lines.

Add one sail.

On the left side of the mast, draw two straight lines connecting the mast and the boat.

Add another sail.

Draw the sail on the right side by connecting the boat and the mast.

Add details.

On the bottom of the sailboat, draw two straight, parallel lines.

Color the drawing.

To color this sailboat, you should use red, brown and shades of blue.
Leave your comments on this lesson, and don't forget to subscribe to us on social networks. For your convenience, I have prepared a PDF file with a summary of this lesson, as well as some additional useful materials. Download this file to return to viewing this lesson at any time convenient for you.
How to Draw a Sailboat: Additional Tutorial
This step-by-step instruction is perfect for novice artists and children. This lesson shows the most common version of the boat – a boat with sails. Surely, you have seen such an image of a sailboat most often in various books, magazines, films or cartoons.