In this drawing lesson you will learn how to draw a swordfish. This instruction consists of eight simple steps with a detailed description.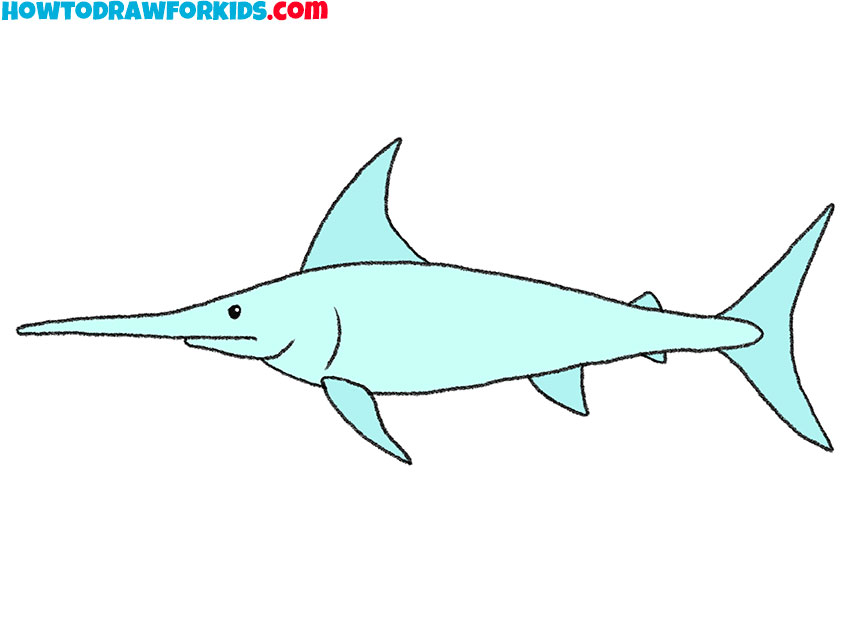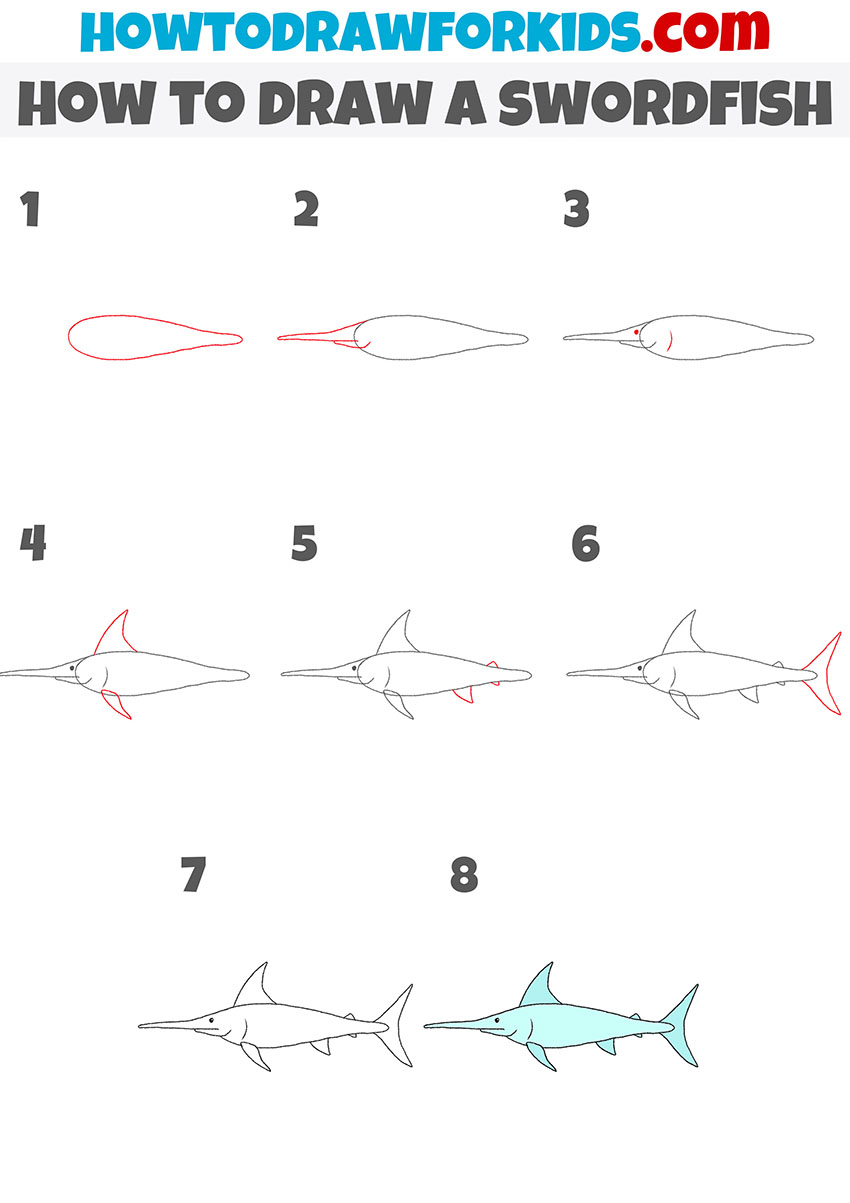 I am glad to bring to your attention an unusual and very useful drawing lesson in which I will tell and show you how to draw a swordfish step by step. The ability to draw various fish, animals and other wildlife is very important for every artist. This tutorial will be very simple, as I created it specifically for beginner artists and children.
Swordfish is a large inhabitant of the ocean. Swordfish is a large inhabitant of the ocean. The swordfish has a fairly wide mouth. The swordfish does not have scales, but it has a very developed and streamlined body. The tail is crescent shaped. The color of these individuals is most often brown with a dark blue tint.
After you learn how to draw a swordfish with the help of this instruction, you can easily draw it in the future against any seascape or underwater world.
Materials
Pencil
Paper
Eraser
Coloring supplies
Time needed: 30 minutes
How to Draw a Swordfish
Draw the outline of the body of the swordfish.

Depict the torso of the swordfish in a teardrop shape using a curved line.

Depict the front of the swordfish's head.

To draw the pointed jaw, use a straight horizontal line and two curved lines.

Add the elements on the head of the swordfish.

Next to the previously drawn shape, draw one thick dot and one arc, as shown in the figure.

Sketch out the fins of the swordfish.

At the top and bottom of the fish's body, add pointed fins of different sizes using curved lines.

Draw some more fins.

At the back of the torso, draw one fin at the top and two fins at the bottom using curved lines.

Add the tail of the swordfish.

Draw the tail built up around the edges using an arc and two slightly curved lines as shown.

Correct inaccuracies.

Use the eraser to remove unnecessary guidelines from the finished drawing.

Color the drawing.

To color the swordfish, use shades of blue as well as black.
I recommend that you become our subscriber on social networks, if you have not subscribed to us yet. Now you can download the PDF file that I have prepared for your convenience. This file contains all the necessary useful materials for this lesson.