This time I would like to tell you how to draw a whale step by step. I think you will find this lesson useful and interesting.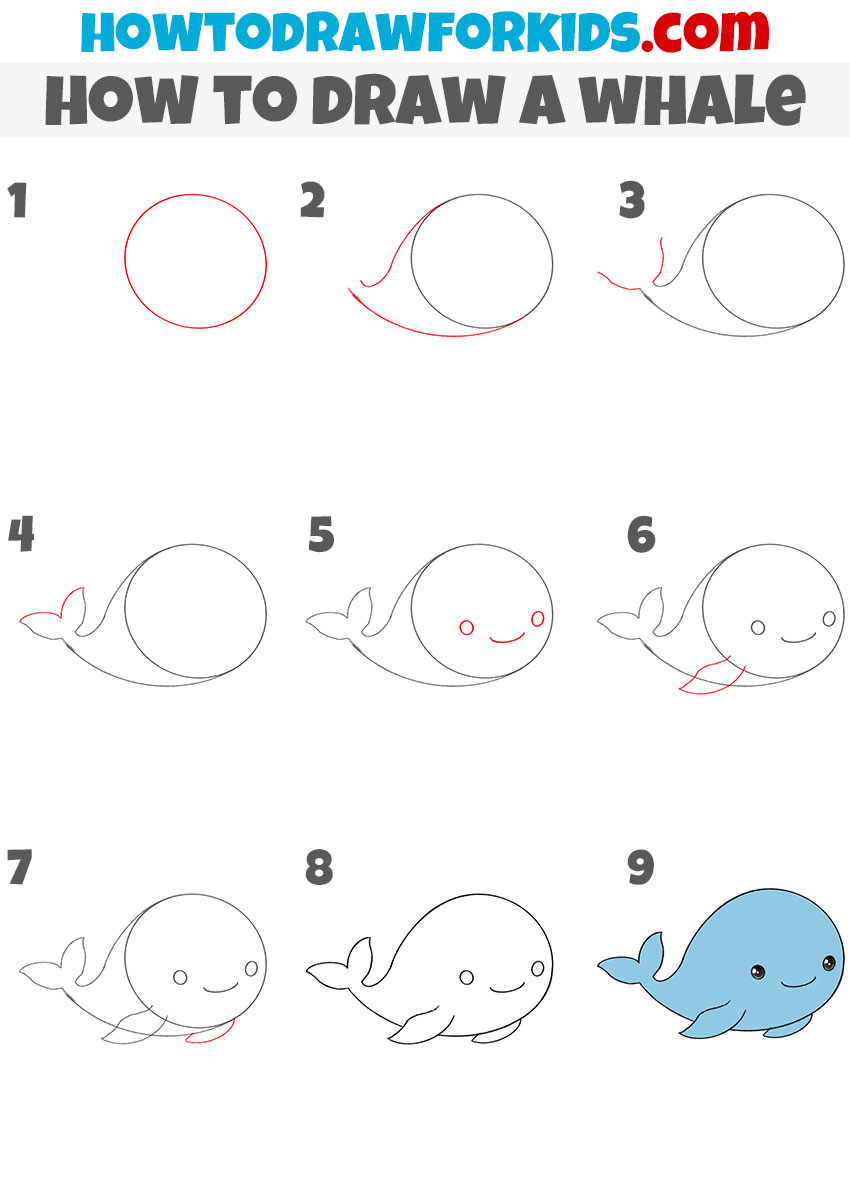 In this lesson, you will learn how to draw a whale. I am sure that this drawing tutorial will bring you a lot of good emotions. Follow our instructions so that your skills as an artist get better.
Whales are a widely distributed and diverse group of fully aquatic placental marine mammals. Whales are unique, beautiful, graceful, and mysterious. They nurture, form friendships, innovate, grieve, play, sing and cooperate with one another.
Let's get down to painting the whale!
Materials
Pencil
Paper
Eraser
Coloring supplies
Time needed: 20 minutes.
How to Draw a Whale
Draw an auxiliary line.

Draw a circle. It will be the base for the whale's body, which you will then draw.

Add the back and belly of the whale.

Draw two curved lines that continue the outline of the previously drawn circle.

Start drawing the tail.

Continue drawing the previously drawn lines with two short curved lines.

Add the elements of the tail outline.

The whale's tail appears to consist of two fins. Connect the two previously drawn lines.

Draw the facial features.

Depict the whale's eyes as two identical circles and its mouth as a short curved line.

Add the whale's fin.

Draw it pointed at the bottom and placed at the lower part of the whale's torso.

Draw one more fin.

This fin looks smaller than the one drawn earlier, as part of it is hidden by the whale's torso.

Erase the auxiliary lines.

Carefully remove any extra lines.

Color the drawing.

You can use blue to color the whole body of the whale. Color its eye black and add highlights.
This step-by-step drawing lesson has come to an end. I hope you had fun and enjoy drawing the whale with these simple instructions. If you enjoyed this lesson, you can share it with your friends. I would enjoy reading your feedback on this drawing lesson in the comments. I have created a PDF file in which you can see a short version of this tutorial. You can download this file and return it whenever you feel like drawing, even without the Internet.