Today, in this easy drawing lesson, you will learn how to draw a zebra step by step. You will really enjoy this lesson.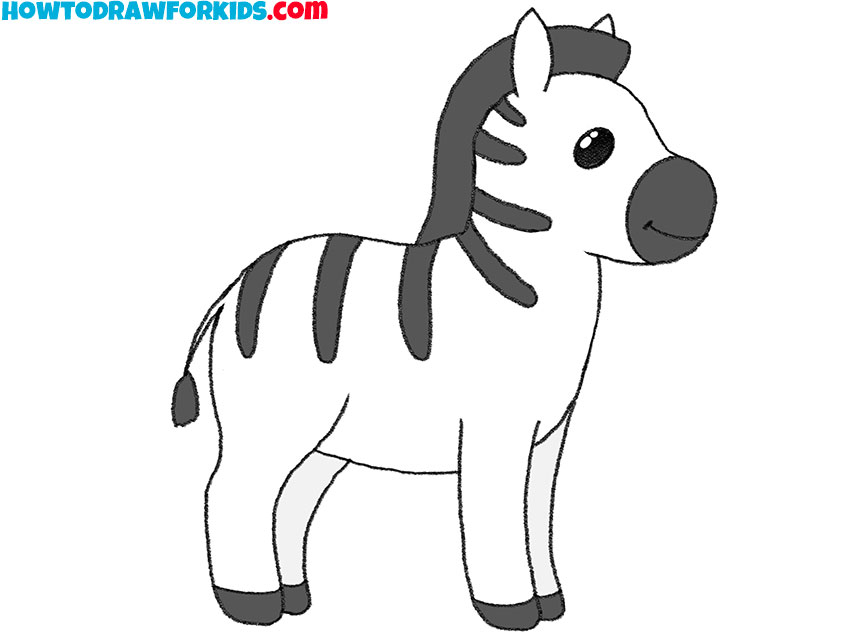 I am glad to offer you this fascinating drawing lesson in which you will learn how to draw a zebra step by step. This is another useful lesson dedicated to drawing animals. I am sure that you have seen a zebra many times in various cartoons, films, or books.
Zebra is a very beautiful animal that has an unusual appearance. Zebra is considered a species of horse with an unusual striped color. Some scientists do not agree on the definition of what color a zebra is in the background—white or black. However, most often, experts describe the zebra as a black horse with white stripes.
One of the most famous characters to us is the zebra from the cartoon "Madagascar". This is a zebra named Martin, who lives in the New York Central Zoo. In this tutorial, you will draw a cartoon style zebra.
Materials
Pencil
Paper
Eraser
Coloring supplies
Time needed: 30 minutes.
How to Draw a Zebra Step by Step
Draw the outline of the zebra's head and torso.

Use curved lines to depict two figures of different sizes.

Add facial features.

Depict an oval, two arcs and a dot inside the previously drawn outline of the head.

Depict the neck and ears.

Connect the outline of the head and torso using two arcs, add two ears using curved lines.

Sketch out the mane and tail.

To depict these elements, use curved lines, as shown in the figure.

Add the front legs.

In front of the torso, sketch out two legs using curved lines.

Depict the hind legs.

Draw two more legs to the back of the body. One leg is partially covered by the other.

Draw the stripes.

To depict the stripes on the zebra's body, draw curved lines of varying lengths.

Correct inaccuracies.

Use the eraser to remove any unnecessary guidelines.

Color the drawing.

To color the zebra, use black and shades of gray. Add the highlights to the eye.
For your convenience, I have prepared a PDF file in which you can find a short version of this tutorial and additional useful materials for completing it. Download this file to return to the lesson at any time.