Today I have prepared for you a lesson on how to draw Abra step by step. This guide is very helpful and simple.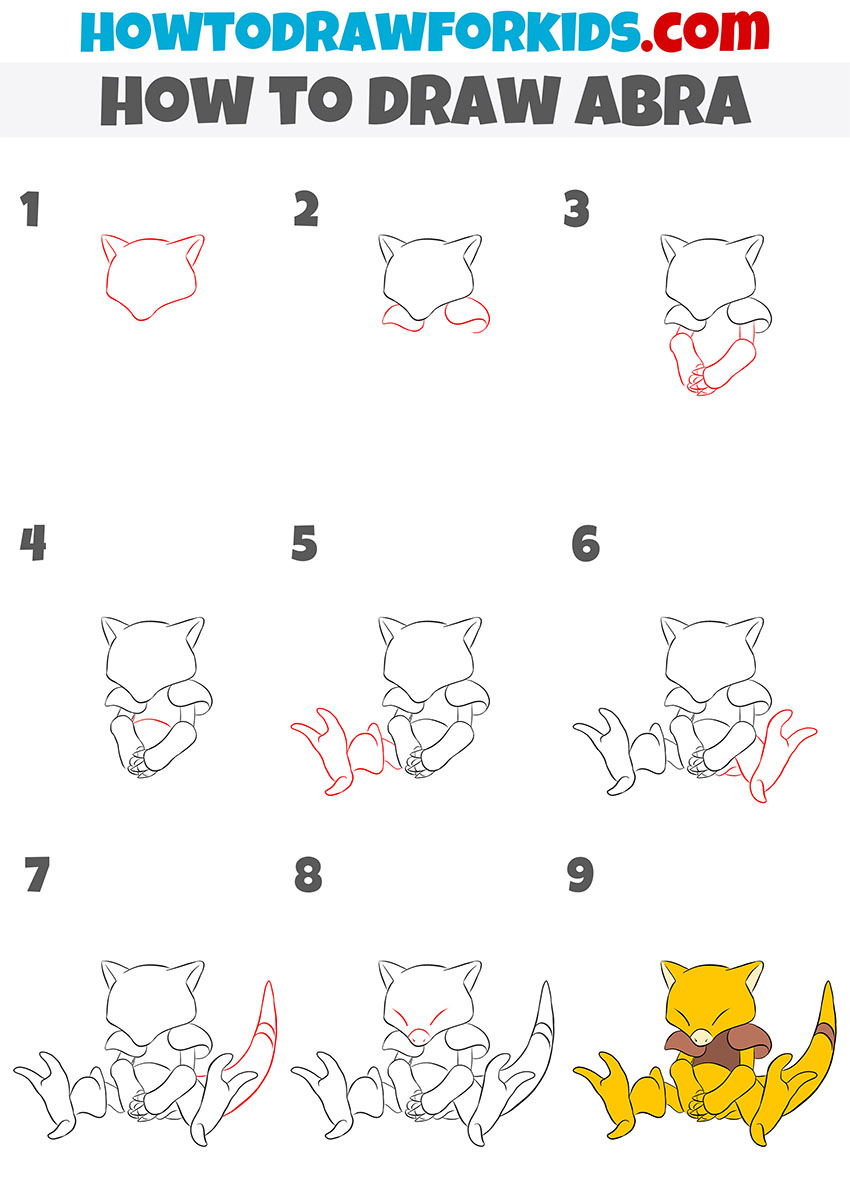 In this lesson I want to show you how to draw Abra step by step. These are creatures from the Pokémon series of games, manga and anime.
Abra is a very cute character that is a humanoid fox. Abra's eyes are closed, because this hero likes to sleep and spends a lot of time in a dream. The rest of the time, Abra shows strength and endurance.
Here is a simple step by step guide through which you will quickly and easily draw Abra. The lesson includes nine simple steps that any novice artist can easily repeat.
Materials
Pencil
Paper
Eraser
Coloring supplies
Time needed: 30 minutes
How to Draw Abra Step by Step
Draw the head.

Depict the outline of the head and ears. There are bulges on the cheeks and on the chin.

Depict the shoulders.

Add broad shoulders with smooth, curved lines.

Sketch out the upper paws.

From the shoulders draw the paws that are folded together.

Add the upper outline of the belly.

Just setch out a smooth rounded line.

Depict one leg.

On the left side, draw one leg, which has an unusual foot shape.

Add the second leg.

On the right side, depict the second leg of the same shape.

Sketch out the tail.

With the help of smooth lines draw the long pointed tail.

Add the elements of the muzzle.

Depict eyes and outline the front of the muzzle.

Color the Abra.

Use bright yellow to color the body. For clothes, choose different shades of brown.
Especially for your convenience, I have prepared a short version of this lesson in PDF format. Download this file for yourself and use it at any time, even if there is no Internet access.