How to Draw Among Us Step by Step
A new drawing lesson on how to draw Among Us step by step is ready for you. This simple lesson consists of just seven steps.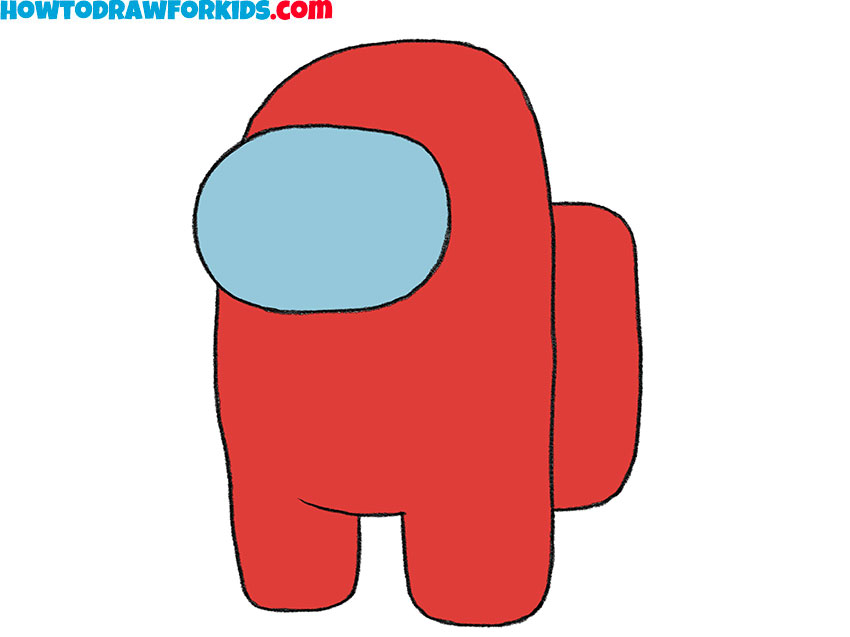 This guide will help you learn how to draw Among Us step by step. Be sure to get the job done easily, as I have designed this lesson specifically for beginner artists with no experience or kids.
The Among Us characters are crewmembers of a spaceship invaded by a strange and deadly imposter. They're humanoid creatures with a portly appearance, and they wear full-body spacesuits and small backpacks. The backpack's purpose is unclear, though our best guess is that it's an oxygen tank of some kind.
So, you can start drawing this character.
Materials
Pencil
Paper
Eraser
Coloring supplies
Time needed: 20 minutes
How to Draw Among Us Step by Step
Draw the upper outline of the torso.

You can depict this detail very easily with a single arc line.

Depict the character's leg.

Continue the previously drawn curved line with another line on the left-hand side.

Add another leg.

Use a curved line to depict this part of the character's body.

Draw the window of the spacesuit.

Depict it as an oval-like figure at the top of the character's body.

Add the back of the spacesuit.

Draw a curved line on the back of the character you have drawn.

Erase the auxiliary lines.

Remove any unnecessary lines from the character's body with an eraser.

Color the drawing.

You can use red and blue to color this character.
So you have drawn an Among Us character. Did you succeed in doing this work? I would be happy to read your comments on this drawing lesson. Subscribe to us on social media and share the drawing lessons you like most with your friends. At the end of the tutorial, I suggest you download a PDF with a short version of this tutorial. Thanks to this, you will be able to complete the drawing lesson at any time, even if there is no Internet connection.