I have prepared a lesson on how to draw Bonnie, which you will really like. This guide consists of just nine very simple steps.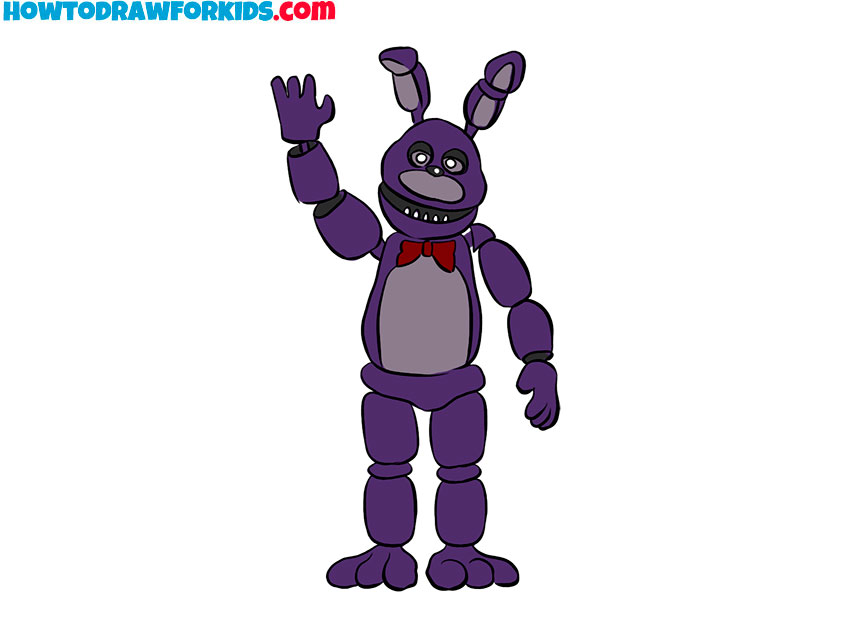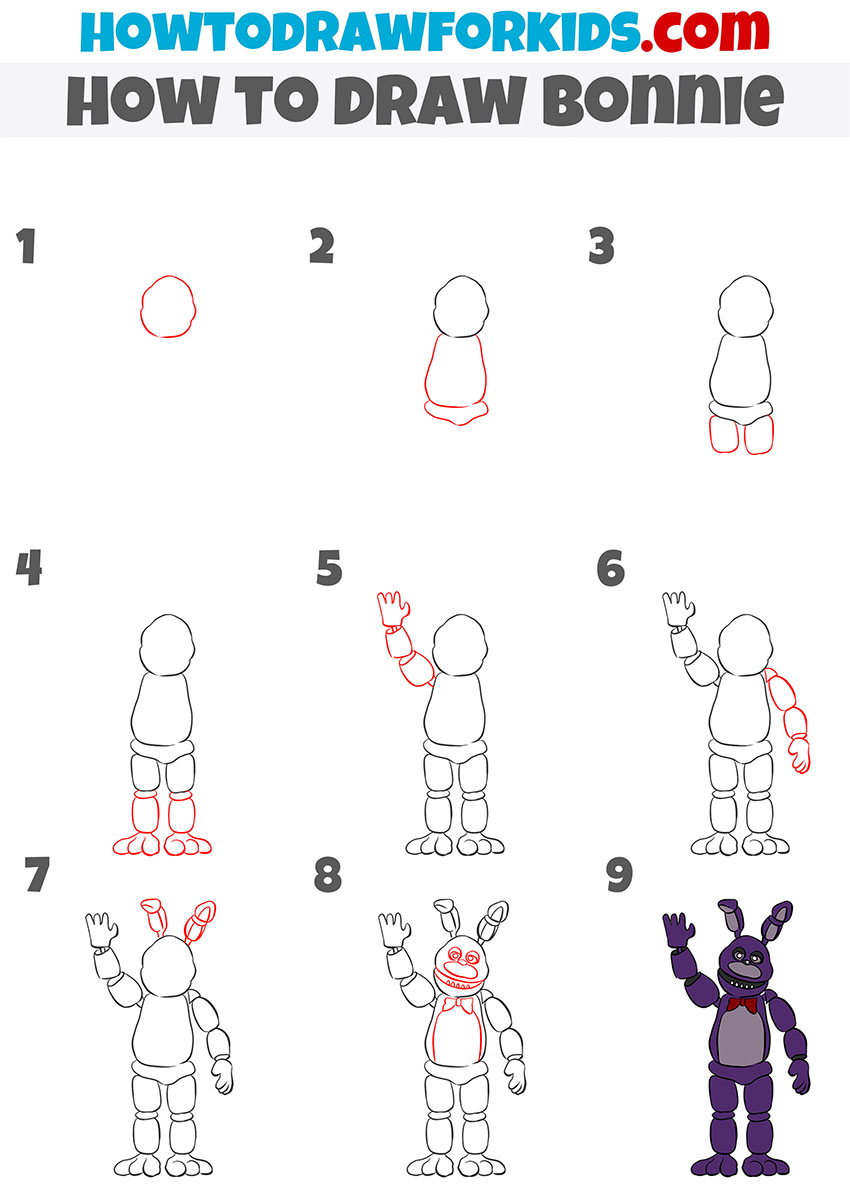 In this tutorial you will learn how to draw Bonnie step by step. I think this lesson will be quite interesting and useful for you. Do not worry that this drawing will be too difficult for you, because this drawing lesson is designed specifically for kids and novice artists.
Bonnie will be the character of today's drawing lesson. It is presented in the form of an anthropomorphic purple rabbit. Bonnie has a solid build and medium height. The body of the Bonnie rabbit is made of plush, under which its endoskeleton is located. According to this character's story, Bonnie was a toy that was sent for recycling due to a malfunction, and then restored and used.
Now, to draw Bonnie, take all the accessories you need for drawing and get to work. With this instruction, you will easily draw Bonnie the rabbit.
Materials
Pencil
Paper
Eraser
Coloring supplies
Time needed: 30 minutes
How to Draw Bonnie
Draw the head of the character.

Start drawing Bonnie from the head, for this draw an oval-like shape.

Sketch out Bonnie's torso.

The first part of the torso looks like an oval, and the second is depicted as a curved line.

Depict part of Bonnie's legs.

Below the torso, draw the upper legs in two identical shapes.

Add the bottom of the legs.

Bonnie has thick legs and large feet with three toes on each.

Draw Bonnie's hand on the left.

The left hand should be shown raised up. Bonnie has four fingers on her hand.

Sketch out the toy's other hand.

Depict the right hand downward and consisting of several segments.

Draw Bonnie's ears.

The long rabbit ears are divided into two segments with one ear drooping slightly downward.

Add facial features and other elements.

Draw Bonnie's eyes, nose and mouth, and add a line for the belly and draw a bow tie.

Color the drawing.

Use shades of purple to paint Bonnie's body, and paint the butterfly red.
So the lesson on how to draw Bonnie step by step has come to an end. I hope you succeeded in drawing the drawing exactly the way you wanted. Do not forget to subscribe to us on social networks and leave your comment on the lesson. I have prepared a short PDF version of this tutorial for your convenience. You can download this file and use it at any time.