In this lesson, I want to show you how to draw Foxy step-by-step. Thanks to this guide, you will acquire useful skills.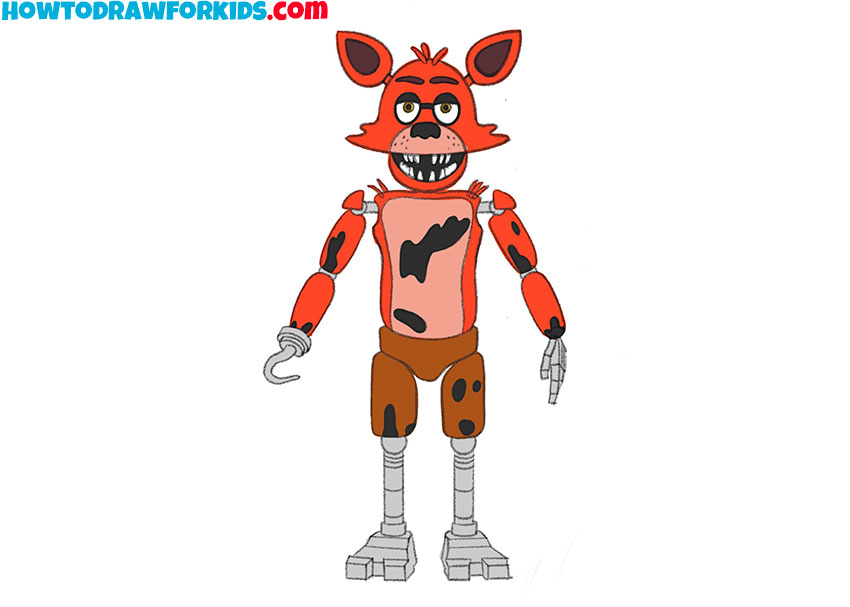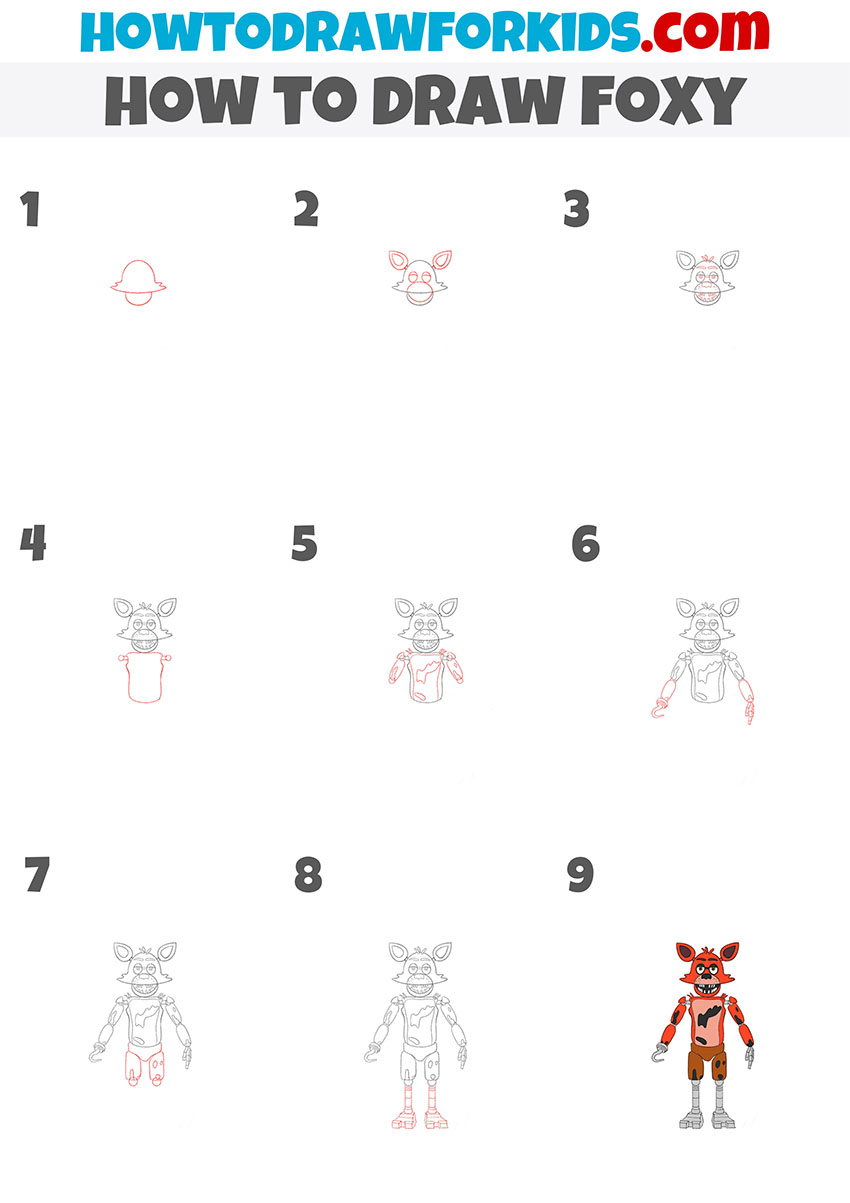 If you are interested in animatronics, then you will do this lesson with great pleasure, because now you will learn how to draw Foxy. This is a popular animatronic, which is a pirate fox.
The body of the animatronic's body is made of frayed plush, and the endoskeleton is visible in the holes. Foxy has shoulder pads, the lower legs and arms are all metal, and instead of one hand, there is a sharp hook. Foxy has a large head with a wide open mouth and sharp teeth. In general, this animatronic has a formidable appearance.
Animatronics are robots, so they are physically superior to humans. Foxy is known to be very strong and durable, able to teleport, and has psychic powers. However, Foxy also has weaknesses, such as being vulnerable to fire, and being able to be hacked and reprogrammed.
Materials
Pencil
Paper
Eraser
Coloring supplies
Time needed: 35 minutes
How to Draw Foxy
Draw the head.

The head consists of two elements. First draw the top part, then add a semicircle at the bottom.

Add the ears and the main elements of the face.

Depict two ears of the same shape as in the example. Add the eyes and the front of the face.

Sketch out the rest of the face elements.

At this stage, draw eyebrows, pupils, nose, teeth, and hair.

Depict the torso.

The torso has the shape of a rectangle; in the upper part, depict the attachments for the arms.

Draw the upper arms and belly.

Consistently add all the elements that make up the arms and depict the belly with smooth lines.

Add the lower parts of the arms.

On one hand draw the hook, on the other sketch out the brush of the usual form.

Depict the lower part of the torso.

Sequentially, draw several elements of different shapes.

Sketch out the lower parts of the legs.

The legs are made up of small elements of various shapes.

Color the Foxy.

You will need red, pink, brown, gray, and black.
Foxy is ready! If you have followed all the drawing steps correctly, then you should have a great drawing. Show the result of your work to your friends and offer to do drawing lessons together. Practice drawing your favorite characters and have a good time with your friends.
By tradition, at the end of the lesson, I prepared a PDF file that contains a brief instruction and additional materials. Save this file and complete the lesson at any convenient time.