In this tutorial, you will learn how to draw Killua. With the help of a simple instruction, you will improve your drawing skills.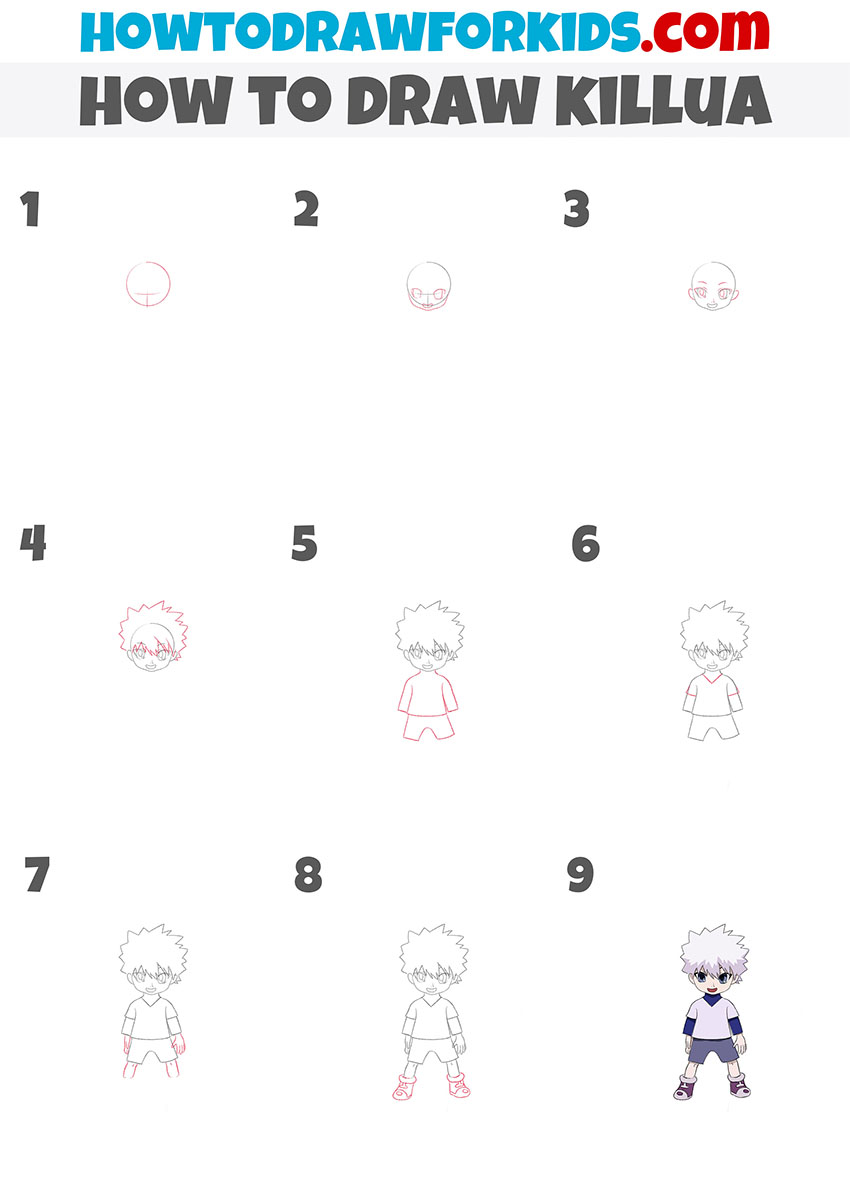 I invite you to a new lesson, which is dedicated to drawing manga and anime characters. Now you will see how to draw Killua step by step. This is a popular character who is known as the heir to the famous assassin clan. He does not want to inherit the family business, but wants to find friends.
Killua Zoldyck is a young man who has an unusual appearance. He has white tousled hair, very pale skin, and blue eyes. The young man has a thin body and wears baggy clothes.
Traditionally, he can be seen wearing light blue shorts and a blue turtleneck, over which he wears a white T-shirt. Killua has an arrogant, slightly arrogant nature, does not like to stand out among other people, but reacts painfully when someone is better than he.
Materials
Pencil
Paper
Eraser
Coloring supplies
Time needed: 35 minutes
How to Draw Killua
Draw the head.

Depict an even circle and make markings for the elements of the face.

Add elements of the face.

Detail the lower part of the face, add the contour of the eyes and the contour of the mouth.

Depict the rest of the face elements.

At this stage, detail the eyes, add eyebrows, nose, and ears.

Sketch out the hair.

Depict the lush hairstyle and with the help of short strokes depict spiky strands.

Draw the torso.

Below the head, add the outer outline of the turtleneck and shorts.

Depict the T-shirt.

Draw transverse lines on the sleeves and depict the V-shaped neck.

Add the hands and legs.

Sketch out the hands in the same position as in the example, and depict the legs.

Draw the shoes.

Add the massive sneakers on the legs.

Color the Killua.

You will need beige, blue, blue, gray, and purple.
I remind you that you can use the link and download the short version of the lesson as a PDF file for free.