How to Draw Freddy Fazbear
The lesson on how to draw Freddy Fazbear will help you draw this interesting character. This simple guide has just nine steps.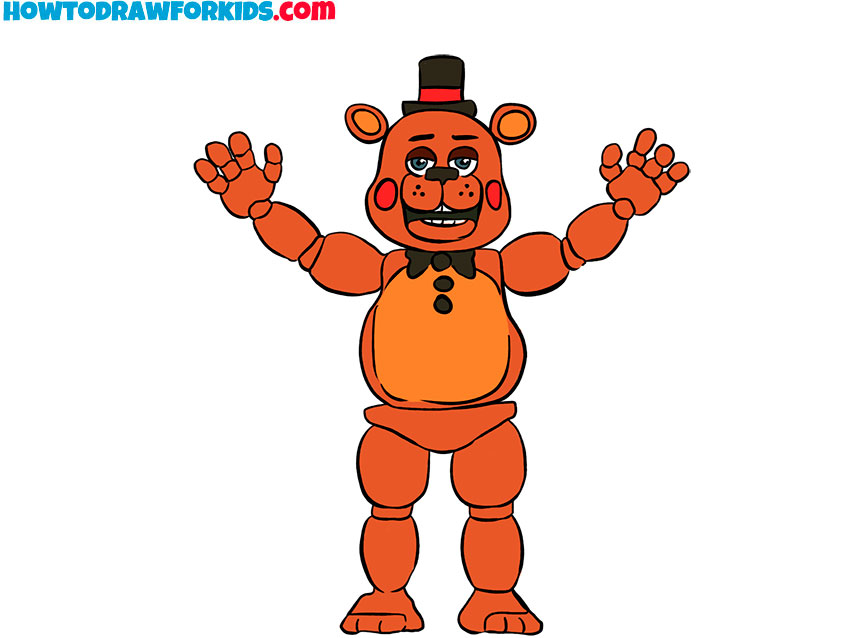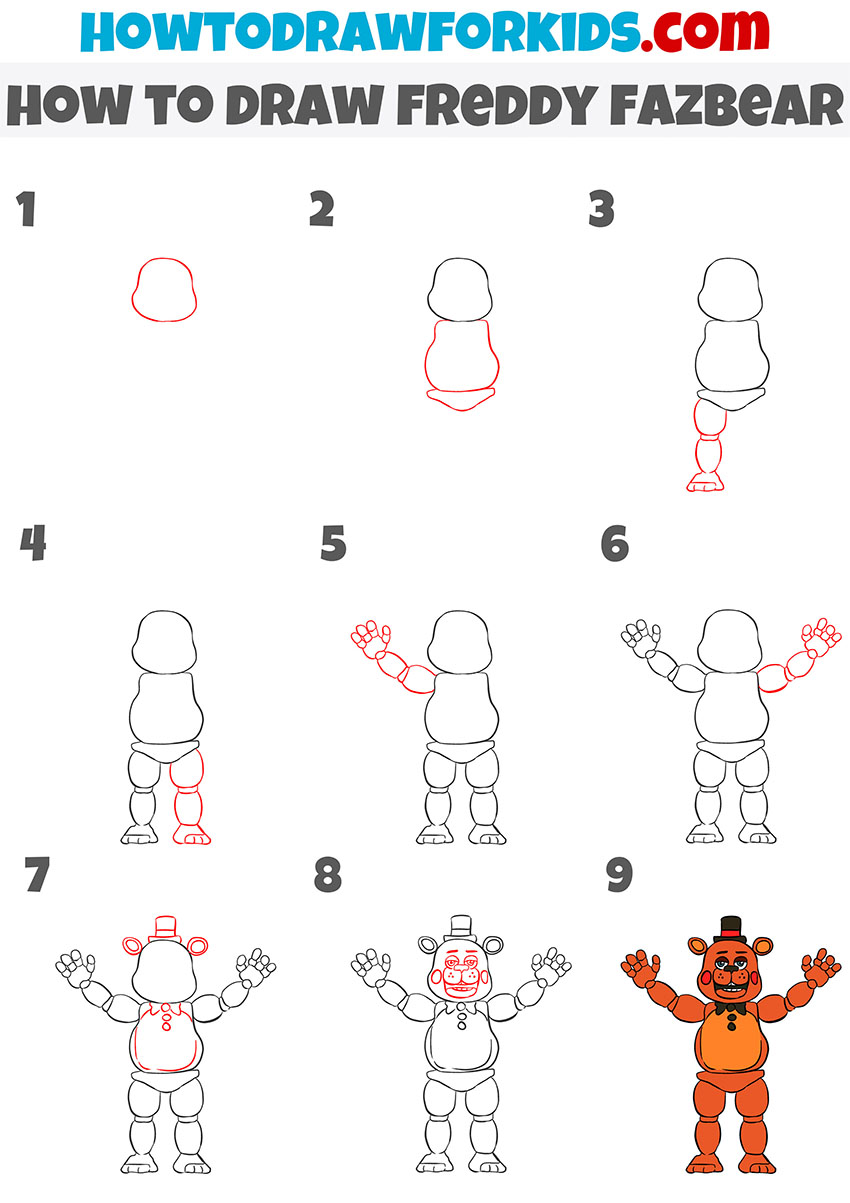 In this tutorial, you will learn how to draw Freddy Fazbear. It is a complex mechanical robot in the shape of a bear. Freddy Fazbear is known as the main character in the Five Nights at Freddy's series of games.
In the picture, this bear looks very funny. Freddy Fazbear has a strong physique, a round belly, wide feet, and there are four toes on each paw. The body of the bear resembles the shape of a pear. The permanent attributes of the bear are a black top hat and a bow tie, also black. You will depict all these features in your drawing.
This guide has a few simple steps. Any aspiring artist will be able to draw this character using visual aids and tips. Try to maintain proportions throughout the lesson. Also, make sure that both sides of the bear are symmetrical.
Materials
Pencil
Paper
Eraser
Coloring supplies
Time needed: 30 minutes
How to Draw Freddy Fazbear
Draw the head.

Depict an irregular circle where the bottom is wider than the top.

Add the torso and leg bindings.

The torso is pear-shaped. The leg mount is shaped like a small triangle.

Depict one leg.

The leg is made up of several segments. Carefully sketch out each part of the leg.

Draw the second leg.

Repeat the previous step and draw the leg on the other side.

Sketch out the hand.

The arm is made up of separate segments. Draw the shoulder, forearm, and hand in sequence.

Add the second hand.

Repeat the previous step and depict the hand on the other side.

Depict the rest of the elements.

Draw round ears, hat, bow tie, and outline the outline of the belly.

Add details to the bear's face.

Sketch out the eyes, nose, mouth, cheeks, and eyebrows.

Color the drawing.

Use orange and yellow for the bear's body, black for the hat and tie, and red for the cheeks.
I hope you enjoyed this tutorial. Now you have learned how to draw a new character. You can now download a PDF file with a short version of the lesson for free.