I have prepared a lesson for you in which you will learn how to draw an easy duck. You will really like this simple instruction.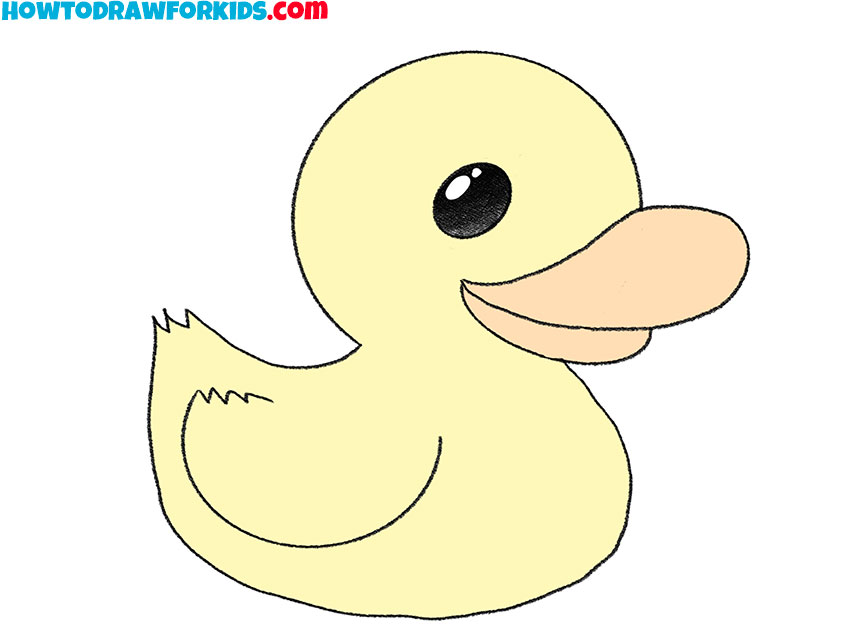 I suggest you complete an interesting lesson with which you improve your artistic abilities. This instruction shows in detail how to draw an easy duck. This is a very common species of waterfowl.
Here the duck is presented in a cartoon form and does not look realistic, but very funny. The duck has a large head relative to the body and a large beak. The legs are not visible because the duck is swimming and in this position the legs are hidden underwater.
The lesson will be useful for you, because once again you will train your ability to draw smooth curved lines. Be patient and consistent to get great results.
Materials
Pencil
Paper
Eraser
Coloring supplies
Time needed: 30 minutes.
How to Draw an Easy Duck
Draw the head.

Determine the size and location of your drawing and draw an even circle.

Depict the torso.

With the help of smooth lines, draw the torso of the same shape as shown in the example.

Sketch out the eye.

Depict an even oval in the middle of the head.

Add the top of the beak.

At the front of the head, draw the top of the beak using a smooth line.

Draw the bottom of the beak.

The bottom of the beak is smaller than the top.

Depict the wing.

Draw a rounded line on the side of the body and add the top of the wing with a zigzag line.

Correct inaccuracies.

Use the eraser to remove any unnecessary guidelines.

Color the easy duck.

You will need yellow, pink, and black.
By tradition, at the end of the lesson, you have a link where you can download a brief instruction and additional useful content for free. Thus, you can return to this lesson at any time and repeat it.