In this lesson, I want to show you how to draw an easy owl. I am sure that any novice artist will like this instruction.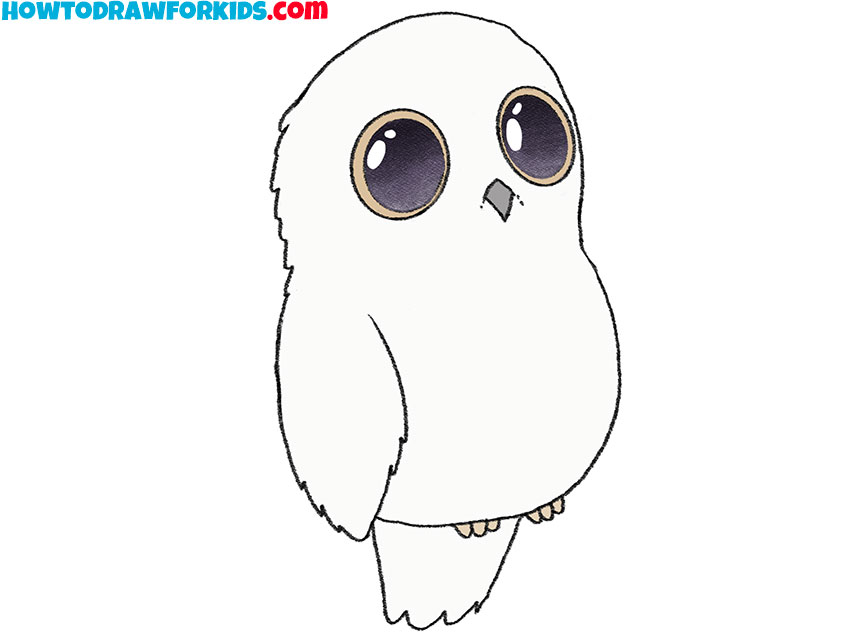 Now you will find a new, exciting lesson in which you will learn how to draw an easy owl. It is a nocturnal bird of prey. For many peoples, an owl is a symbol of wisdom.
Owls live almost on the entire planet, and they can be found on any continent except Antarctica. The owl has some distinctive features.
For example, an owl cannot look around, because it has fixed eyes, but a very mobile neck.
The owl flies silently due to the special structure of the feathers.
In this lesson, you will draw a cute little owl. The instructions are very simple, and any beginner can easily complete this creative task.
Materials
Pencil
Paper
Eraser
Coloring supplies
Time needed: 30 minutes.
How to Draw an Easy Owl
Draw the head and torso.

Depict two circles that intersect.

Depict the eyes.

On each side, draw two ovals of different sizes.

Sketch out the neck.

Draw connecting lines between the head and torso.

Add the beak.

Just below eye level, draw the small, pointed beak.

Sketch out the wing.

Use jagged lines to draw the wing on the side of the torso.

Draw the tail.

The tail has a wide base and a narrow, uneven lower part.

Depict the paws.

Below the torso draw short paws on which three fingers are visible.

Correct inaccuracies.

Use the eraser to remove any unnecessary guidelines.

Color the easy owl.

You can choose the same shades as in the example or use other colors.
Finally, you can download the short version of the lesson as a PDF file for free. Thus, the lesson will always be available to you, and you can return to it at any time.