In this drawing lesson, you will learn how to draw an easy unicorn. This lesson will definitely not leave indifferent any of you.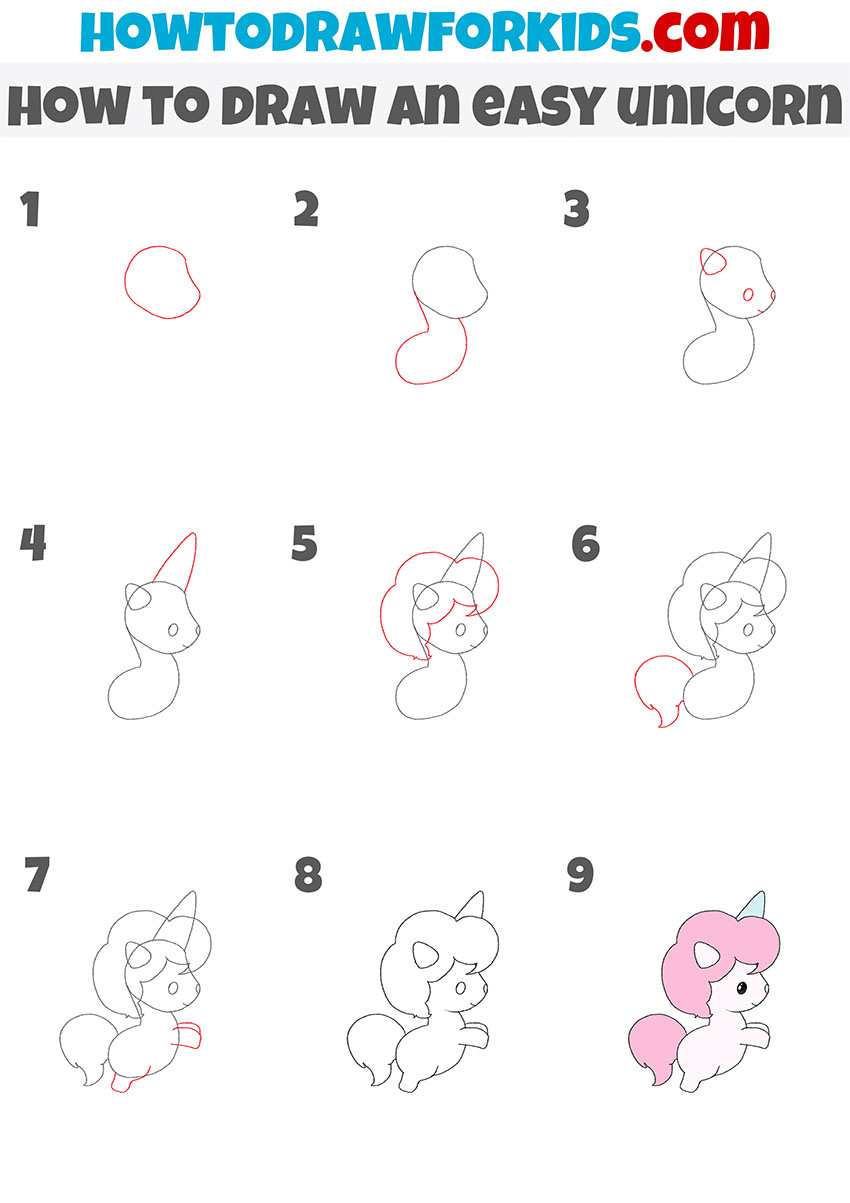 I bring to your attention an excellent and very cute drawing lesson, in which I will tell and show you how to draw an easy unicorn step by step. This tutorial is great for beginner artists and kids, as it consists of nine very easy steps with detailed descriptions.
I think each of you knows very well such a mythological creature as a unicorn. Often we can meet unicorns in various cartoons and fairy tales. This creature is very funny and beautiful, and it is also believed that the unicorn is a symbol of purity, prudence, and goodness.
The unicorn in this instruction is depicted in a cartoon style. Drawing someone in a cartoon style is sure to make your drawing more attractive and cute. This unicorn is painted in pink, but you can use other colors if you want to get creative.
Materials
Pencil
Paper
Eraser
Coloring supplies
Time needed: 30 minutes
How to Draw an Easy Unicorn
Draw the outlines of the unicorn's head.

To complete this step, you need to depict the shape using a curved line.

Add the outlines of the torso of the unicorn.

Below the unicorn's head, draw the torso using a longer, curved line.

Depict the ear and facial features of the unicorn.

Draw an oval eye inside the outline of the head, the nose, mouth, and the ear using curved lines.

Sketch out the unicorn horn.

At the top of the unicorn's head, draw the large horn using a curved line as shown.

Add the outline of the unicorn's mane.

At the top of the head and near the neck of the unicorn, add a lot of arcs and rounded lines.

Draw the tail of the unicorn.

Now you need to add the big bushy unicorn tail using arcs and curved lines.

Depict the outlines of the limbs of the unicorn.

On the front and back of the unicorn's torso, add curved lines as shown.

Prepare your drawing for coloring.

Now you should use the eraser to remove all unnecessary lines from the drawing.

Color the drawing.

To color the unicorn, use pink, light pink or beige, black, light green.
For your convenience, I have prepared a PDF file that contains all the useful information from this lesson, as well as additional practice materials that will help you develop your artistic abilities. You can download this file right now, so you don't lose it in the future, and return to this tutorial even without an internet connection.