Now I suggest you complete a lesson in which you will learn how to draw an envelope. This instruction includes only five simple steps.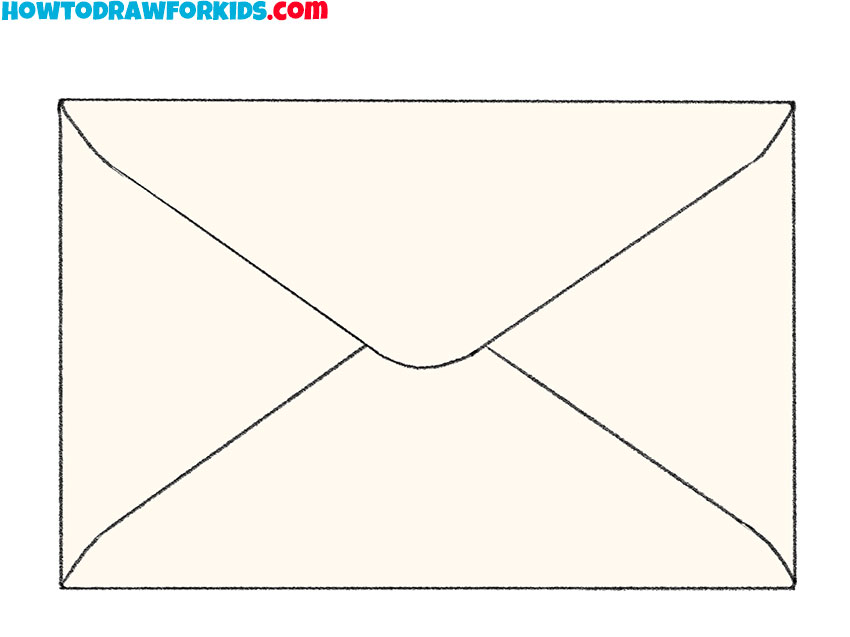 So, especially for children and beginner artists, I have prepared a simple lesson in which I will show you how to draw an envelope step by step. An envelope is a small package made of paper that is designed to store and send letters or any flat objects. The envelope usually has a rectangular shape.
This tutorial shows the reverse side of the envelope. The upper triangular flap of the envelope has an adhesive layer, thanks to which the envelope can be securely sealed, and its contents will be safe and sound.
Drawing an envelope is very easy, and now you will see for yourself. You will draw a smooth outer outline and then add the inner part where the flaps of the envelope are folded together. This lesson will require your ability to draw even straight lines. You can do this with the help of tools at hand, but I recommend that you draw all the lines yourself, thus you will train your creativity.
Materials
Pencil
Paper
Eraser
Coloring supplies
Time needed: 15 minutes
How to Draw an Envelope
Draw the top and bottom outline.

To do this, draw two straight horizontal lines.

Depict the sides.

Add vertical lines along the sides to end up with a closed outline.

Sketch out the top flap.

Depict lines from the top corners to represent the triangular shaped valve.

Add the rest of the elements.

Depict two symmetrical lines at the bottom of the envelope.

Color the drawing.

Use any light shade, such as light blue or light pink.
That's the end of a simple lesson on how to draw an envelope. I hope you enjoyed this creative task. Subscribe to us on social networks to be aware of all new lessons. Now, I suggest you download a PDF file that contains all the useful information about this lesson. This way you won't lose this lesson and will be able to return to it in the future even without an internet connection.