In this very simple step-by-step drawing tutorial for kids, we will show you how to draw ice cream.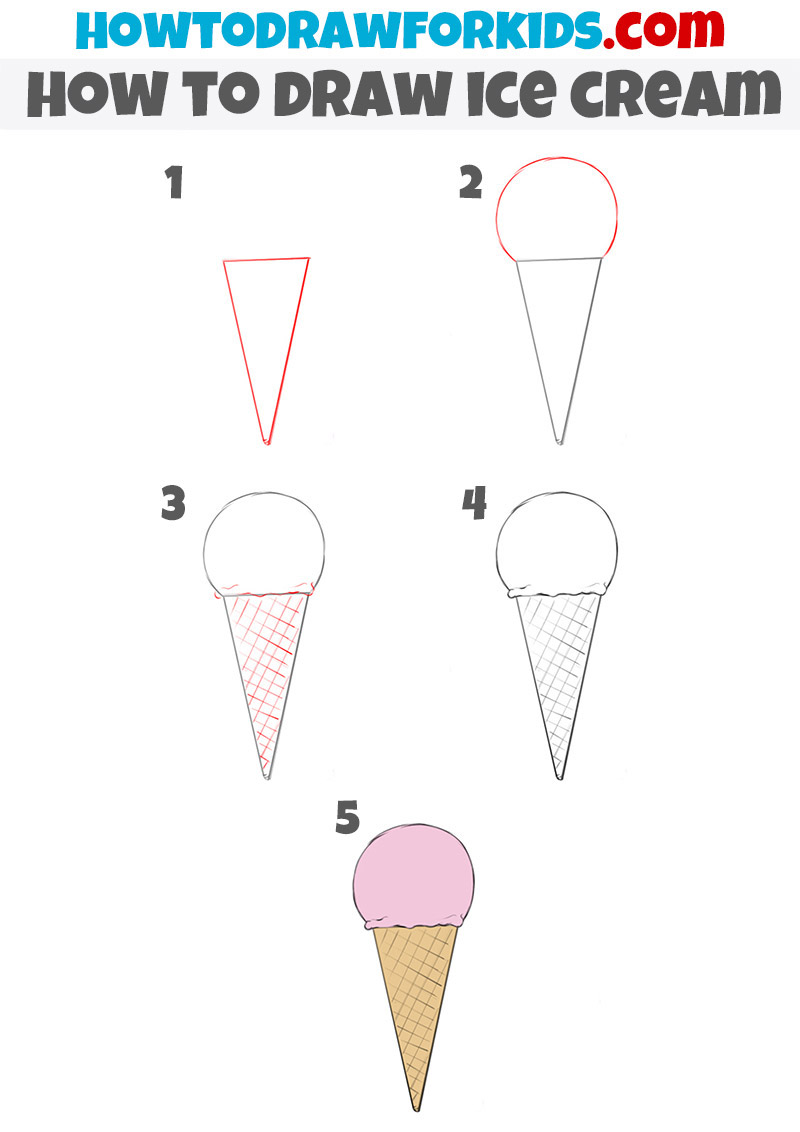 Scroll down the page to get a PDF version of this drawing tutorial with additional worksheets.
o learn how to draw ice cream, you need the simplest art supplies and a little time.
I tried to keep this tutorial as simple as possible using the simplest geometric shapes. This lesson will help a young artist master straight lines combined with curved lines.
In addition, in the process of creating the texture on the ice cream cone, he will learn how to sketch parallel and cross lines, which will help him master hatching in the future.
Materials
Pencil
Paper
Eraser
Coloring supplies
Time needed: 20 minutes.
How to Draw Ice Cream for Beginners
Draw the cone.

Firstly, draw a regular triangle. This is a contour of the ice cream cone.

Draw the circle contour of the ice cream.

Please note that this part of the ice cream should be noticeably wider than the bottom part.

Add texture to the ice cream cone.

Now we have a realistic waffle cone. Further, draw the outline of the melted part of the ice cream.

Erase the guidelines

So, erase all unnecessary lines with an eraser. Make the outlines complete, dark, and clear.

Color the ice cream drawing

Now paint the waffle ice cream cone with a light brown color. You can select the color for the ice cream to your taste.
So, the ice cream drawing lesson has come to an end. This is not the hardest drawing instruction on my site and I hope you get a great result. To improve your skills, you can try adding some elements to your artwork, such as sprinkles or other toppings. In addition, you can add a hand holding the ice cream cone or create a background.
To use this tutorial, and all additional materials, you can download the completely free PDF file, which I created especially for you: Ice Cream Drawing Tutorial and Extra Printables.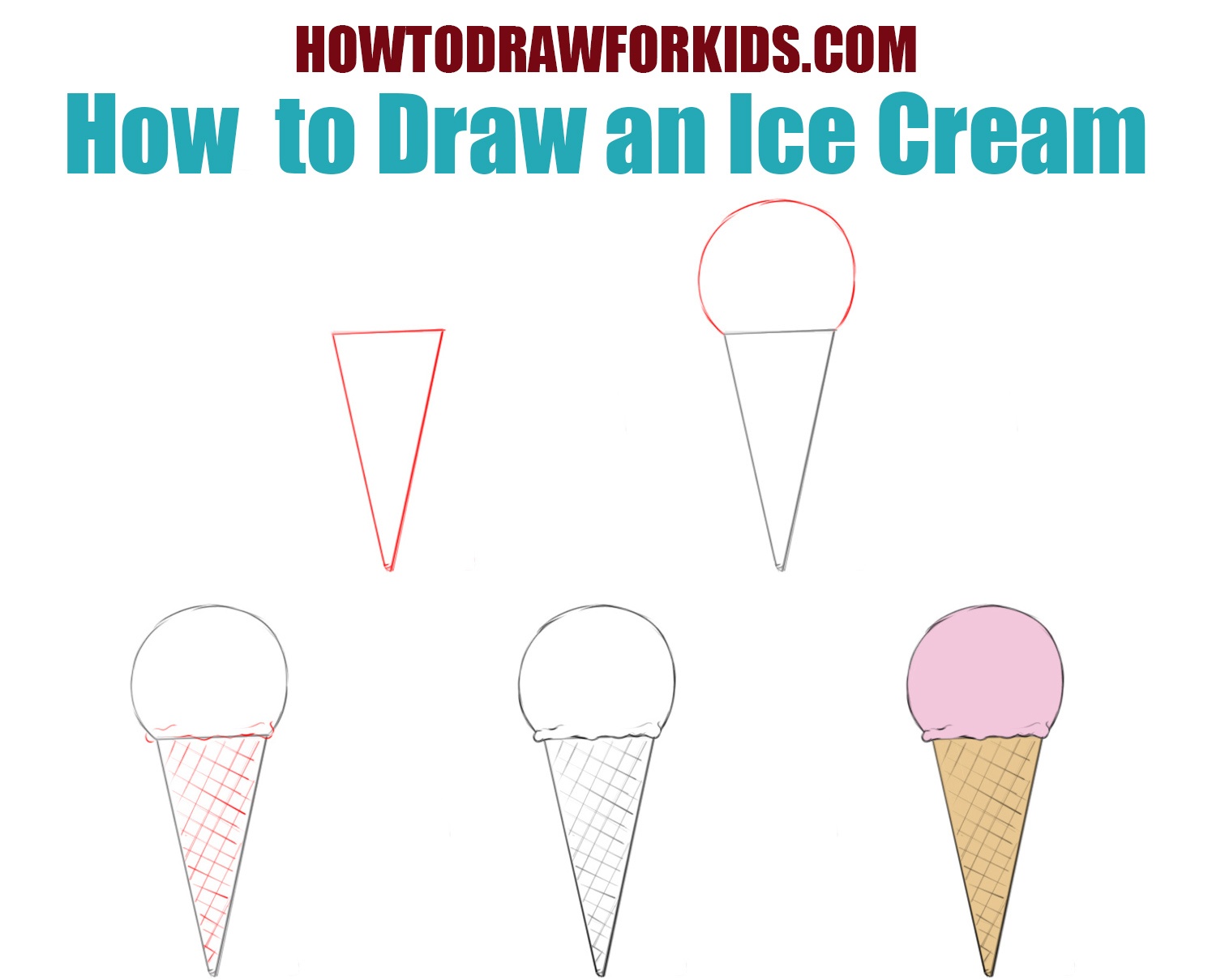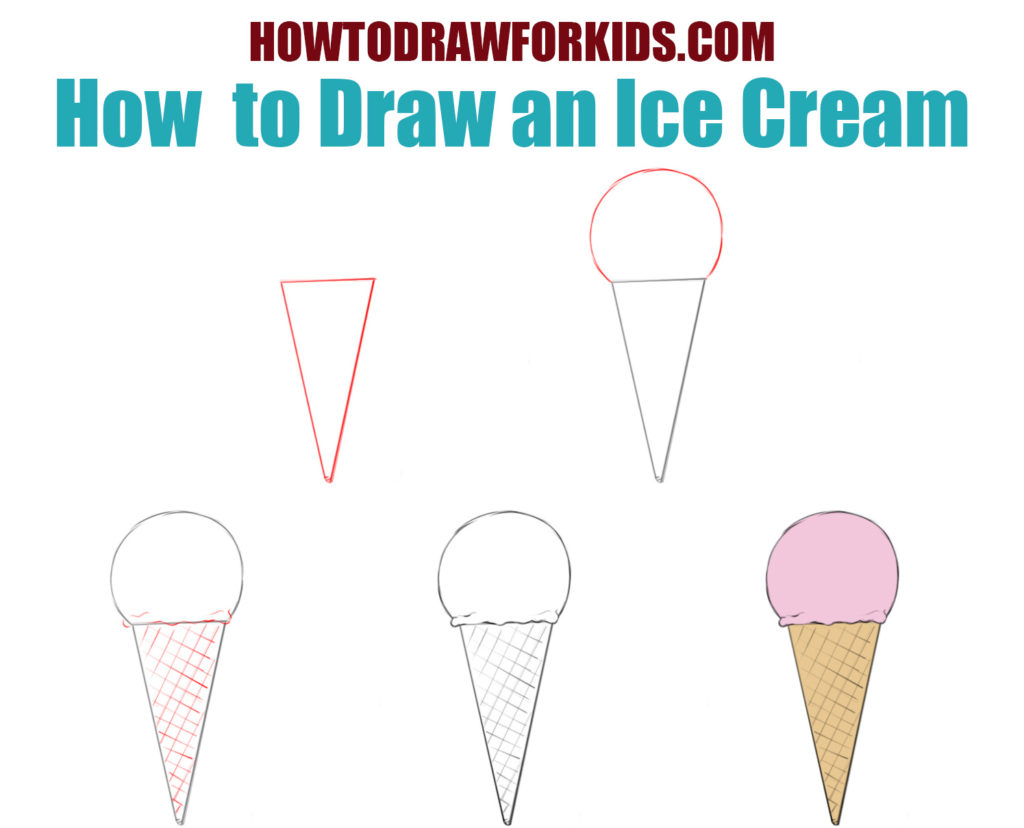 So, what other delicacies would you like to learn to draw with my drawing instructions? Scroll through this page just below and write about it in the comments. Subscribe to me on social networks and share my tutorials.