Learn how to draw an oak tree with a very simple tutorial. This guide is very helpful and consists of only nine easy steps.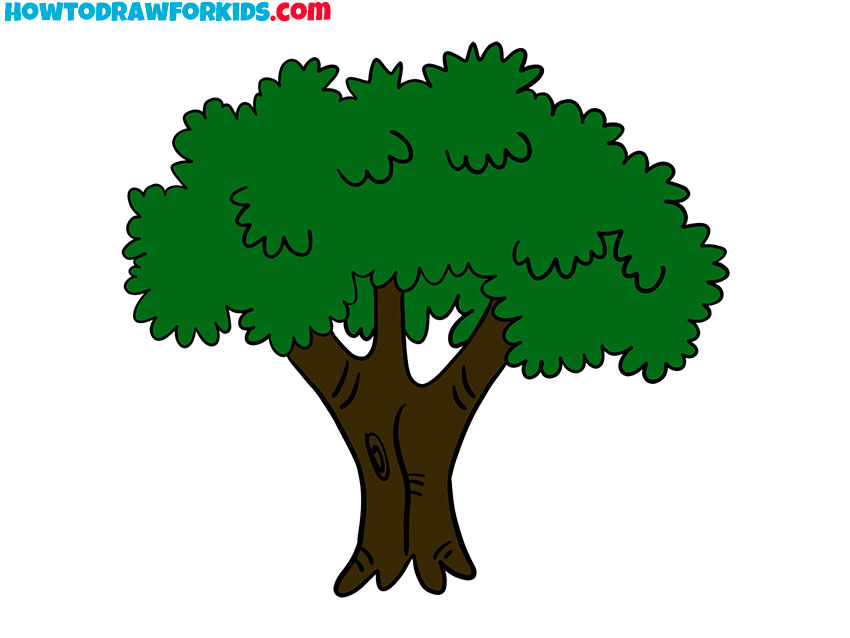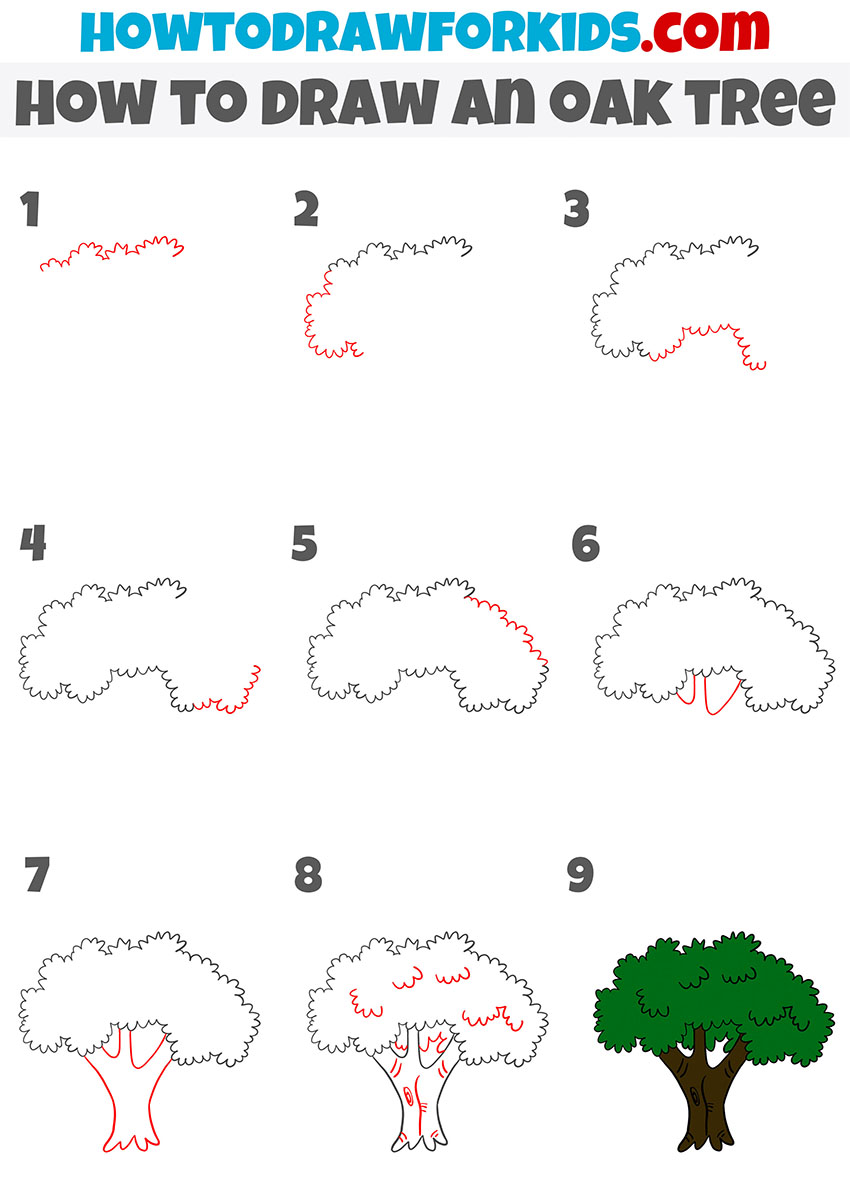 Now I will show you how to draw an oak tree. This lesson will be very useful for you because in many drawings there are trees. When you master these skills, you can easily draw a beautiful landscape with trees.
Oak is a common deciduous tree. Sometimes this tree can reach huge sizes. Oak has a wide trunk and a lush crown. In the picture, you see a beautiful oak, which consists of two main elements – the trunk and the crown.
After completing this lesson, you will see that it is very easy to draw an oak tree and you will be able to quickly draw this tree if necessary. In this lesson, arbitrary shapes and lines are allowed. You must remember the sequence of steps, and the shape of the oak may be slightly different from the one in the example.
Materials
Pencil
Paper
Eraser
Coloring supplies
Time needed: 25 minutes
How to Draw an Oak Tree
Draw the top of the crown.

With the help of jagged wavy lines, start drawing the outline of the crown.

Depict the side of the crown.

Continue drawing the outline of the crown and draw the same wavy line on the left.

Draw the bottom of the crown.

Using a jagged wavy line, add the bottom outline.

Depict the crown on the other side.

On the right, draw the outline of the crown using a free-form wavy line.

Finish drawing the crown.

Repeat the previous step and draw the last part of the crown.

Add the outline of the branches.

Below the crown, draw two rounded lines.

Sketch out the tree trunk.

Draw two smooth lines on the sides and draw the bottom of the trunk with a jagged line.

Add details.

Using thin lines add the relief of the trunk and some sections of the crown.

Color the drawing.

Color the crown green and the trunk brown.
Lesson over! Now you know how to draw an oak tree easily and quickly. And now try to improve your drawing, add additional objects. For example, draw grass, bushes, and a beautiful sky. Thus, your drawing will be brighter and more saturated. Share the result with your friends, rate the drawing together.
You can now download a short version of this walkthrough in PDF format. Save this file for yourself. Thus, the lesson will be available to you at any time.