I am glad to bring to your attention this wonderful drawing lesson, with which you can learn how to draw Barney step by step.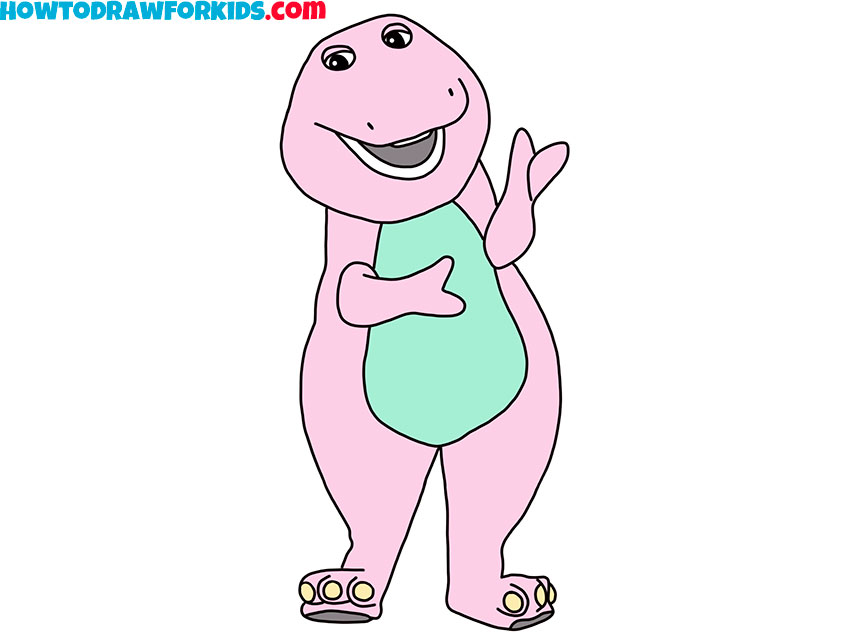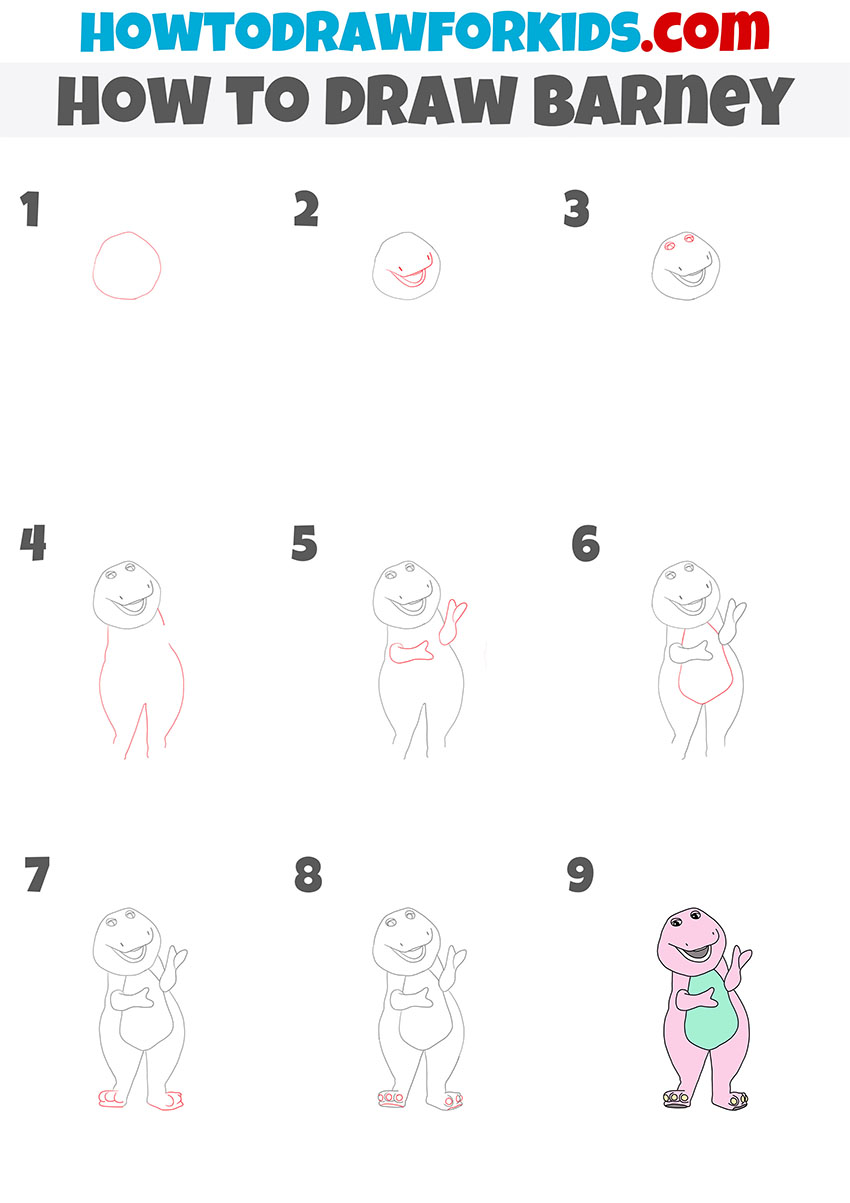 In this drawing lesson, I will tell and show you how to draw Barney step by step. This is another useful and exciting lesson on character drawing. The finished drawing will turn out to be very cute, bright, and funny.
Barney is a purple dinosaur and the protagonist of the television series Barney & Friends. It is a six-foot purple Tyrannosaurus Rex with a green belly, green spots on its back, tail, and yellow toes. It comes to life thanks to children's imagination, growing from the size of a toy to a life-size dinosaur. He is best known for his cheerful and optimistic attitude towards life, which sometimes makes him seem even silly. Barney evokes the sympathy of all viewers, so this object is perfect for drawing.
This instruction is designed specifically for beginner artists and children, so you should not encounter difficulties in following it. If you want to learn how to draw Barney step by step right now, then you can prepare the necessary art supplies, and then follow this lesson and enjoy the creative process.
Materials
Pencil
Paper
Eraser
Coloring supplies
Time needed: 30 minutes
How to Draw Barney
Draw the outline of the Barney's head.

To depict the Barney's head, draw a slightly deformed circle using a curved line.

Add the outline of the Barney's mouth and nose.

Draw short, straight lines inside the previously drawn shape, as well as curved lines and arcs.

Depict the Barney's eyes.

Above the drawn nose and mouth, draw two symmetrical eyes using ovals, arcs and curved lines.

Add the outline of the Barney's torso and upper legs.

Below the drawn head, draw several curved lines of different lengths, as shown in the figure.

Sketch out the outlines of the Barney's upper paws.

Draw two paws pointing in different directions inside and on the side of the drawn torso.

Draw the outline of the Barney's belly.

To depict this character's belly, add some lines on the torso and near the arms of the Barney.

Finish drawing the Barney's legs.

Now you should add the feet and toes using curved lines.

Add elements on the Barney's lower legs.

Depict the outlines of the claws and soles of the paws using circles, arcs and curved lines.

Color the drawing.

To color the Barney, you should use purple, yellow, green, gray, and also black.
For your convenience, I have prepared a PDF file that contains all the useful information from this lesson, as well as additional practice materials that will help you develop your artistic abilities. You can download this file right now, so you don't lose it in the future, and return to this tutorial even without an internet connection.