In this tutorial, you will learn how to draw Batman step by step. This will be a great visual aid for beginners.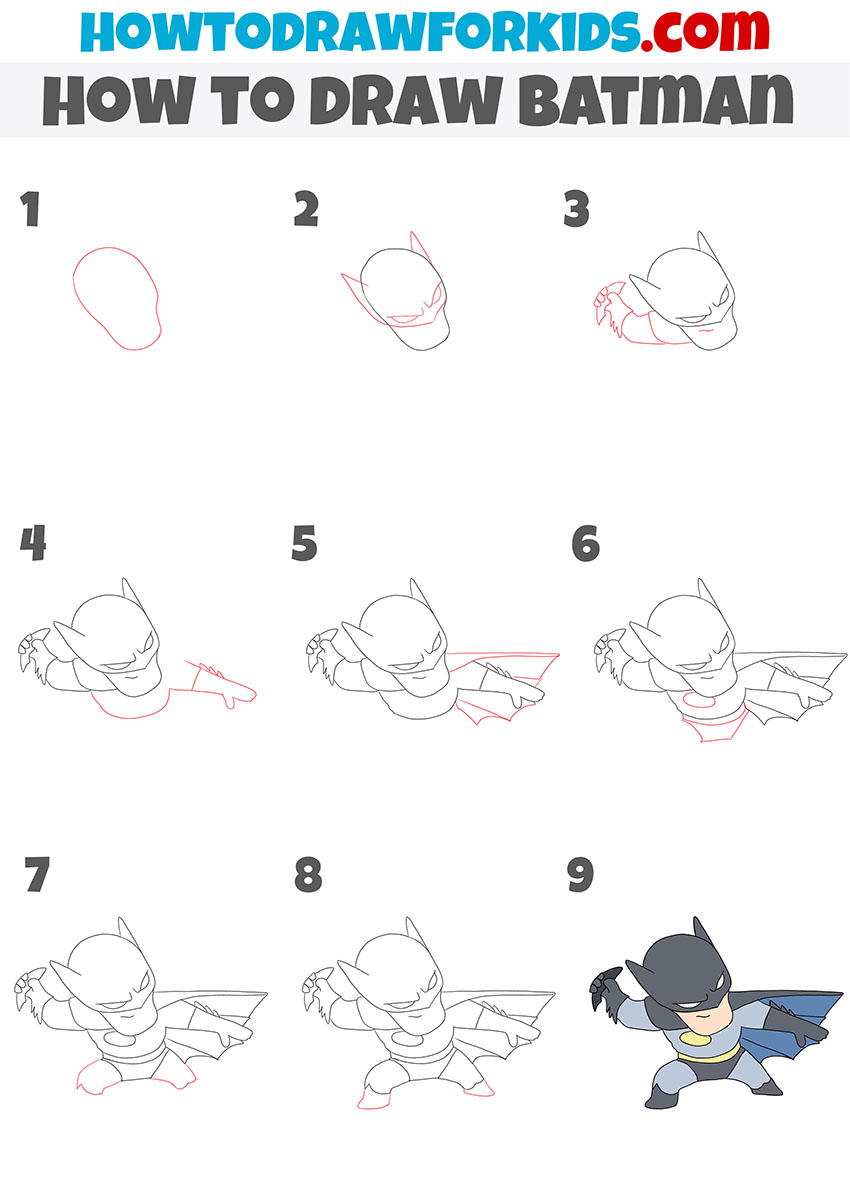 I propose to draw another popular DC Comics character, and now I will show you how to draw Batman step by step. This is a brave and strong superhero.
Batman does not have superpowers, but he has a high intellect, he knows martial arts, is well versed in science and technology. Batman is easily recognizable, wearing a stylized bat costume. A black mask partially hides his face, and he wears a wide cloak that resembles bat wings.
Batman fights for justice and eradicates evil. I hope that you will enjoy drawing this character, especially since it is very easy to do thanks to a clear and accessible instruction.
Materials
Pencil
Paper
Eraser
Coloring supplies
Time needed: 30 minutes
How to Draw Batman Step by Step
Draw the head.

Depict an irregular oval where the bottom is narrower.

Add the mask on the head.

Draw the pointed ears on the mask, depict the bottom outline and add the eyes.

Sketch out one hand.

On the left side, draw the gloved hand.

Depict the second arm.

Draw part of the torso and the second arm, which is directed to the side.

Draw part of the cloak.

The cloak is in the shape of the bat wing.

Add the rest of the torso.

At the bottom, add the part of the torso using a few straight lines. Draw an oval on the chest.

Depict the upper parts of the legs.

The Batman has short legs that are set wide apart.

Add the lower parts of the legs.

With smooth lines, depict the feet that are turned in opposite directions.

Color the Batman.

In this tutorial, you will need beige, gray, blue, yellow, and cyan.
If you want to always have access to this drawing lesson, then download its simplified version as a PDF file. As usual, the link is located at the end of the lesson.