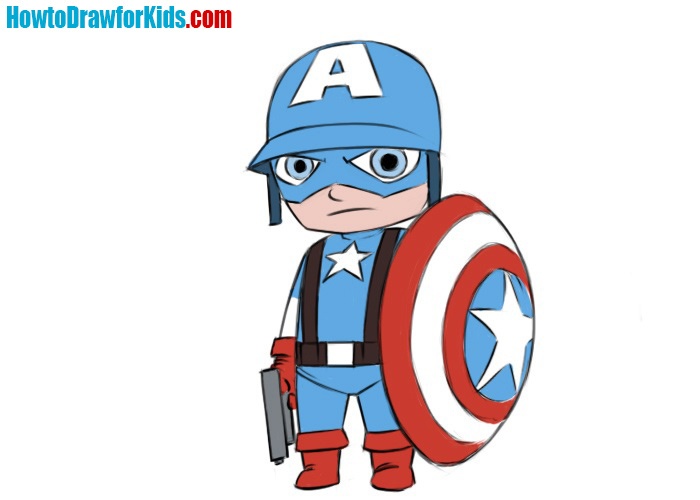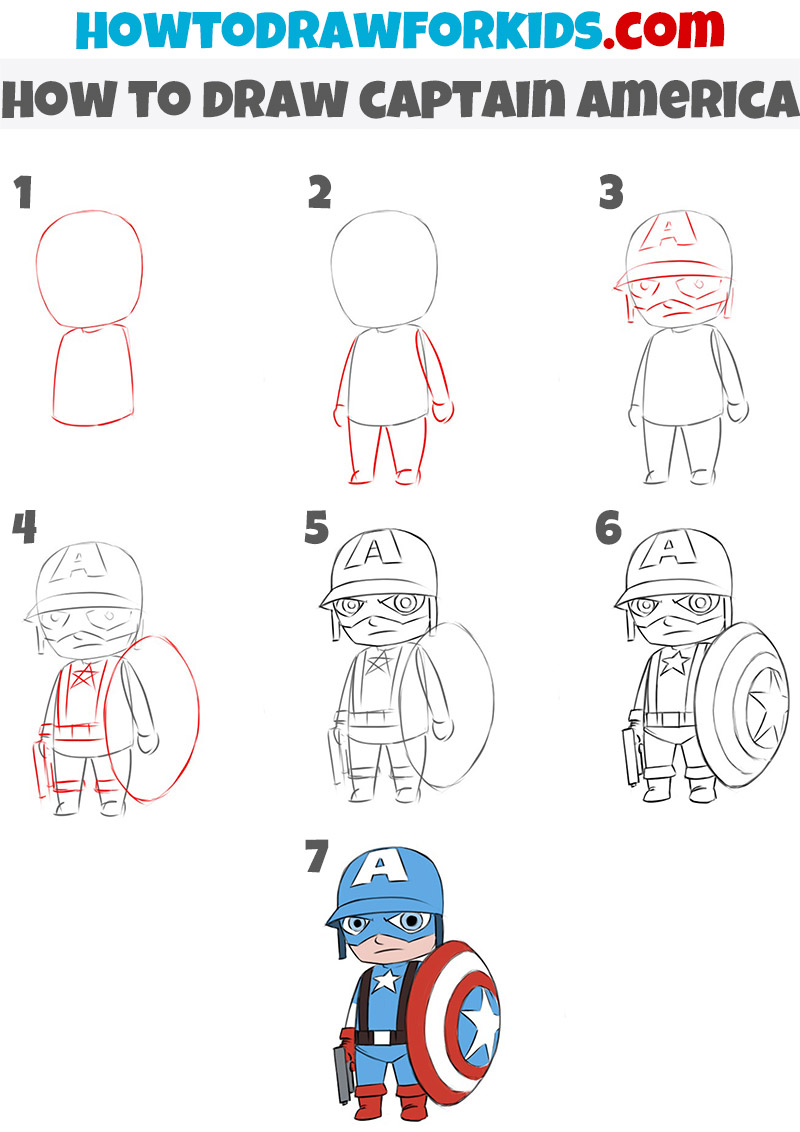 So, I continue to tell you how to draw the Avengers team members. Today we will draw a character who is considered the leader of the Avengers team. And as you can see, I mean Captain America. You probably know that my favorite comics hero is Iron Man. Despite this, I always recognized the significance of Captain America's personality. So I begin the lesson in which we will decipher how to draw Captain America for kids.
Step 1
First, i draw the contours of the head and body. This is exactly what we did in other drawing tutorials about comics characters.But in this lesson i have a little detail. Here we need to outline the contour of the neck.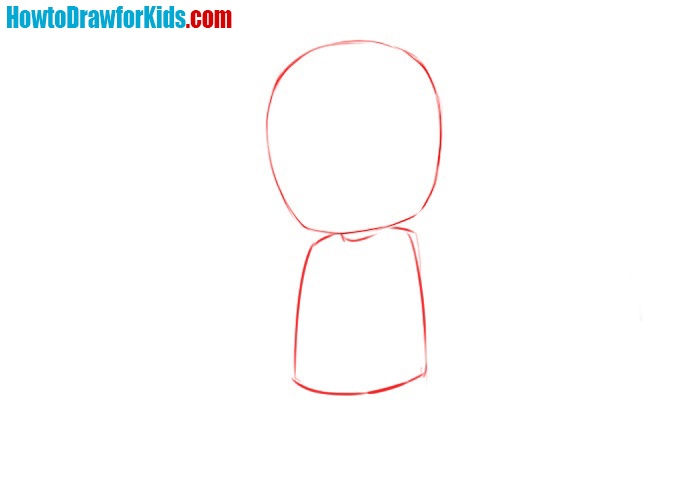 Step 2
In this step, i add limbs. Of course, Captain America in a realistic style is very muscular and relief. But i draw Captain America in a simplified style for kids, so we will mark the limbs in the form of ordinary rounded figures.
Step 3
Now i will work a little on the features of our character. Mouth and nose look like two simple short lines. Do not forget the visor and the logo in the form of the letter "A".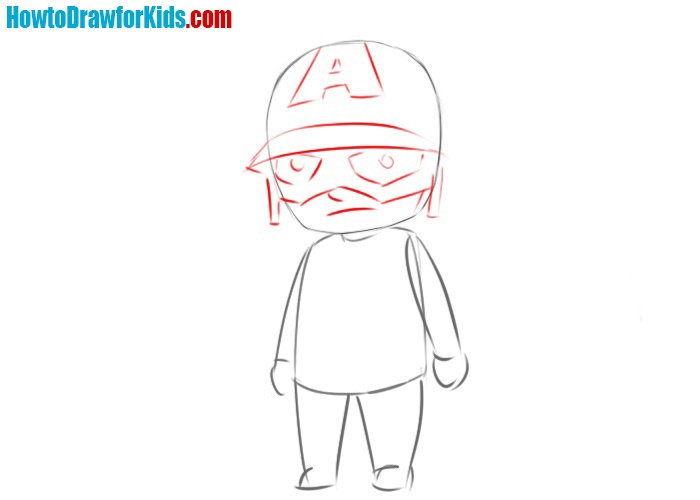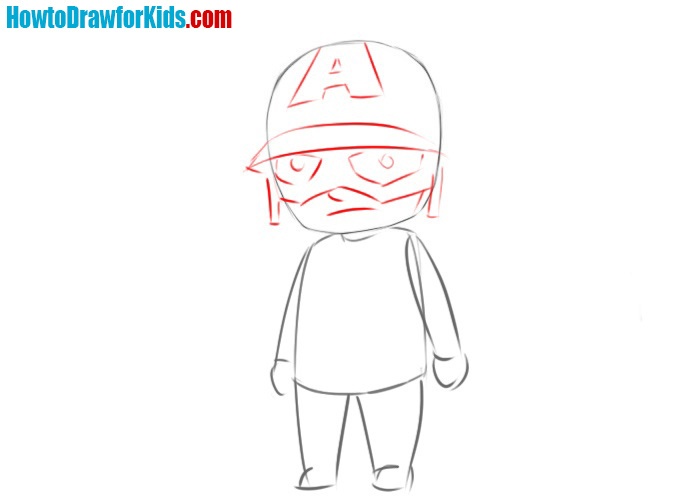 Step 4
It is time to work with the weapons and equipment of the Captain. As you know, the main weapon of Captain America is his shield. However, sometimes the Captain uses firearms. You rarely see it with anything but a shield in modern comics. But i draw Captain America during the Second World War.
Step 5
I erase the extra lines from the head of Captain America. Try to draw the pupils as correctly as possible. In many ways, they define the expression of the look and the entire face.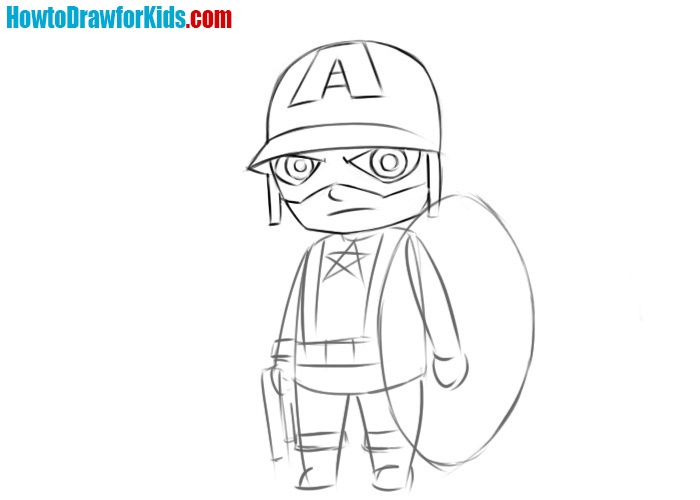 Step 6
In this step i will draw the torso and limbs in the final details. You should pay attention to:
The suspenders;
The belt's buckle;
The folds on gloves and boots.
Step 7
I decided to take out drawing Captain America's shield in a separate step. Captain America's shield is more than just a superhero weapon. It is a symbol of freedom and humanistic values. So we draw in the center of the shield a large star. On the peripheral part of the shield we have three circles. The size of the circles should increase from the center to the edges.
Step 8
Let's paint our hero in the traditional colors of the Star-Striped Flag. Please note that the lower parts of the helmet are dark blue.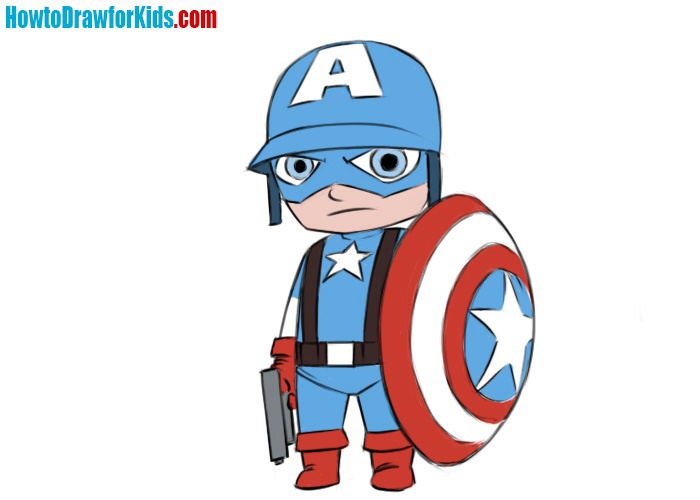 You probably wanted to draw Captain America in his most famous costume. And I showed you a variant from the comics about the second world war. However, I am correcting: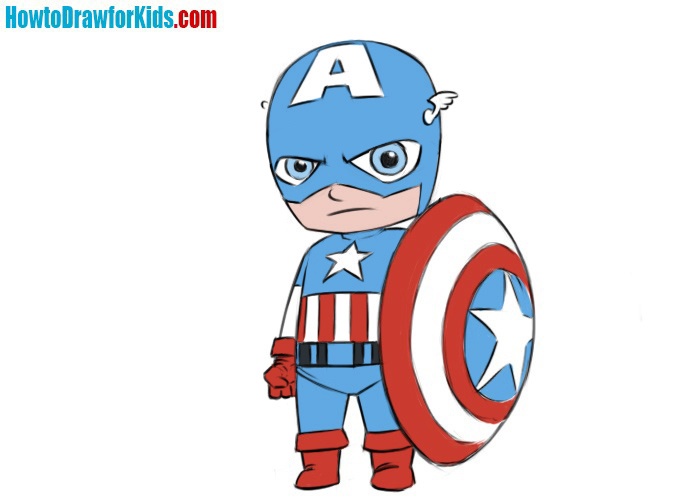 By the way, who did you support in the Civil War? I supported Iron Man.
And according to the good old tradition, I present to you a short version of this drawing lesson.