In this lesson, I want to tell you and show you in detail how to draw easy Spider-Man. I'm sure you'll like this lesson.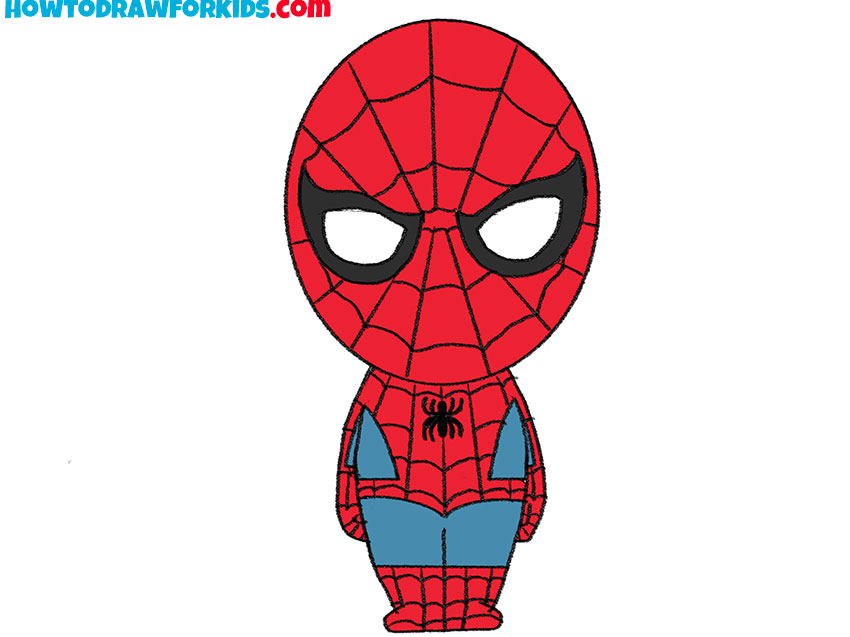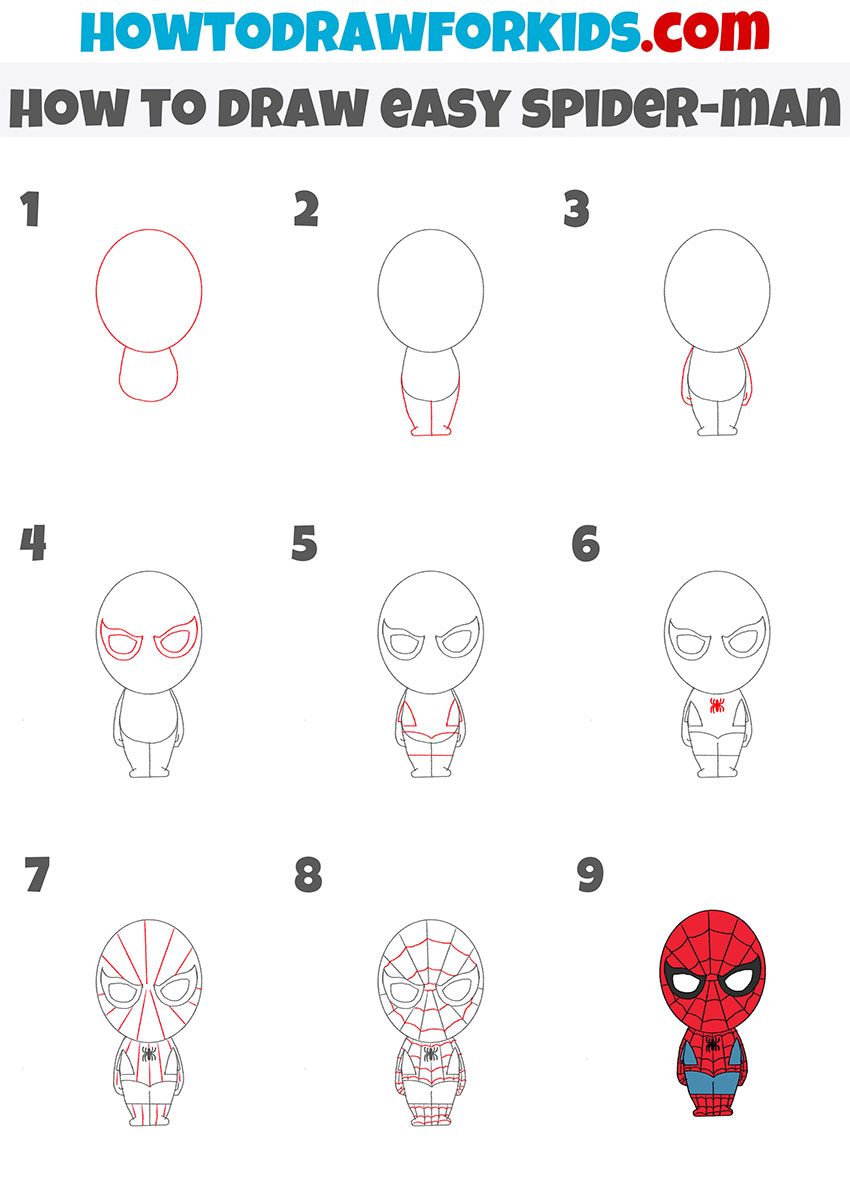 In this step-by-step instruction, you will learn how to draw easy Spider-Man. Marvel Comics has released many comic book series about Spider-Man and now this superhero is popular all over the world.
Spider-Man has amazing powers. The Spider-Man has strength, agility, and stamina, as well as being able to shoot webs from his hands and hold onto sheer surfaces.
This lesson presents the easiest way how to draw Spider-Man. Here, the superhero is presented in a cartoon style and has certain body proportions. The head is larger than the body, arms and legs are short.
However, the image of Spider-Man is easily recognizable thanks to a special suit. Thin threads of a cobweb are depicted on a red background. Drawing these elements will take some time, but you will get an excellent result.
Materials
Pencil
Paper
Eraser
Coloring supplies
Time needed: 30 minutes.
How to Draw Easy Spider-Man
Draw the head and torso.

Depict the head in the shape of an oval, then add the torso using a smooth, rounded line.

Sketch out the legs.

With smooth lines, depict two legs that are located side by side.

Depict the arms.

The arms are rounded and close to the body.

Add the mask over the eyes.

Try to use the same curved lines as in the example.

Detail the costume.

Add all the necessary elements to depict the individual parts of the clothing.

Correct inaccuracies and draw the spider.

Remove all extra lines and sketch out the small spider on the chest.

Depict the stripes.

On the head and torso, consistently draw straight lines.

Add the rest of the lines.

Sketch out transverse rounded lines on the head and torso.

Color the easy Spider-man.

You will need red and blue for the costume. Color the mask over the eyes and the spider black.
Spiderman is ready! Now you have mastered a new way to draw a famous superhero quickly and easily. If you liked this tutorial, then leave a little feedback in the comments.
As a reminder, for your convenience, I have previously created a short version of the lesson as a PDF file. This will help you return to the lesson at any convenient time, even if there is no Internet access.