I bring to your attention an excellent lesson in which you will learn how to draw Goomba. This drawing lesson consists of nine steps.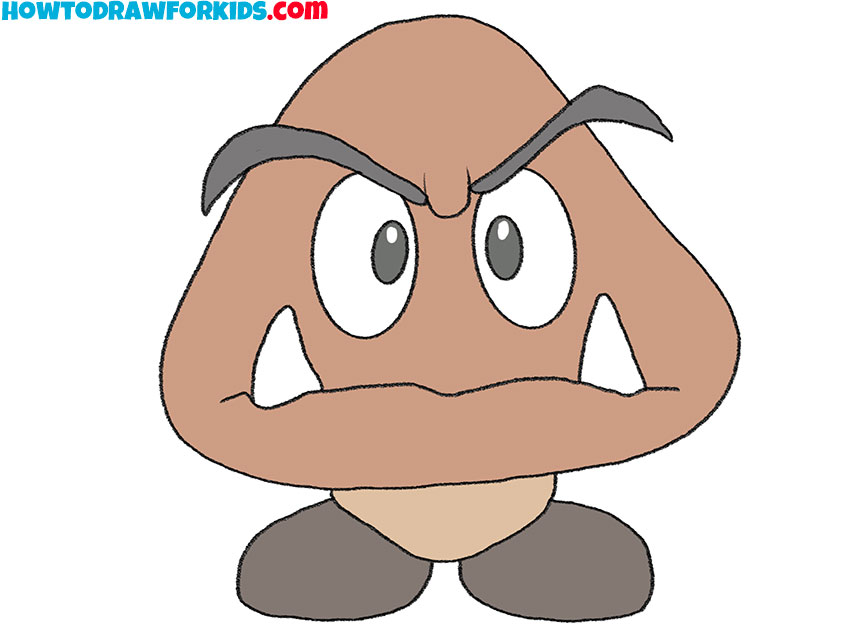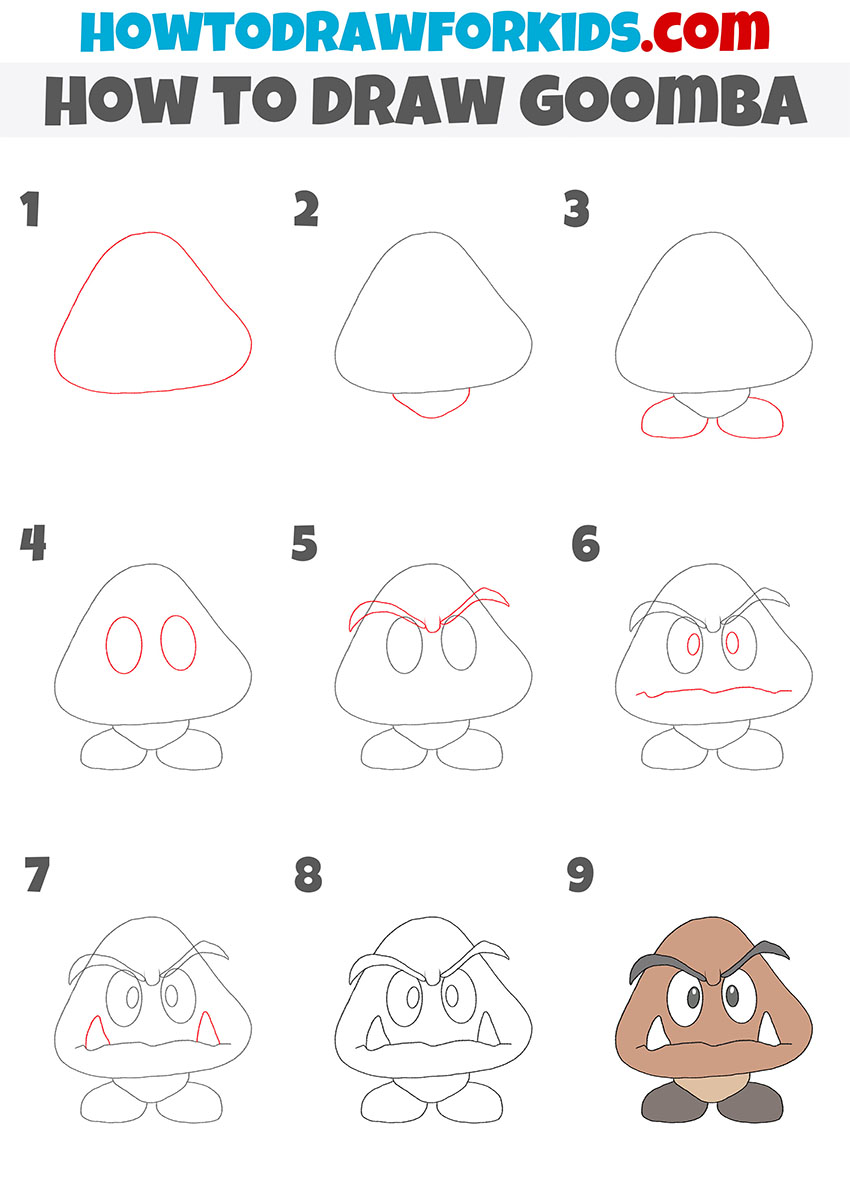 So, I am glad to offer you a useful and easy drawing lesson in which I will tell and show you how to draw Goomba step by step. This is another fascinating drawing lesson that is dedicated to depicting the character of the game.
This lesson will help you improve your artistic skills, and you will also be able to depict this character in the future as the main subject of your drawing, or supplement it with the image of your paintings or images of the game episode.
The Goombas are evil mushrooms, a type of player opponent in the Mario series. The Gumba is a mushroom-like creature. It has a small white body with two dark brown legs and a large brown head.
The face has large eyes with long black eyebrows. The lower jaw has two fangs. The Goombas are often shown to be the weakest opponents and can be defeated with a single jump.
Materials
Pencil
Paper
Eraser
Coloring supplies
Time needed: 30 minutes
How to Draw Goomba
Draw the outlines of the characters' heads.

The shape of the Goomba's head is similar to a triangle with rounded corners.

Add the outlines of the character's torso.

Below the previously drawn shape, draw one small, curved line as shown.

Depict the lower limbs of the Goomba.

On the right and left sides of the previously drawn torso of the character, draw symmetrical legs.

Start drawing the facial features of the Goomba.

Inside the outline of the character's head, draw two large identical ovals, as shown in the figure.

Continue drawing the character's facial features.

Draw the wrinkles on the forehead and two raised, pointed eyebrows on the sides.

Sketch out the mouth and the inside of the eyes.

Draw the same ovals inside the eyes, and also add the mouth in the form of a long curved line.

Draw the fangs near the mouth.

Above the previously drawn curved line, add two built-in fangs on the right and left sides.

Correct inaccuracies.

Use the eraser to remove unnecessary details.

Color the drawing.

To color the Goomba, use shades of brown as well as gray. Add the highlights to the eyes.
Don't forget to download the PDF file, which contains a short version of this lesson, as well as additional practice materials to help you complete it.