I have prepared for you a lesson on how to draw Darth Maul. This tutorial is very useful and simple. The lesson contains only nine easy steps.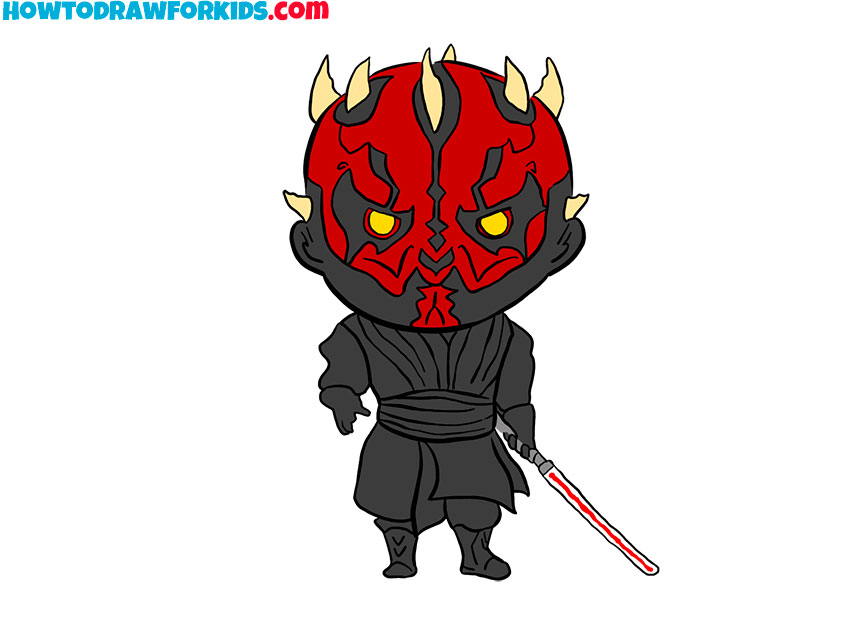 In this drawing lesson you will learn how to draw Darth Maul. I am sure that this lesson will be exciting and informative for you. You probably know that Darth Maul is a character from "Star Wars".
Darth Maul is an agile fighter. He wields a dangerous lightsaber and looks very formidable and ruthless. As you know, in every story, not only positive characters are important, but also negative ones.
Surely you have seen Darth Maul not only in "Star Wars", but also in animated series, video games and even as children's toys, because this character has become very popular.
Materials
Pencil
Paper
Eraser
Coloring supplies
Time needed: 30 minutes
How to Draw Darth Maul
Draw the outline of the head.

Depict the top of the head as broken lines and the bottom as a curved line.

Add the upper body.

Below the previously drawn outline of the head, add a curved line.

Draw the bottom of the suit.

Below the belt line, add some curved lines to represent the character's cape.

Sketch out the legs of the character.

Draw one leg of Darth Maul standing straight, and the other slightly turned to the side.

Sketch out arms.

One arm is lowered down, and the other is slightly raised.

Add costume elements and the sword.

Depict the elements of the costume using curved lines and the sword using straight lines.

Add details.

Depict several horns and curved lines on the head of Darth Maul.

Add more details.

Draw the eyes and the pattern using straight and curved lines and add the pattern on the shoes.

Color the drawing.

To color Darth Maul, use beige, red, black, yellow and gray.
So you've drawn a character from "Star Wars". I hope you enjoyed doing this drawing and you are happy with the result! Do not forget to also look at our website for drawing lessons of other characters from "Star Wars".
If you liked this tutorial, you can share it with your friends and leave your comment. Don't forget to download the PDF file with a short version of this tutorial, as well as some useful extras that I have prepared for you.