In this drawing lesson, I would like to tell you how to draw Hawkeye step by step. This simple drawing lesson consists of nine steps.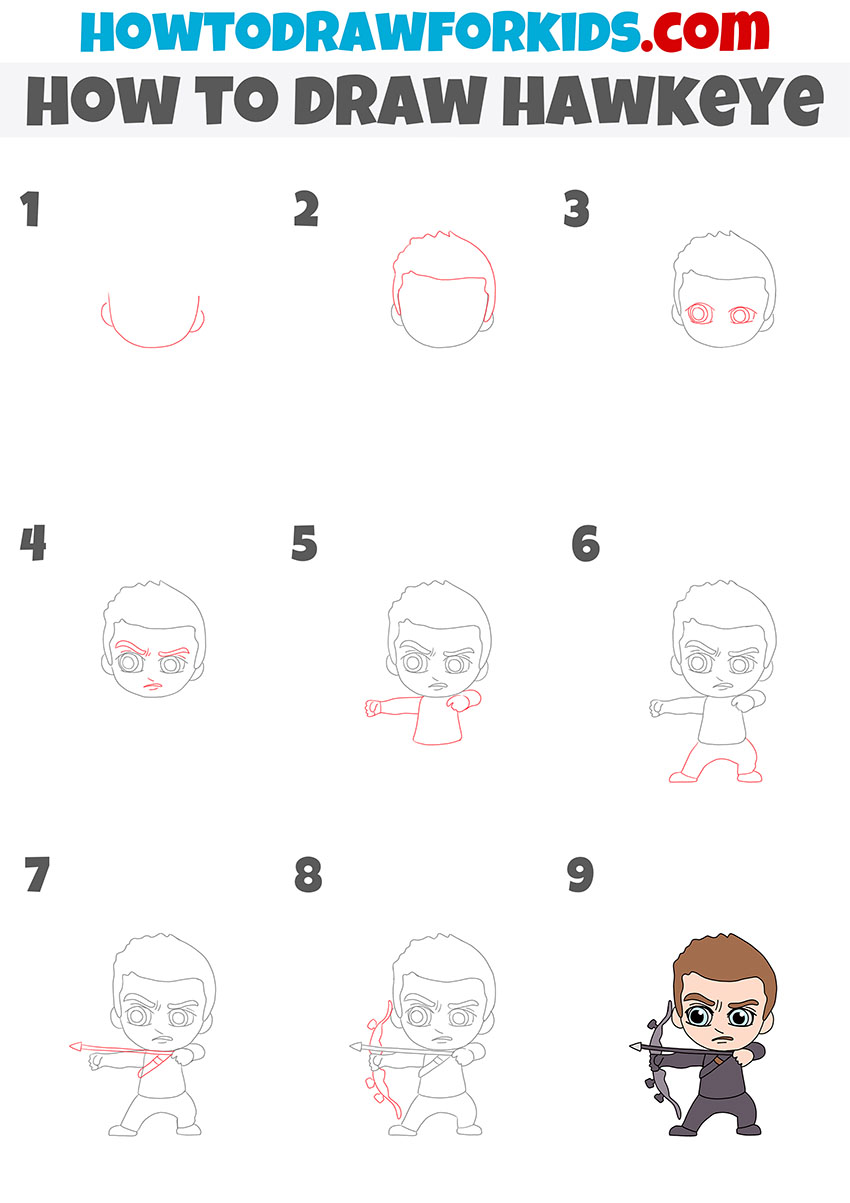 I am glad to bring to your attention another excellent and fascinating drawing lesson, in which I will show you how to draw Hawkeye step by step. This drawing lesson is dedicated to depicting a character that many of you are familiar with. Also, this lesson will help you practice portraying people, as well as their facial features and facial expressions. The ability to depict various emotions on the face of a person or character is very important for any artist.
Hawkeye is a superhero appearing in comic books published by Marvel Comics. This is an excellent archer with incredible reflexes and exceptional agility. He is an excellent marksman, excellent with firearms, and also has an uncanny ability to use improvised objects as throwing weapons, as shown when he killed guards with his fingernails pulled out. Hawkeye is a veteran spy, a dangerous fighter and a skilled combat pilot. He usually carries one bow and a small arsenal of arrows, some of which have specific functions. He occasionally uses other weapons, such as flamethrowers. Furthermore, he also wears goggles, typically with red lenses.
Please note that the Hawkeye that you will draw using this instruction is depicted in a cartoon style. Thus, his head looks quite large in relation to the size of his body. If you are already interested in this lesson and want to get started as soon as possible, then you can now prepare the art supplies that you will use to draw Hawkeye. I wish you inspiration, and I am sure that you will easily cope with this work and be satisfied with the result of your efforts.
Materials
Pencil
Paper
Eraser
Coloring supplies
Time needed: 30 minutes
How to Draw Hawkeye
Draw the outline of the character's head and ears.

To complete this step, you need to draw one big arc and also add two arcs on the sides of it.

Depict the Hawkeye's hairstyle.

Above the previously drawn elements, draw a few curved lines, as shown in the figure.

Add the character's eyes.

Draw the eyes inside the drawn outline of the head using circles and arcs of different sizes.

Sketch out the eyebrows, nose, and mouth.

Draw the eyebrows and some wrinkles, add the nose and mouth using curved lines.

Draw the Hawkeye's upper body and arms.

Depict curved lines to draw the outstretched and bent arms, as well as the upper torso.

Add the legs of the character.

The Hawkeye's legs are spread apart. To depict this, use curved lines.

Start drawing the Hawkeye's weapon.

Draw a few curved lines at the top of the torso, and also draw the arrow using straight lines.

Finish drawing the crossbow.

Near the Hawkeye's outstretched arm, draw curved lines as shown.

Color the drawing.

To color the character, use brown, beige, gray, blue, and black.
I remind you that you can download the PDF file that I have prepared especially for your convenience. This file contains a short version of this lesson and has additional useful training materials. Download this file so as not to lose it and return to this lesson at any time convenient for you.